15 Best Hotels in Schaumburg, IL
A northwestern suburb of Chicago, Illinois, USA, Schaumburg has the huge Woodfield Mall, with hundreds of stores, restaurants and other entertainment spots. Close to the mall, you'll find the Legoland Discovery Center with tons of rides for children and a 4 - D Cinema. Additionally, the Ned Brown Preserve is a nature lover's haunt with paved trails and linked pools. Collectively, these make the Busse Lake. The Trickster Gallery, located to the west, and dedicated to Native American art, history and culture, is a testament to the tradition of the area.
Other points of interest include Lynfred Winery, Spring Valley Nature Center and Crabtree Nature Center. With so much to see and do, you get to stay in some of the best hotels. Schaumburg has a range of hotels, from budget stays to grand residences. Take your pick from the varied places to stay, all mentioned in the paragraphs that follow.
Affiliate Disclosure: As a Booking.com affiliate, I earn a small commission when you book through links on this page.
Hyatt Place
With many on-site dining choices and a fitness center, you can eat as much as you like and work it all off. Another perk of this hotel is that it is adjacent to the massive Woodfield Mall. Hyatt hotels have a reputation for flamboyance, yet this is an understated and quiet place. The cool-toned decor with patches of colors of nature is soothing. Rooms are quite large, with windows overlooking the city center. A 24-hour front desk, laundry service and free WiFi and free parking are on offer. You can reach the hotel from O'Hare Airport, which is 14 km away. Chicago Central is a 40-minute drive from the property.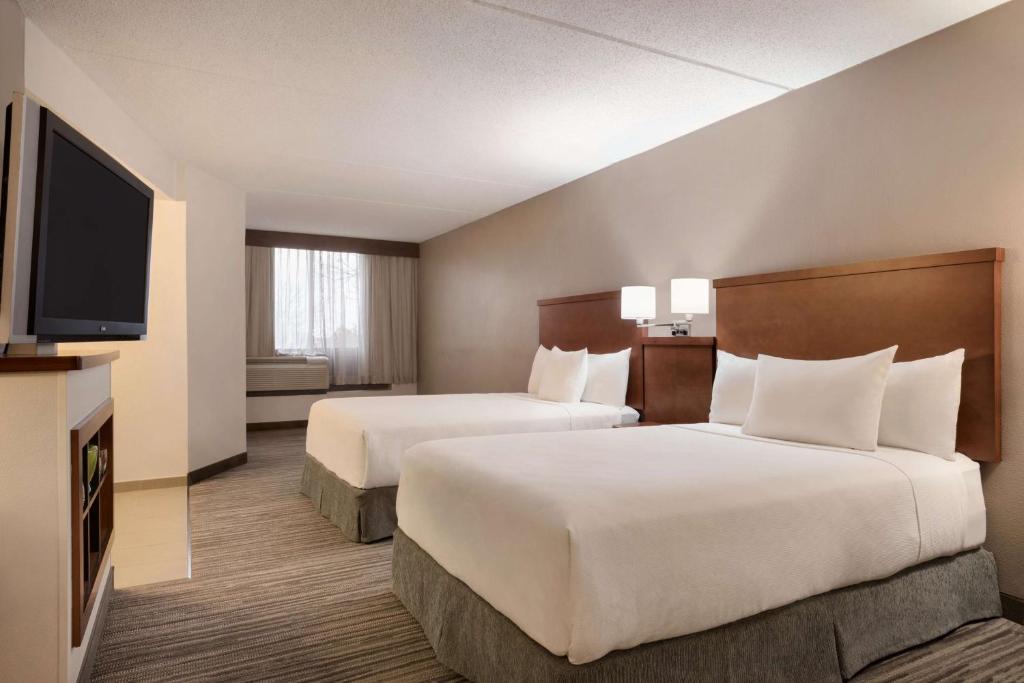 Fairfield Inn & Suites by Marriott
A short distance, 1.3 km from the Legoland Discovery Center, and 1.1 km from the famous Woodfield Mall shopping destination, this hotel by Marriott spells a total value experience. An on-site bar is refreshing throughout the day. Rooms are well-appointed and some have nice seating areas to relax. Rooms also have a much-appreciated coffee machine, microwave oven and fridge. If you are thinking of the best hotels, Schaumberg Fairfield Inn by Marriott is the place to be. O'Hare International Airport is at a distance of 14 km from the hotel.
Days Inn & Suites
For a pocket-friendly stay, this is a great place to rest your feet. A small hotel, with a big heart, you get a breakfast with waffles and fresh fruit daily. Rooms are quite airy and comfortable with coffee machines and hairdryers too. Some rooms have a tiny seating area also. The suites in the hotel are quite lovely too. You can get ironing services as well. Workout at the on-site fitness center or visit the nearby Woodfield Mall, Busse Preserve and several corporate head offices if you need to. With a location that's envied by other hotels, among Chicago hotels, this is a draw.
Renaissance Hotel & Convention Center
Nothing short of fabulous, the Renaissance is a huge city hotel. Every room is exclusively designed with freshness and contemporary elegance, offering the best superior amenities. A distinct feature of rooms is that they come with in-mirror television sets. An indoor pool and hot tub are in-house. You get the convenience of a fitness and business center as well. Famous Sam & Harry's Steakhouse is located in the premises, serving full breakfasts daily, plus all other meals. Menu choices are far ranging, offering classic steaks to seafood and the best vintage wines for the connoisseur.
Wyndham Garden
Touted for its picturesque country setting, Wyndham Garden is a wonderful hotel to stay in. Due to its natural setting, it has earned a rightful place in the list of the best hotels Schaumburg has to offer. The hotel is surrounded by foliage and a pond with a quaint gazebo. All out to please its guests, the hotel is conveniently located off Interstate 90 and offers a free local shuttle service and free WiFi. With rooms in a varied choice from deluxe rooms to king rooms, and suites, the Wyndham offers a refrigerator and microwave oven in each living space. Bathrooms have fine toiletries and some rooms offer a hot tub. You can request a room with a hot tub when you reserve, as these get booked quickly.
The Entre Bar and Grill gives you an array of Indian, American and Mexican fare to cater to your palate. This is probably the only hotel offering you such a range of cuisines on-site. Open for all meals and snacks, the restaurant has an in-house bar offering locally brewed beers and spirits. This is a major reason, among many others, guests choose to stay at the wonderful Wyndham.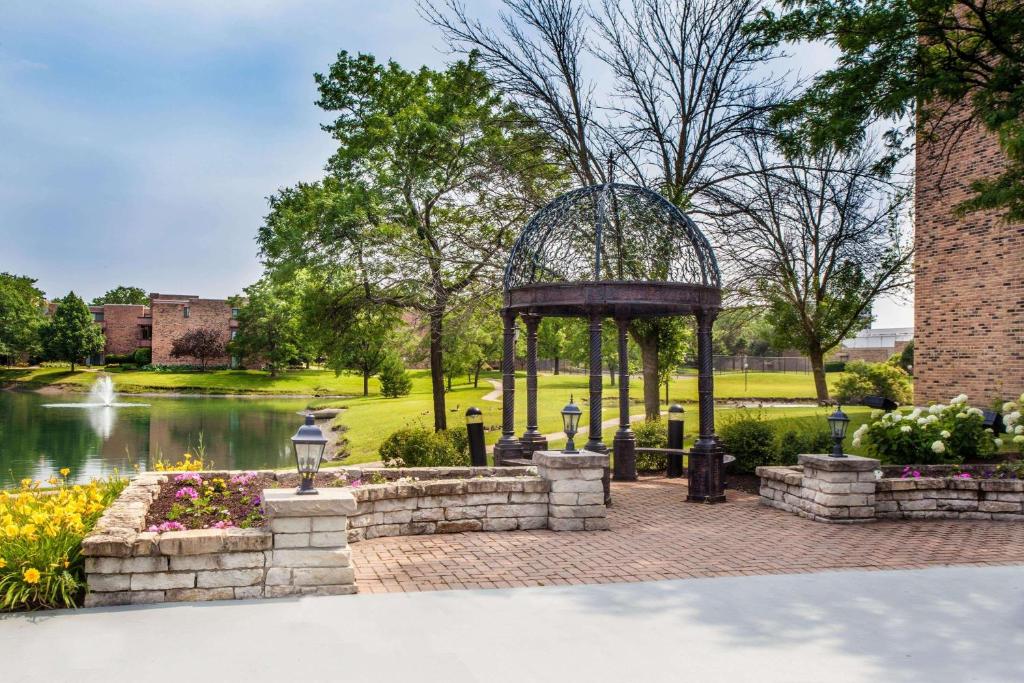 Hilton Garden Inn
O'Hare Airport and Arlington Gardens are a brief drive from this hotel. Offering guest rooms with refrigerators and microwaves, you also get to visit an on-site restaurant for meals. Complimentary breakfast is included with some room tariff, had at the beautiful Garden Grille. Work off all that excess fat at the state-of-the-art fitness center on-site. Alternatively, you can swim in an indoor pool. Mere minutes away from the Inn are the Woodfield Mall and the Prairie Center of Arts. The Interstate 90 nearby makes Chicago city center accessible to guests too.
Radisson Hotel
Off the Interstate Highway 90, this wonder of Chicago hotels gives you a free shuttle service within a radius of 8 km. The fitness center on the property is open 24 × 7. There is also an outdoor pool to relax in or take your daily laps. Guest rooms have free WiFi, a refrigerator and a microwave oven. The 24-hour front desk is always at hand to help and the business center is always open too. Vending machines with beverages are available on-site. Additionally, you can enjoy a hot breakfast each morning. You get to pick from eggs, sausage, cinnamon rolls and other delicious breakfast fare as part of a complimentary breakfast. Within 5 km of the hotel are Ikea, Woodfield Mall and the Schaumburg Convention Center. At a distance of around 26 km is Chicago O'Hare Airport.
Courtyard by Marriott
Among the best hotels Schaumburg has to offer is this hotel by the Marriott Group. Guests throng here because of the in-house hot tub, indoor pool and exercise room. All rooms are modern and have spacious desks to work at. The Bistro is an exclusive restaurant for all your meal desires, especially breakfast every morning. Room service can be ordered from a wide range of international cuisine from the Weber Grill Restaurant next door. Hotel facilities include a unique video game room for recreation, a launderette, a gift shop and dry cleaning services. If you want to try your hand at winning some extra dollars, you can spend an entertaining evening at the Grand Victoria Casino about 30 km away. The Improv Comedy Club is a great place to spend time at too, and this is close to the hotel at 1.6 km away.
Embassy Suites
In the midst of all the buzz, Embassy Suites is nicely situated at a 4-minute drive from the magnificent Woodfield Mall. This hotel boasts only suites and is great for large families and groups of four or five visitors. You get spacious and airy rooms with seating areas and small kitchen spaces. There is also a seating area with a sofa-bed. Every suite has an iPod docking port. With a 24-hour fitness center and a complimentary invitation to the Manager's Reception, providing free cocktails and snacks, this is an in-demand hotel. You get a free shuttle service to places within a radius of 8 km. The famous Chicago Outlets are a 30-minute drive away and are worth a visit or two for great deals.
Doubletree by Hilton
Location is what defines this hotel's USP, plus the fact that Hilton hotels always spell comfort for guests. Less than a kilometer away from dining, entertainment and shopping at Woodfield Mall, this hotel features a large indoor pool. Additionally, you get to eat at a superb on-site restaurant. Free shuttles are available for distances that fall within an 8 km radius. Every room is unique in its aesthetic decor and a large 50-inch flat screen TV adorns the wall. The Cafe lets you have a generous American breakfast, and if you wish, lunch and dinner too. There is a convenient bar on-site and a lounge to relax and have drinks. In the list of definitive best hotels, Schaumburg is proud of this hotel where reservations are required.
Four Points by Sheraton
Fabulous is the only way to describe this Sheraton hotel, with its well-planned rooms in neutral and soothing tones. The lobby is a welcome invitation and rooms are equipped with amenities akin to the best hotels around. Four Points has family rooms which give you space if you're in a group. The hotel has a fitness center and a business space. You can opt for a full American buffet breakfast or an à la carte breakfast at the on-site restaurant. There is also a relaxing bar and a shared lounge where snacks and light beverages are served.
Hampton Inn & Suites by Hilton
Chicago hotels include everything from budget hotels to premium accommodation. This is a great-value place to stay if you have affordability constraints. Nonetheless, the hotel is more than welcoming and is full of amenities to make your stay comfortable. Neat rooms have coffee makers and large TVs and come with toiletries in the bathroom. The hotel has an indoor heated pool, fitness center and the facility of a complimentary hot breakfast daily. Free WiFi is also available. An in-house business center gives you a free fax and printing service. Additionally, on-site, there is a convenience store and laundry services are available for a nominal fee. The Convention Center at Schaumburg is less than 4 km away and the popular Chicago Outlets are a 20-minute drive from this hotel.
Holiday Inn
Equipped with terrific double rooms and suites, plus a lounge area with a glorious open fireplace, the Holiday Inn gives you more than you expect in a great hotel experience. Service is exemplary here and the staff goes out of its way to help. Featuring a super bar, shared lounge and a lovely restaurant, the Holiday Inn also boasts a spacious terrace where you get outstanding city views. An indoor heated pool and an on-site ATM are additional perks. You also get à la carte and American breakfast options on a daily basis. If you want to snack through the day, there are vending machines in areas of the hotel, fully stocked with snacks and drinks. Woodfield Mall is 5 km from the hotel, and the nearest Airport is Chicago O'Hare at 17 km away. A paid shuttle service is available to and from the airport.
Hyatt Regency
Chicago hotels that define luxury and lie in the heart of all the action are challenging getting reservations at. Yet, if you're lucky enough to stay at the Hyatt Regency, this hotel with its royal lobby and beautiful gardens enthralls the most discerning guests. Wonderfully modern with arches and neutral tones, the lighting in this hotel is something to write home about. The beautiful restaurant with pink pop lighting is a joy to eat at. It is called Fresh1800 and is unique with its French cuisine for breakfast, lunch, dinner and in-between snacks. Starbucks coffee is brewed on a daily basis and you can enjoy it in the lounge area. In the winter, the view from the large glass windows in the lobby is especially winter-wonderland like. Located in the middle of Interstates 90 and 290, the Regency has a prime location neighboring the Woodfield Mall.
The hotel has a heated indoor pool, a fitness center and a business center. You can also get a complimentary transfer service to the Mall and for destinations within a 5 km radius. Every room is distinctive with bright light and an iPod docking station. A wide variety of rooms from deluxe rooms to suites are on offer here.
TownePlace Suites
Another wonder from the Marriott Group, this is a nice and cozy place to stay with a great location and comfortable rooms. You get a continental breakfast daily too and the staff are brilliant. Within a close 2.5 km from the Legoland Discovery Center and 1.7 km away from the entertaining Woodfield Mall, this is the ideal place to stay for a weekend getaway with the family.