15 Best Hotels in Longview, TX
Longview has been called the 6th fastest growing city in America by none other than Forbes Magazine. Founded in the 1870s, the city today is known as East Texas' Hub of outdoor recreation and leisure travel. Longview is also celebrated for its hot balloon race where pilots from around the world compete for titles earning it the nickname of 'the balloon capital'. Look through our list of the best hotels in Longview TX, and you might stumble upon some hidden gems.
Affiliate Disclosure: As a Booking.com affiliate, I earn a small commission when you book through links on this page.
Hilton Garden Inn Longview
The familiar modern facade of the Hilton Hotels invites you into a sunny, vibrant space built to ease weary travelers. The hotel houses suites, non-smoking rooms, mobility and hearing accessible rooms, as well as the standard guest rooms. All rooms are come with complimentary Wi-Fi services to help you stay connected. They also feature a mini fridge, a large flat screen TV, microwave, and scald-proof showers and tubs to keep you warm but safe. The wonderfully snug beds are fitted with Serta bedding and use 250 thread count sheets to help you sleep better.
Made to fit four people, the suite holds a king-size bed and a sofa bed in the living room. Other hotel amenities include a large catered banquet space for events and meets. This family friendly hotel also features a fire pit for the cool Texan nights and a swimming pool for the hotter days. Parking is free for guests.
Tru By Hilton Longview
The True by Hilton is a beautiful contemporary style hotel whose conventional gray exteriors give way to a colorful, comfortable and tastefully eclectic interior. The rooms offer air conditioning, a mini fridge, A large screen TV, free Wi-Fi, working desks. Beds all come with Serta mattresses, so you can wake up fresh to their incredible complimentary breakfast bar. Along with the King- size and Queen sized rooms, the hotel also offers accessibility enhanced rooms. The hearing accessible room comes with visual alarms and notification devices. The mobility accessible rooms have roll in showers, and accessible seating in the bathroom.
Staybridge Suites Longview
Staybridge suites looms over the commercial space just off highway 281 and are known to be clean, spacious, quiet, and comfortable. The pet friendly hotel serves a healthy, complimentary breakfast for all guests in the morning. Parking is free for guests as is taking a splash at the heated pool. There is also a covered grilling area fitted with comfy seats for a fun filled barbecue. For those visiting for work, the hotel contains a 24x7 business center, a meeting room, printing and copying services as well as office stationery. Wi-Fi is available for all guests as well.
The spacious suites all include a kitchen, featuring a microwave, coffee maker, a full-size refrigerator, dishes and dishwasher and more. The rooms also include a fireplace to keep you warm during the cold nights. Large work desks make it easier to work out of your hotel room. The hotel also offers mobility accessible rooms. For any specific requirements, get in touch with their staff before your stay.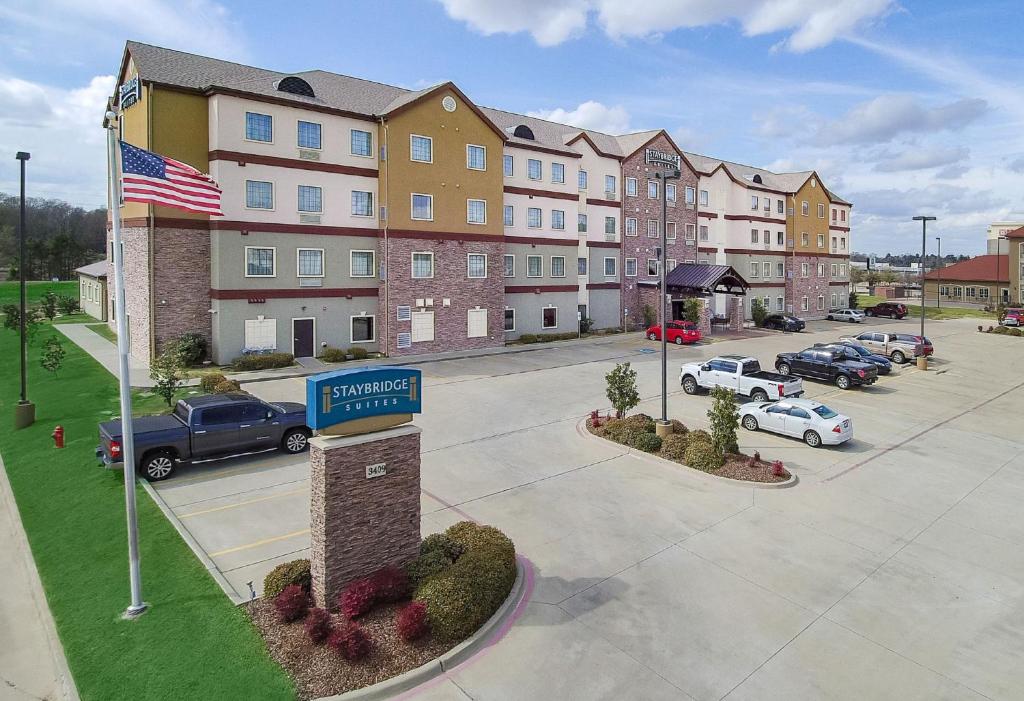 Hampton Inn & Suites
This family friendly hotel is located close to the N. Eastman road and US 259, making it easy to find for travelers. For those driving up, the hotel offers free, secure, on-site parking. The site of the hotel is merely a mile from Alpine Target Golf Centre, while Gregg county airport is 11 miles (17.7 km) away.
Rooms come with either a single king-sized bed or 2 queen-size beds. The rooms are all non-smoking and are fitted with large work desks, free Wi-Fi, microwave, a mini-fridge, plush towels and an iron. The suites offer you options between one with a sofa bed for extra space, and one with a whirlpool bathtub to help relax you further. Suites also come with a refrigerator, microwave, hairdryer and other amenities. Previous guests are fond of the free breakfast that serves fresh fruits, yogurts, cereal, and more.
La Quinta Inn & Suites by Wyndham
La Quinta is a pet friendly hotel that is known to be great for families. Children stay free here. If you are driving up to the hotel, fear not, for the hotel has free parking on the grounds.
Most rooms are non-smoking and fitted with air-conditioners. They come with amenities like refrigerator, microwave, flat screen T.V., and, ergonomic chairs. You also have access to free Wi-Fi, ironing facilities, a hairdryer and coffee maker. American and continental breakfast is free, and so is pool access. There are rooms available with hot-tubs and Jacuzzi. The hotel has vending machines on site as well for when you need a quick snack. For business travelers, a business center is available, as are meeting facilities.
Location wise, the closest airport is the East Texas Regional airport, while the farthest is Shreveport. Their 24-hour front desk is ready to welcome you whatever time you reach.
Hotel Holiday Inn Express & Suites Longview
A 25-minute car ride away from the airport, the hotel is conveniently located off loop 281. It's close to Hinsely Park on one side and Longview Regional Medical center on the other. The Cargill long park trail is also close at hand for those who like a bit of outdoor adventuring. The hotel itself provides a picnic area and garden. Indoor, you can find a year-round swimming pool. You can cool off in the waters or soak in the sun as you lounge in the beach chairs.
Rooms on the property are reported to be unusually spacious by previous guests. These rooms all come with a fridge and a microwave. Most available rooms are non-smoking, with designated smoking areas elsewhere on the property. There are rooms on hand for disabled guests with roll in showers and handlebars.
For those concerned about connectivity and work, the hotel has free Wi-Fi, as well as a business center. Fax, copy, and printing facilities are available. The meeting rooms and banquet hall can also be booked for an extra fee.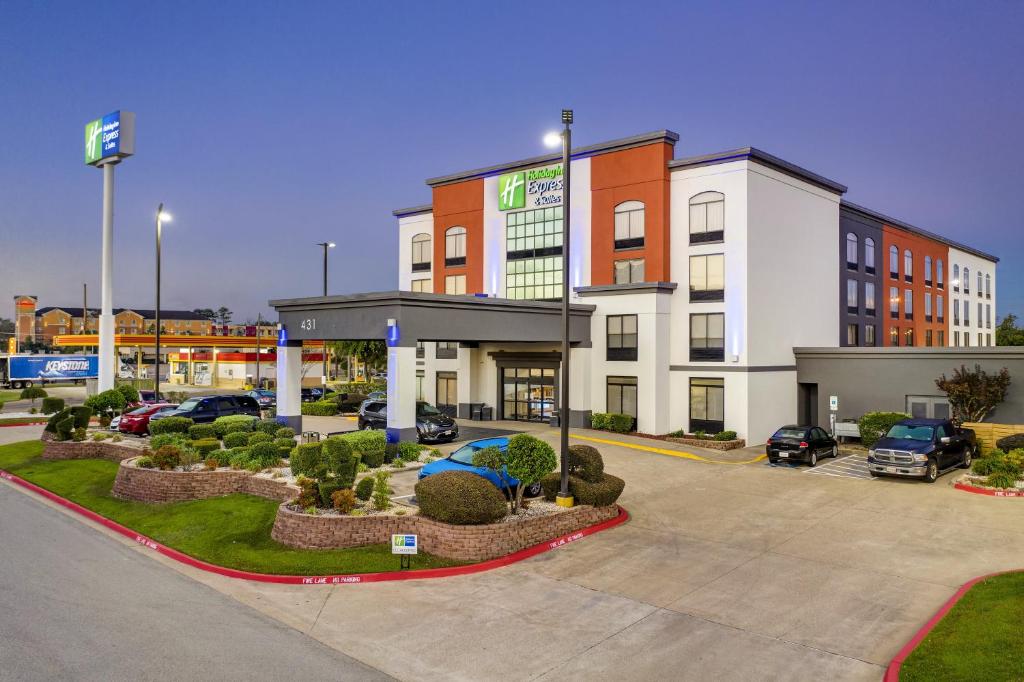 Hotel Best Western Plus Longview – University Hotel
Letourneau University is 10 minutes away and opposite this Best Western and ideal for those visiting the grounds. The closest airport is around 7 km from the hotel, making it a short trip to the comforts of this pet friendly hotel. Check-in at your convenience at their 24-hour front desk with express check-in/check-out services.
For business travelers, Fax and Photocopying is available as is a Business center to work out of. Meeting and Banquet services are accessible for a fee. Free Wi-Fi keeps you connected while their on-site ATM makes cash transactions easier. Guests get a hot breakfast every morning which also includes a kid-friendly buffet.
Parking here is secure, free, and on site. Additionally, they have an electric vehicle charging station as well as accessible parking.
JL Bar Ranch
With its very own private airport, the JL Bar Ranch and resort ups the game when it comes to luxury hotels. The warm rustic stone building accessorized with wood, pays homage to the Texan countryside. All rooms come with daily housekeeping, a fully stocked mini-fridge, Wi-Fi, T.V. and more.
JL Bar Ranch however isn't simply a luxurious place to rest at. They offer many kinds of activities well suited to the American country. You can go hunting with hunting dogs in tow. Other activities include equestrian sports, hiking, and UTV rides across the Texan countryside. For others, JL Bar has a shooting area where you can discharge your firearms at peace. They also have facilities for 3-d archery for those who want to practice their skills. If becoming a cowboy isn't on your to-do, choose one of their more relaxing indoor activities. These range from Wine tasting and cooking classes to taking full advantage of their in-house spa and wellness center.
Hotel Homewood Suites by Hilton
In this suite-only hotel, you can choose from either a single bedroom suite, or a double bedroom with two baths. You can also ask for sound-proof rooms or non-smoking ones on this property. All suites have a separate living area, a vanity area to get ready in. Most importantly, the rooms all have a full kitchen with a small dining space attached. The kitchen is outfitted with appliances like a full-size refrigerator and ice maker, microwave, dishwasher. A twin burner stove, along with dishes and utensils are available as well, ensuring you can cook your favorite meals with ease.
For those who prefer the outdoors, basketball is available at the outdoor court or you can take a swim at the swimming pool. BBQ facilities are available on the grounds. For those looking for a little more, Paul Boorman Trail Park is less than 2 km away, and offers verdant views.
Hotel Courtyard by Marriott Longview North
11 miles (17.7 km) from the nearest Airport, Hotel Courtyard by Marriott provides guests a relaxing stay within its familiar gray edifice. Soak in some vitamin-D, take a swim at the pool, or sit by the outdoor fireplace on the chilly Texan nights. A golf course nearby allows guests to wind down with a game. The property includes a bar, restaurant, as well as a coffee house on-site. Kid's meals are available for the tiny tots. For those visiting on business, a business center, ATM, free Wi-Fi and meeting halls are all available.
Room options at the courtyard include triple and quad rooms with a king-sized bed and the other with two queen size beds. Accessible rooms are available, and features include Braille and other visual aids, lowered sinks, grab rails, and more.
Hotel Wingate by Wyndham Longview North
11 miles (17.7 km) from the airport, Wingate's sizeable walls welcome guests into a serene hotel with rooms that are air-conditioned. The hotel is away far enough from the main street that it is quiet without being removed from the city. Rooms you'll find on offer at the Wingate are Double, suite, and Quads. Non-smoking rooms are available, as are accessibility augmented ones. Wake up from your plushy beds to a hot, free breakfast that includes eggs, fruits, tea, and more. For snacks, vending machines come to the rescue otherwise there are shops available on-site.
Check out their on-site water sports facilities, pool, gym, and more for a relaxing productive stay.
Those here for work can make the most of the property's business center and internet services.
Hotel Best Western Longview
Warm tones welcome guests at this traditionally decorated Best Western located just across the street from Longview High School. The hotel offers an outdoor pool, while indoor, air-conditioned double, and king-sized beds are on hand. Some rooms include a couch, while all others have ample closet space and drawers. A complimentary continental breakfast is available every morning. Housekeeping, laundry, and even dry cleaning services are available at this hotel.
A business center equipped with essentials is available, as is free Wi-Fi all over the grounds.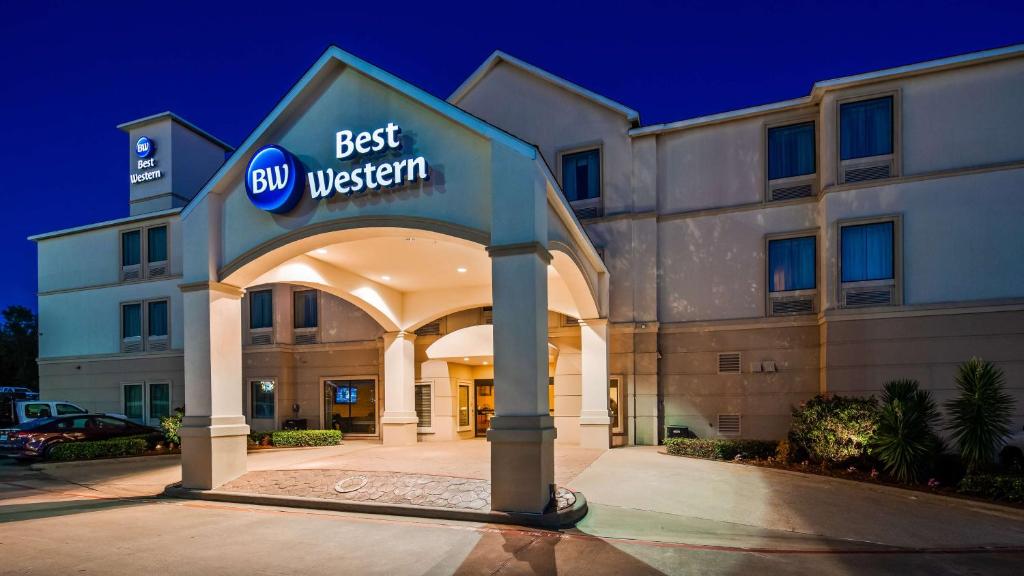 Hotel Fairfield Inn & Suites Longview
17 km from East Texas Regional Airport the unassuming frontage of this Longview inn receives guests into a vibrant space. The rooms on offer at this smoke free hotel are Family, triple, and quad. Guests can enjoy access to the indoor, heated pool that is open year round. Breakfast is free, and has options ranging from American to buffet.
For those working, free Wi-fi, business center, fax and photocopy services are available on-demand. For any extra needs you can swing by the convenience store on the premises to pick up what you need.
Comfort Suites Longview
Located in Piney woods, Le Tourneau University is minutes away from Comfort suites, placing it at an optimal area to visit the city. Book a spacious twin, double, or quad room at this property to make the most out of your stay. The hotel provides a free hot breakfast in the dining area, but if you are rushed, you can ask for a special packaged breakfast that are available a couple of hours earlier. Don't forget to relax by the indoor heated swimming pool at the hotel.
Business travelers should look out for free high-speed Internet, copy and fax services, and corporate rates.
Red Roof Longview
Red roof hotel is close to Interstate 20 and just a 10 minutes' ride from Longview town center. Rooms at this property are non-smoking, and are fitted with a microwave, tea/coffee maker and refrigerator. A TV and free Wi-fi, are included as well along with a plush bed, ample closet space and a work space. Daily housekeeping is available, though other services such as laundry are chargeable. Special accessible rooms are also available at the property.