15 Best Hotels in Olive Branch, MS
Originally named as Watson's Crossroad, Olive Branch was incorporated in to DeSoto County, Mississippi - in 1874. The city is named among the fastest growing cities in the USA thanks to its exceptional economic growth rate. The city of Olive Branch houses close to 80 industrial manufacturing centers and distribution locations within designated industrial parks. Brussel's Bonsai - the largest Bonsai nursery in the USA – is also situated here. As a result, Olive Branch attracts hundreds of businessmen, hobbyists and recreational travelers. Whether you visit the city for business or travel, the following list of hotels in Olive Branch, MS will help you choose the best accommodation for yourself.
Affiliate Disclosure: As a Booking.com affiliate, I earn a small commission when you book through links on this page.
Hilton Garden Inn Olive Branch
Located off US-78 and close to Maywood Lake and Olive Branch City Park, Hilton Garden Inn Olive Branch is a premium property. The hotel is a mere 25-minute drive away from popular spots such as Snowden Grove and Graceland - Elvis Presley's famous mansion. Memphis International Airport is easily accessible as well. Spacious rooms with king and queen size beds, LCD TVs, work desks, mini refrigerators and attached bathrooms are standard.
The hotel is capable of catering to all kinds of guests. Amenities such as a restaurant, business center, a fully equipped gym and indoor swimming pool are available. You will also receive added perks such as free WiFi and free parking.
Home2 Suites by Hilton Olive Branch
Situated close to Route 78, this is a 3-star hotel by Hilton. The hotel with all-suite rooms is a short drive from both Olive Branch and Memphis airports. The good news for recreational travelers- Cherokee Valley Golf Club and Snowden Grove are only a few minutes away from the hotel.
If you are a culinary explorer and prefer to dine out, you can choose to visit one of the many restaurants nearby. You can relax and unwind in the eco-friendly, comfortable living area. You can also cook for yourself in the suite's kitchen if you prefer to. Free WiFi and complimentary breakfast are included with your booking.
Fairfield Inn & Suites by Marriott Memphis Olive Branch
Fairfield by Marriott Memphis Olive Branch promises the best of Southern comfort to all guests. This state-of-the-art hotel is located centrally – which is ideal for business and leisure travelers alike. You can start your morning right with your usual workout routine in the outdoor pool and gym. Follow that up with the healthy food in complimentary breakfast buffet and you are all set for a day of work (or travel).
The rooms are spacious with large work spaces, ergonomic chairs for comfort and of course free Wi-Fi. You can also grab a quick snack from the Corner Market if you want to. The store is nearby and open 24 hours a day. Graceland, Memphis Zoo and Mike Rose Soccer Complex are nearby attractions.
Hampton Inn Olive Branch
This hotel is situated close to Maywood Beach and Brussel's Bonsai Nursery. It is a casual travelers' hotel and offers an indoor pool & gym along with free Wi-Fi, breakfast and parking. For a superior shopping experience, you can drive to Tanger Outlets Southaven which is within 10 miles (ca. 16 km). The hotel offers spacious, comfortable rooms. You will also have the option to choose between rooms with 1 king bed or 2 queen beds as per your preference.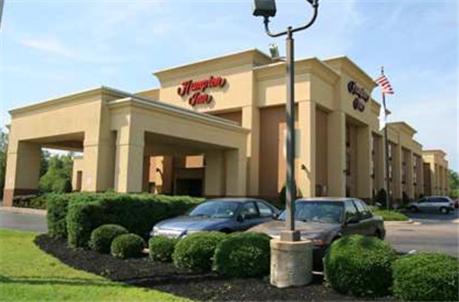 Holiday Inn Express & Suites Olive Branch
The hotel is located a few minutes away from Memphis International Airport and Olive Branch Airport. Holiday Inn's highlight is the practical design of the hotel and the relaxed atmosphere. Business travelers prefer this hotel due to its proximity to the Metro Industrial Park. The hotel is well-known for its amenities which include a dedicated business center and complimentary WiFi access throughout the hotel. The rooms are comfortably designed. Private bathrooms with a separate vanity area, sleeper couches in addition to king-size beds, are the highlights.
For leisure, you can visit "The King" at the Graceland estate or tee off at the Plantation and Wedgewood Golf Courses. Adults can head over to Beale Street for food, drinks and enjoyable live music.
Best Western Plus Olive Branch Hotel and Suites
Best Western Plus is centrally located with easy access to Memphis International Airport and Amtrak Memphis Central Station. It is also located close to most of Olive Branch city's distribution locations. The hotel is well-equipped with 1 king bed and 2 queen bed rooms as well as special "Kitchenette King Rooms". These special rooms feature a kitchenette for guests who prefer self-cooked breakfasts over hotel food. However, the hotel does provide complimentary breakfast for all guests.
An indoor pool adjacent to a gym, excellent cleanliness standards and free parking are other highlights. Best Western Plus hotel is pet-friendly and allows guests to bring in pets and service animals.
Super 8 by Wyndham Olive Branch
Super 8 is an ideal hotel for overnight guests looking for comfortable lodging at a great price. It is a mere 8 minutes' drive away from Olive Branch Airport and conveniently located close to Highway 78. The City Park, BankPlus Amphitheatre and Cherokee Valley Golf Club are some popular attractions nearby. You can also visit the Hickory Ridge Mall Shopping Center. Guests are entitled to free WiFi, free breakfast, and an indoor swimming pool and hot tub.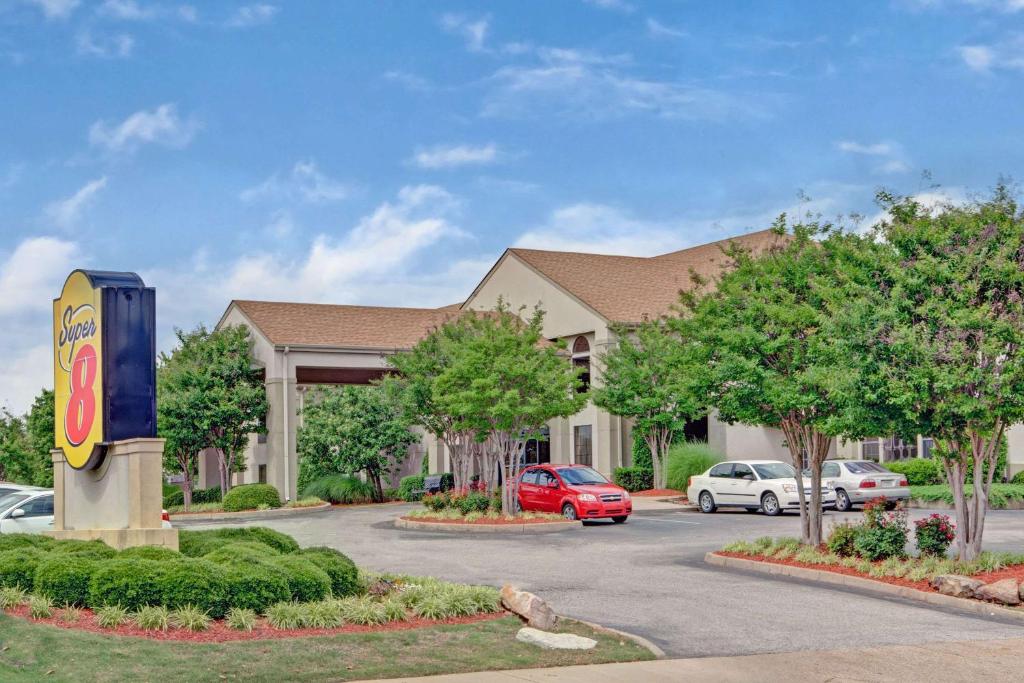 Comfort Suites Olive Branch West
Comfort Suites hotel is conveniently located on Parkwood Drive which is close to Highway 78. The Memphis International Airport and Olive Branch Airport are easily accessible. So is downtown Memphis. The hotel is only 17 miles (ca. 27 km) due south of the Memphis Zoo which is famous for its vast collection of more than 4,500 different animal species. Golf enthusiasts will be delighted because the hotel is situated between two golf courses. Olive Branch Country Club is to the east while Cherokee Valley Golf Club is to the west.
Guests are offered a delicious complimentary hot breakfast packed with healthy and tasty options. Be sure to try Comfort Suites' famous waffles. Free premium WiFi is also provided. If you are visiting in summer, you are welcome to enjoy a dip in the outdoor pool. For more serious business travelers looking to host a meeting or an event, reserving one of the spacious meeting rooms is easily done.
Candlewood Suites Olive Branch (Memphis Area)
Candlewood Suites is a property owned by IHG Hotels. It is located close to transportation facilities such as I-78 and Memphis International Airport. The hotel is specially designed for travelers with extended stay schedules. You can visit the museums in Olive Branch city and experience the rich musical history of Memphis. A trip to the Graceland estate and the live music spots on Beale Street is ideal for an evening of relaxation. Business travelers will appreciate the proximity to Metro Industrial Park, Memphis Trade Center, the Federal Express Headquarters and other major businesses located in downtown Olive Branch.
As a guest, you can work seamlessly with free access to high-speed Internet. Candlewood Cupboard service lets you purchase food and beverages to stock the well-equipped kitchen in your suite. If you are looking for in-room entertainment, you can access and watch a free movie from the hotel's lending library. The hotel also offers laundry services, and is pet-friendly.
Hotel DeSoto Olive Branch
Hotel DeSoto is 19 miles (ca. 31 km) away from Memphis city and 11 miles (ca. 18 km) away from Southaven city. The nearest international airport is Memphis International Airport – which is located 11 miles (ca. 18 km) from the property. The hotel is noteworthy as it is couple-friendly and highly rated by guests who booked a stay for two persons. DeSoto provides guests with free WiFi access throughout the property. All rooms are air-conditioned. Every room is well-equipped with a private bathroom, a wardrobe, a flat-screen TV. The bed linen and towels are of high thread-count.
Guests can use the services of a shared lounge to work or relax as they wish. A business center and meeting spaces are available for business travelers. Free private parking is also available. The 24-hour front desk is worth a mention.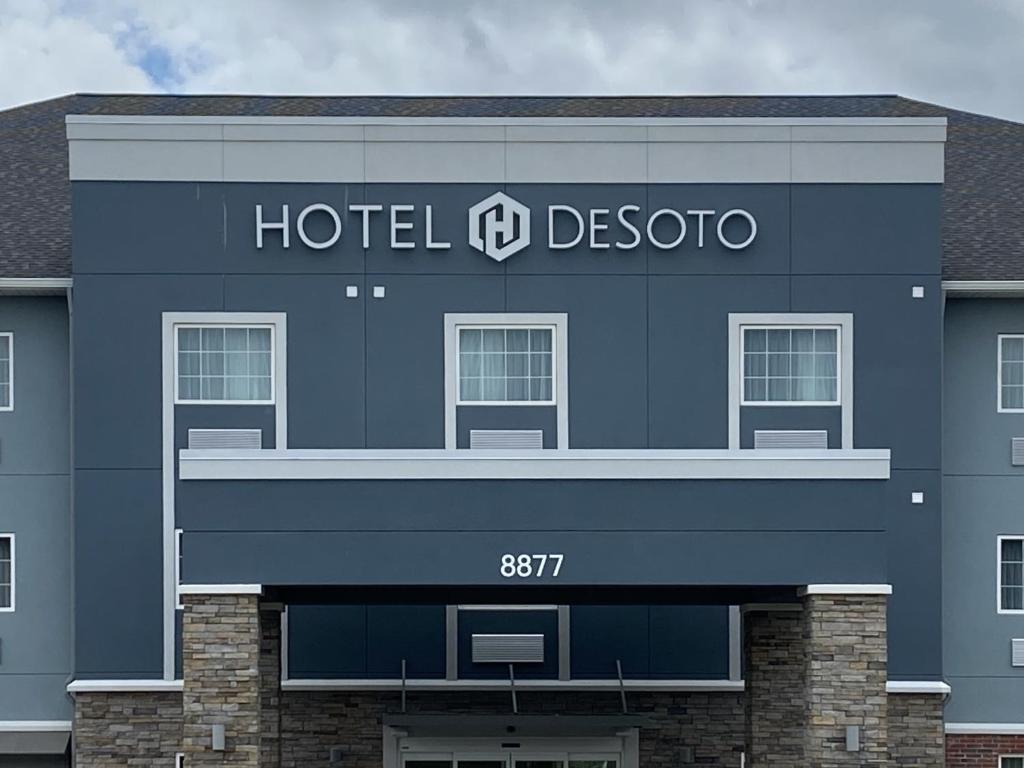 Home Inn and Suites Olive Branch
Located on Ashley Cove, this hotel is close to I-78 – making travel easy. This hotel is 2.7 miles (4.35 km) away from Mike Rose Soccer Complex and 6 miles (ca. 10 km) from Sky Zone as well as Tennessee Shakespeare Company. Tourist attractions such as the Lichterman Nature Center and Carriage Crossing are also situated close by, within 6 miles (ca. 10 km) of the property.
The hotel offers a fitness center, a 24-hour business center and coffee/tea in a common lounge area. Complimentary buffet breakfast and free premium WiFi in public areas are also offered. Other notable amenities include laundry facilities and a 24-by-7 front desk. All 63 rooms in the hotel are fitted with flat-screen TVs with access to cable channels. Additional appliances like refrigerators and microwaves are also provided. Ironing boards, spacious work desks, and free toiletry are among the other amenities that all guests will have access to. King suites, Queen suites, King suites with kitchenette and Queen suites with kitchenette are offered as room options.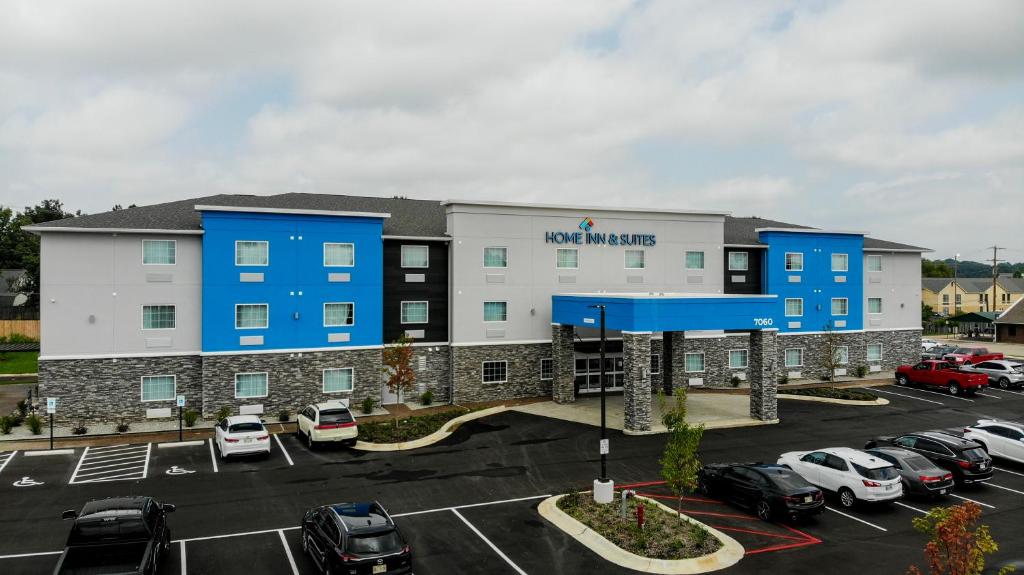 Quality Inn
Quality Inn in Olive Branch offers state-of-the-art amenities and an appropriate location to travelers. The hotel is located right off Highway 78 and within a stone's throw from nearby restaurants and shops. The Olive Branch Old Towne is situated 2 miles (3.22 km) away and multiple golf courses and parks are also close by. Memphis city's famous live music spot – Beale Street – is 20 miles (ca. 32 km) away.
Fast and free WiFi will help you work, stay connected or watch movies and relax in your room. Kitchenette rooms include a refrigerator and microwave accessible by guests. Suites fitted with sofa beds, wet bars and individual hot tubs are available.
Best Western Plus DeSoto
Located on Craft-Goodman Frontage Road, the Best Western Plus DeSoto is a premium version of its twin on Business Center Drive. The hotel is within 2 miles (3.22 km) from the FedEx ground transportation center and 4 miles (6.44 km) from the William Sonoma distribution center in Olive Branch. The property is adjacent to popular restaurants like Garden Grille Bar and Lounge, Chili's and O'Charley's. Memphis International Airport is 11 miles (ca. 18 km) away whereas Olive Branch Airport is closer at 5 miles (ca. 8 km). Travelers looking for an exclusively comfortable stay will appreciate the hotel's top quality lounge and larger, better-equipped rooms.
The property is within walking distance from Walmart Super Center (0.01 miles) and Camp Creek (0.3 miles) where you will find many restaurants and shops to choose from. For recreational travelers, the Olive Branch YMCA is 1.5 miles (2.41 km) away and Cherokee Valley Golf Club is 2 miles (3.22 km) from the hotel.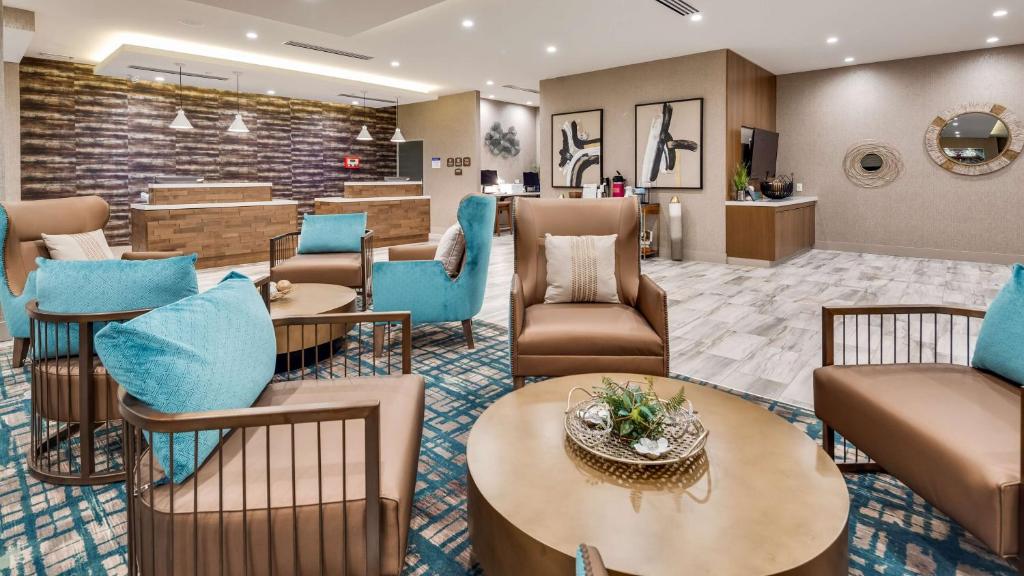 Whispering Woods Hotel and Conference Center Olive Branch
The Whispering Woods hotel is a notable property. It was constructed in 1971 by a prominent hotel franchisee. Originally intended as an international training facility for their staff, the hotel contributed immensely to the rapid growth and development of the city of Olive Branch.
The hotel is situated on an expansive property. It offers 180 premium guest rooms and close to 47,000 square feet of meeting space for business travelers to hold meetings or conferences. A full-fledged bar and restaurant are located within the hotel premises. An outdoor pool and courtyard area are available for the amusement of guests. The hotel has dedicated guest service agents who can assist you in booking add-on services. This will help you explore the spots of tourist interest in Olive Branch, MS and make the most out of your itinerary.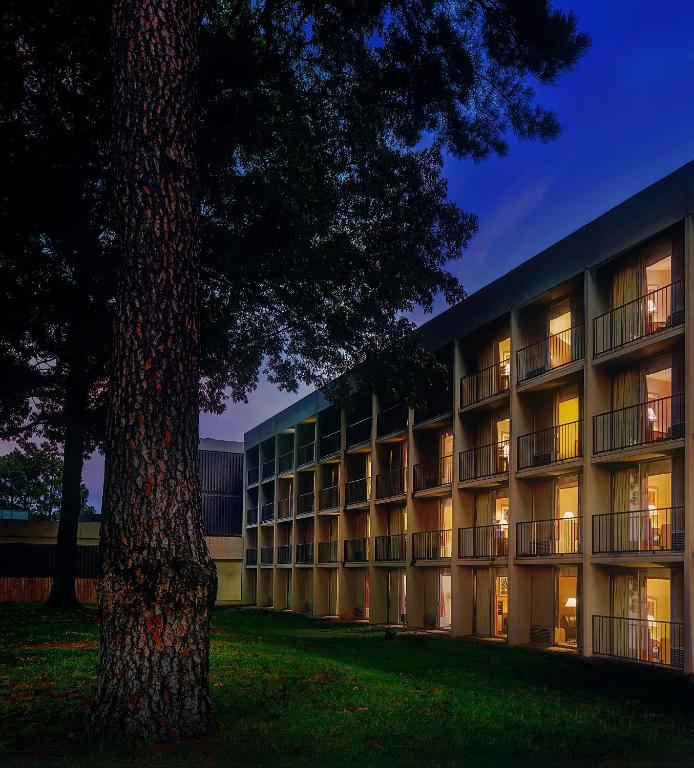 Magnolia Inn & Suites
Magnolia Inn and Suites in Olive Branch is 13 miles (ca. 21 km) away from Memphis International Airport. The hotel has spacious, comfortable rooms complete with microwaves and mini-refrigerators. The hotel provides free WiFi access to all guests. Apart from these facilities, Magnolia Inn and Suites Olive Branch has a gym and outdoor pool for guests.
The hotel is 10 miles (ca. 16 km) away from Graceland estate, 15 miles (ca. 24 km) from the Memphis Zoo and Botanic Garden. Highway 302 and highway 78 are the closest accessible transportation points.