15 Best Hotels in Shoreditch
Bordering the city, tucked away between Bethnal Green and Clerkenwell, is a London hotspot treasured for its fashion scene and art vibe. The seat of predominant culture in London, not to mention food, is Shoreditch. By night or day, Shoreditch is bursting with infectious energy and opportunities for dining and entertainment are plenty. The hip and the chic adore this eclectic pocket of East London. Several people see it as the place where the London theater was born.
If you want to visit one of the hippest areas in London, you may want to stay here in some of the best hotels. Shoreditch has loads to offer visitors and is the trendiest place in the city. Street art and a fun aura lights up this locality, and it is a tourist's paradise any time of the year. Your trip to the UK will be a memorable holiday if you stay at any of these hotels.
Affiliate Disclosure: As a Booking.com affiliate, I earn a small commission when you book through links on this page.
The Hoxton
Under 1.6 km from London's busy Liverpool Street, The Hoxton offers guests modern accommodation boasting roaring fires and old-fashioned brickwork. Rustic, yet fanciful, this hotel is a pure delight for any visitor. Facilities entice guests with free fax services, plus an hour a day of complimentary calls to the USA, Europe, Australia and within the UK. Rooms are more than comfortable with amenities like free newspapers and fresh coffee/tea. You also get a complimentary bottle of mineral water. The Hoxton Grill is popular with guests of the hotel and external visitors. In partnership with the Soho House Group, the restaurant serves an American breakfast and other meals, including room service orders.
This is a frequent choice among guests seeking fine Shoreditch hotels, and the bar, spacious lobby and outdoor (covered) courtyard are inviting. Events and conferences for up to 250 people can be hosted at The Apartment, the hotel's convention center. A mere 5-minute walk away is Old Street Tube Station, giving you access to the main attractions in London.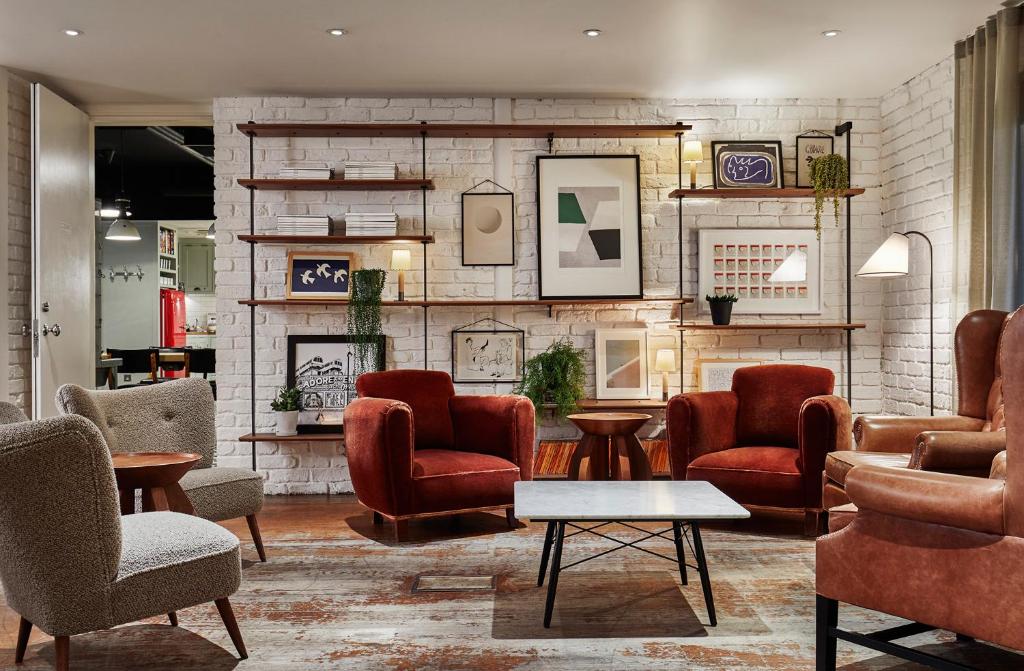 Hart Shoreditch - Hilton Curio Hotel
Shoreditch hotels have gained a top reputation with hotels like The Hart in the vicinity. This fine hotel features a fitness center and family rooms ideal for large groups travelling together. A wide variety of room categories are on offer, ranging from Junior Suites and Twin Rooms to Deluxe Rooms and King Rooms and Suites. A restaurant and a 24-hour front desk are available, as well as free WiFi throughout the hotel. Here, you can have a continental/à la carte breakfast. The location is what draws guests, plus the hotel has a luxurious air about it. Attractions are nearby on foot. You can easily reach St. Paul's Cathedral (2.7 km) and The Tower of London (2.7 km).
CitizenM London
Getting a thumbs-up while reviewing the best hotels, Shoreditch's CitizenM is undoubtedly a preferred place to stay with its smashing art deco lobby and mood lighting in rooms. A simple 3-minute walk from Shoreditch High Street Station, you get a hotel to adore in the heart of the city. With a 24-hour front desk, a gift shop and an on-site 24-hour restaurant and bar, guests couldn't ask for more. With well-appointed rooms and airports and attractions easily accessible, this is a hotel to consider.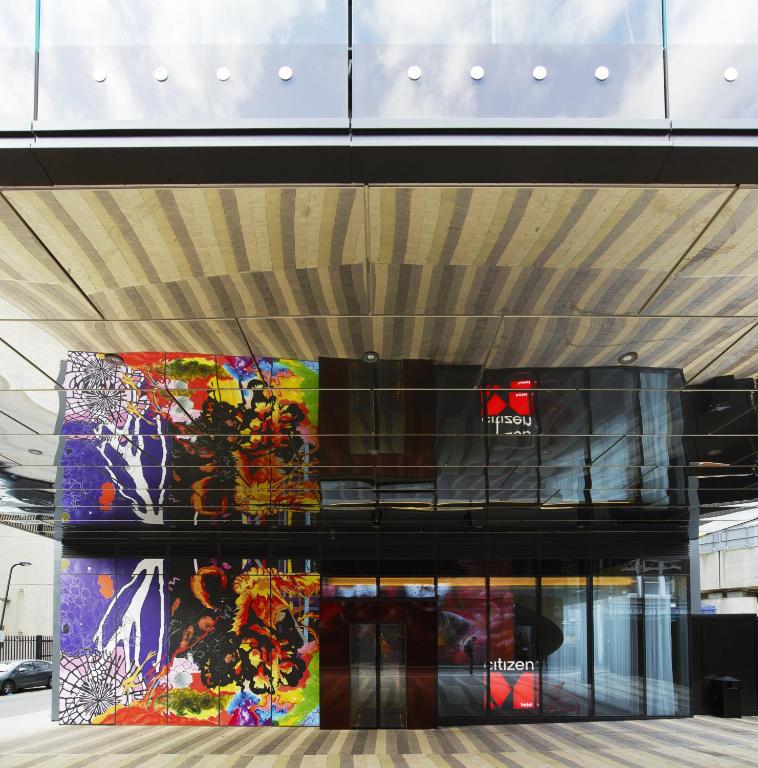 Montcalm East Hotel
Not to be confused with the Montcalm Royale in Islington, this Shoreditch hotel has an excellent location and is modern in its aesthetic. Up the road from the Silicon Roundabout, this property has distinct hints of grandeur in an understated way. The iconic architecture of the building and cool interiors, plus fantastic cityscape views, make sure you have a memorable stay. Rooms are opulent with en suite bathrooms spelling indulgence. The exquisite bar, brasserie and restaurants will enthrall you. You can also choose to explore the very alive Hoxton Square nightlife, a mere 10-minute walk away. The Old Street Underground is conveniently located a 3-minute walk away from this accommodation. Furthermore, King's Cross Station and the Eurostar Terminal, St. Pancras, are both a 10-minute drive away.
Courthouse Hotel
Situated a mere 100 m from Hoxton Square, the Courthouse Hotel welcomes you with a wonderful indoor pool, a sauna and steam area, and a fitness center. The on-site restaurant is basic, but serves delicious food. Room service is available and you get free WiFi throughout the hotel. The facilities here include a 24-hour front desk, luggage storage, dry cleaning and ironing services. Rooms are spacious and vibrant with neutral earthy tones and splashes of color. Most Shoreditch hotels don't offer as many toiletries as this, with free bathrobes and slippers for your convenience. Star attractions are short strolls away from the property.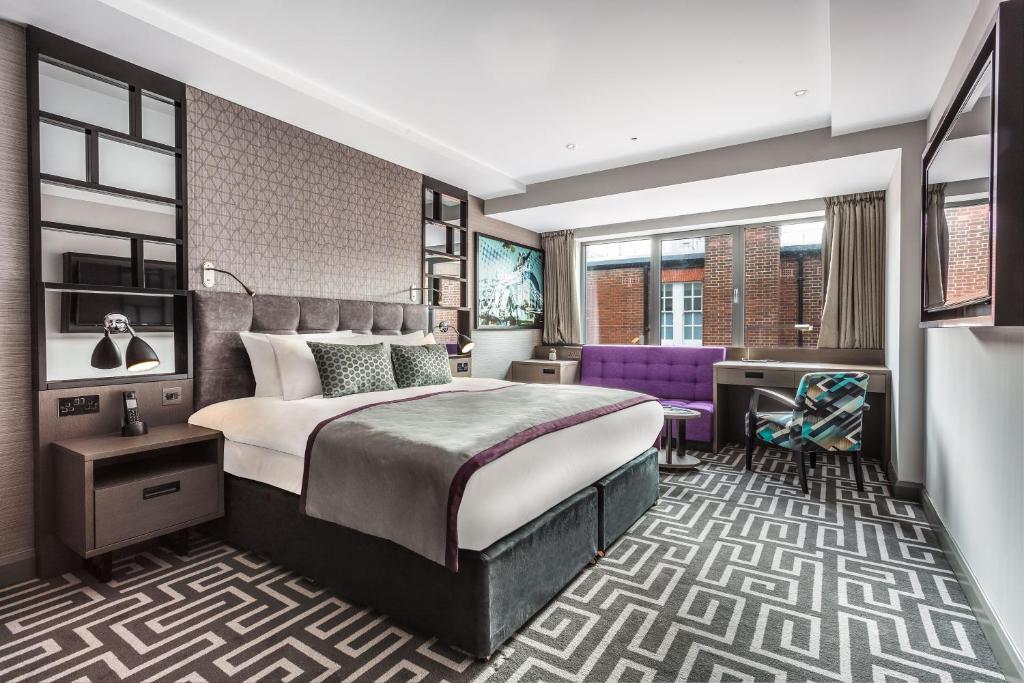 The Boundary
It's no wonder that guests describe The Boundary as a fantastic place to stay. Featuring a terrace, a bar, and great views of London, the hotel is located 1.2 km from Brick Lane. A restaurant, room service and a 24-hour front desk are the facilities you get, among others. Rooms are contemporary with touches of nature and earthy aspects thrown in. They are bright and airy too. You can get regular rooms and suites here. Family rooms are popularly reserved in this hotel, and guests can enjoy a full Irish or English breakfast. There are à la carte choices available too. Top attractions like Sky Garden and St. Paul's Cathedral are short distances from this property, at 2 km and 2.7 km, respectively. The closest airport is the City Airport, 9 km away.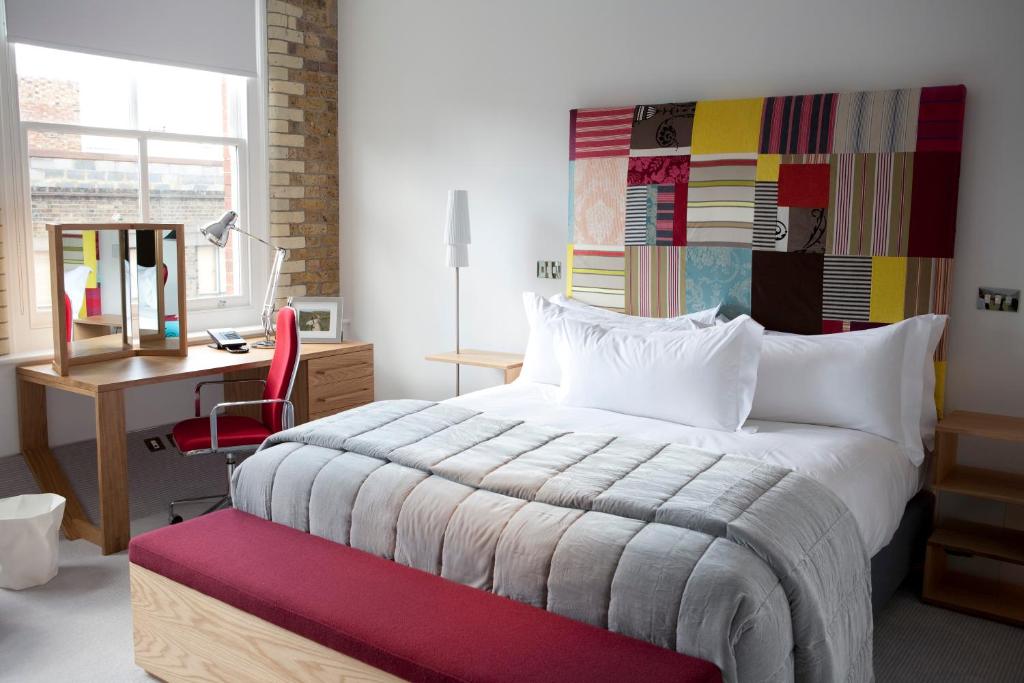 The Ibis London City Hotel
A mid-range hotel with an eclectic mix of old and new, the Ibis is a super place to put your feet up. Minutes away from London's Metropolitan University (on foot), the hotel is near the Sky Garden and the Tower Bridge. With 348 fully equipped rooms, you can select from any type considering your requirement. You can have daily buffet breakfasts for a fee, and the hotel has a bar and a restaurant too. With a laundry service (charged) and a 24-hour front desk, this is a non-smoking property (including rooms).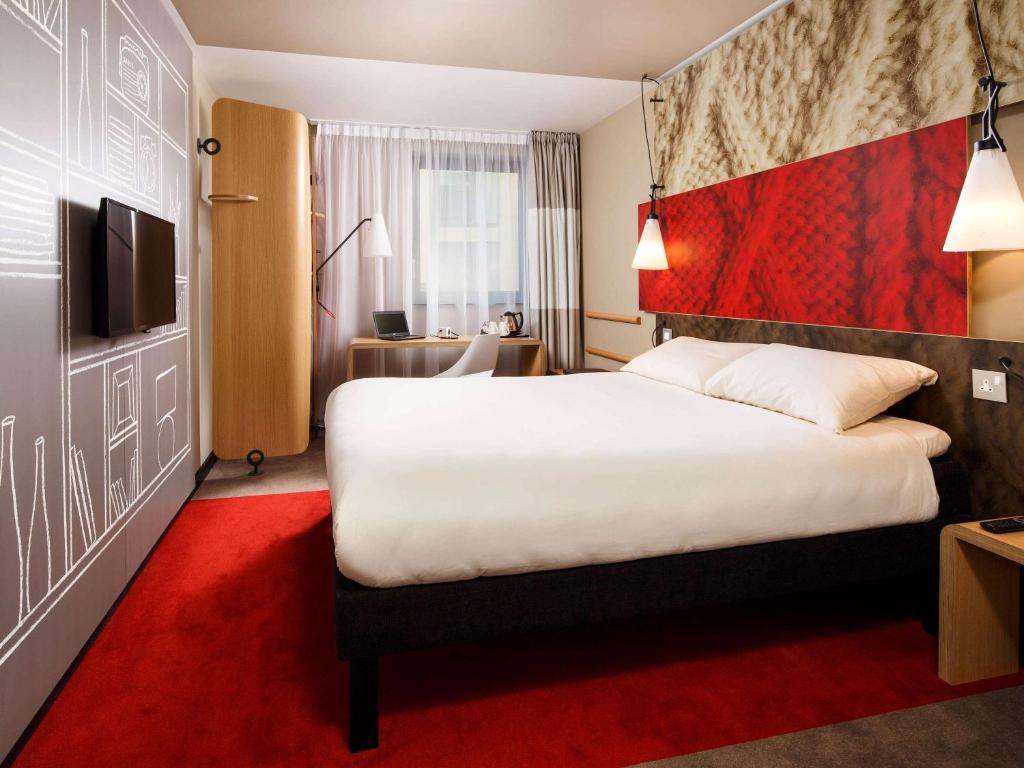 Batty Langley's Hotel
You will be required to make reservations to confirm your stay at the Batty Langley's Hotel. Typically, the hotel is booked throughout the year. Situated on an ancient cobble-stone road, attractions like the iconic Gherkin building is 13 minutes away on foot. The location is brilliant, a short 7-minute walk from Liverpool Street Station, and 1.8 km from the Barbican Center. If you embark on a walking spree, you can reach the Tower of London in 20 minutes and The Brick Lane Gallery in 9 minutes.
Guests love the rooms with antique furnishing and bed canopies. The bathrooms are quirky to some guests, but offer a unique decor twist. Curtains are made of silk, giving rooms an opulent flair. Every distinctive room has an Apple TV and a media hub. Breakfast can be had in your room or in any of the public rooms downstairs. The Tapestry Room, for example, overlooking a private courtyard, is a fine place to dine. The breakfast menu is unique with its freshly baked croissants, bagels and smoothies. An honesty bar lets guests pour themselves drinks in the evenings.
Savoy Apartments
You may want to opt for an apartment residence for your stay in London, simply because you are visiting with a large group. Among the top-rated Shoreditch hotels, you can select Savoy Apartments with large living areas and a central London location. Barely a kilometer from Brick Lane, this is a great property with a 24-hour front desk, a bar and a restaurant. Choosing from a range of accommodation, from Studio/Deluxe Apartments to Suites and Economy Rooms, you have a huge choice here. You get a fully equipped kitchenette and convenient amenities in your apartment too. Additionally, attractions are conveniently reachable on foot.
The Z Hotel
At Islington, located on City Road, this is considered in the group of the best hotels. Shoreditch may not be its actual location, but it is so close by, it could very well be regarded as a Shoreditch hotel. At only 15 minutes away by foot from Shoreditch High Street and Hoxton Square, there's a lot of activity around. The significant takeaway is that all rooms have handcrafted beds, and rooms for families come with bunk beds for children (adults can use them too).
Breakfast is served daily at the Z Cafe restaurant and you get some delectable croissants, cereals, salad rolls and bacon rolls. A selection of Suki tea and freshly ground coffee is a key feature of this breakfast you can't miss. Throughout the day, you can get sandwiches and light snacks. The hotel has a very old-world charm from the outside, but interiors have neat modern lines.
Easy Hotel
Located at Old Street, Islington, this hotel is very much the neighbor of the Shoreditch vicinity. A budget hotel, but a good accommodation, it's a place to chill out within convenient distance of the Barbican Underground between Shoreditch and Farrington. Attractions in London city can be reached by a 13-minute ride on the tube. There isn't an on-site restaurant/bar, but you will find enough in the way of dining and drinking in the area.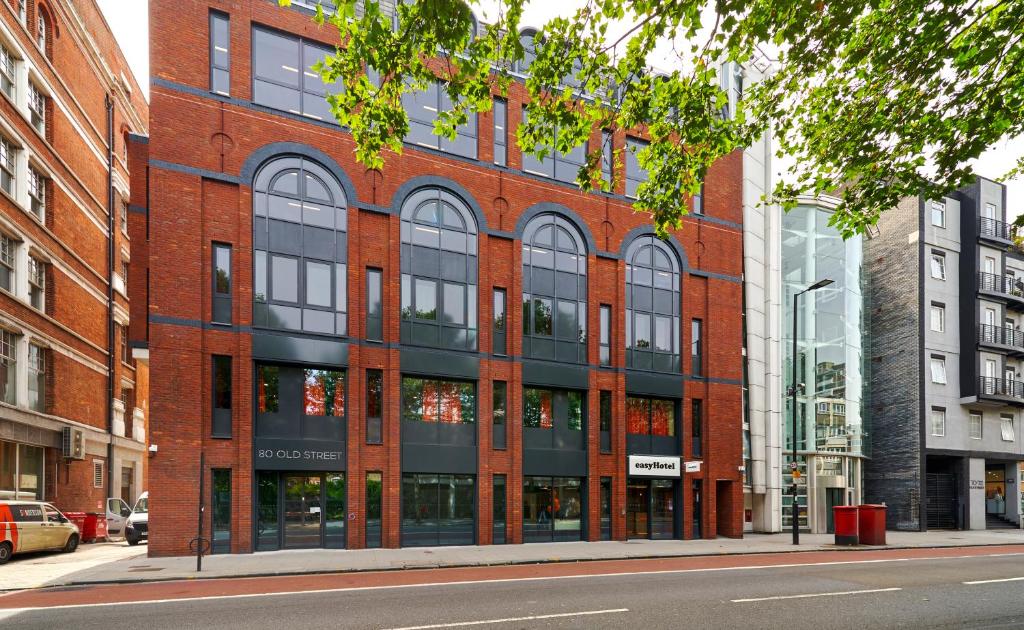 The Curtain Hotel
Within the Shoreditch area, you will find The Curtain, in Hackney, London. Experts give this hotel an eight out of ten rating. This is a party place with rooms that have club-like interiors. The hotel has a bar with a tacos and tequila theme and a rooftop pool. Red Rooster is the place to eat at this cool hotel, a temple of food for the soul from a New York chef. Considered in the company of the city's best hotels, Shoreditch isn't very far off with its buzz of artisans and street art scene. The Curtain has fun and history in a sweet blend that appeals to visitors from all over the world. It is named after the Elizabethan theater which stood nearby in an olden era. Old Street Tube Station is 10 minutes away by foot, and you're within reach of London's best nightlife outside this hotel.
Andaz Hotel by Hyatt
In the heart of East London where age-old landmarks meet the lively locality of Shoreditch, a luxury hotel that spells elegance stands as the Andaz Hotel. You get a stylish stay with local features thrown in. The mini-bar in each room is complimentary, stocked with snacks and non-alcoholic drinks. The hotel boasts five restaurants and bars. This hotel isn't bang in the center of other Shoreditch hotels, but you can step out and Shoreditch isn't far off.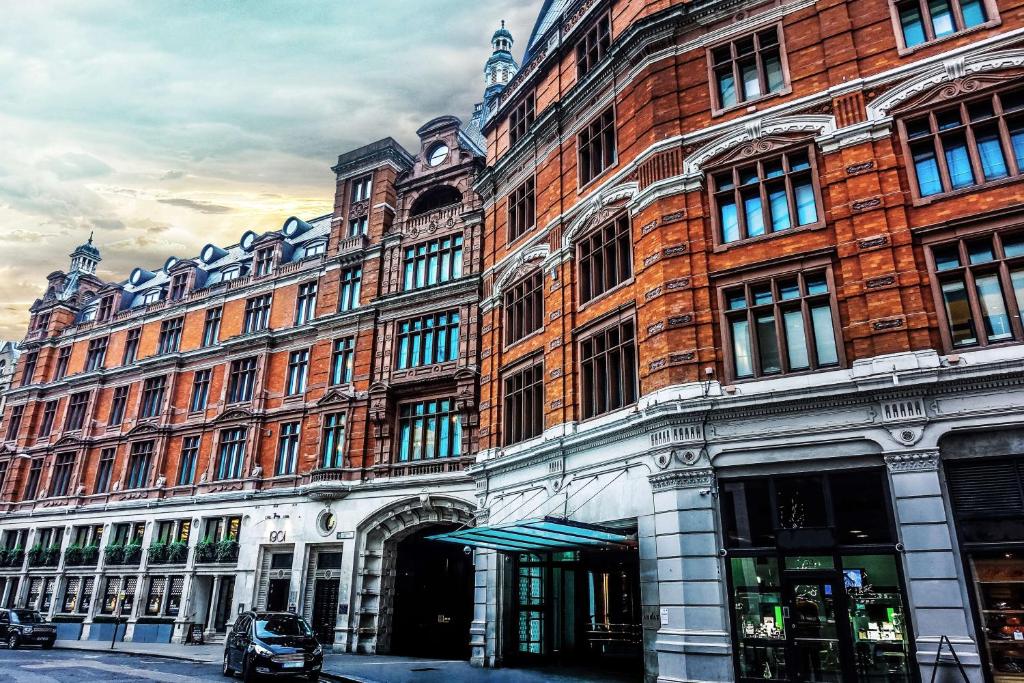 Redchurch Townhouse
The Redchurch Townhouse features in London's best hotels. Shoreditch visitors throng here as this is a centrally located property by Soho House. Guests have access to a local fitness center. The hotel has a bar where minimal snacks are served. A continental breakfast is served every day, The on-site Italian restaurant is famous for its gluten-free cuisine. Popular attractions like St. Paul's Cathedral, the Tower of London and Sky Garden are within 2.6 km of the hotel. Guest rooms are compact, offering comfortable beds and en suite bathrooms with toiletries. Suites are large with spacious bathrooms. Some larger rooms have cozy seating areas. The hotel offers laundry and ironing services on request. The nearest attractions in the city are under 3 km away, and the London City Airport is 11 km away.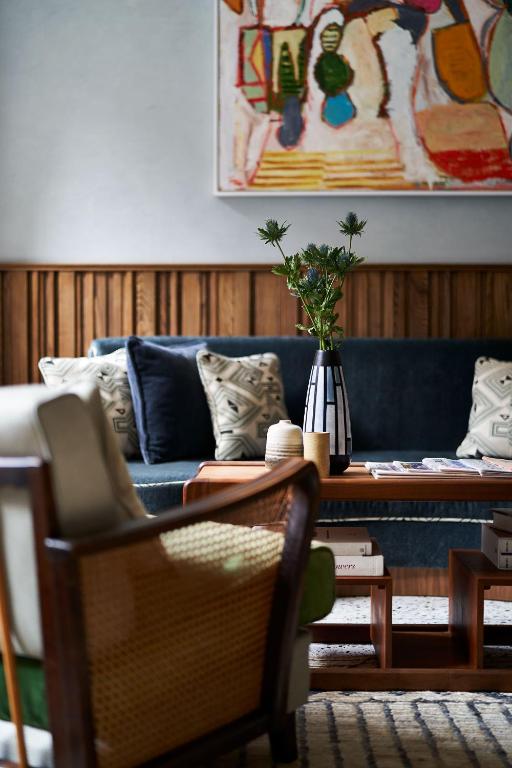 The Nobu
Hotel Nobu is a 5-star property, located near the Bank of England Museum. A luxury hotel and spa, the Nobu is a uniquely Japanese-themed residence from its architecture to its rooms. Typical Japanese interiors can be seen in ultra-luxury suites like the Hiraki Suite and the Miyabi Suite. Boasting 148 of the best rooms in any London hotel, the Nobu is around a half-hour walk from some of the city's main attractions.
Point A Hotel
Another hotel on the hot list of Shoreditch hotels that has a letter in its name, the Point A is a top-class hotel in Islington, with Shoreditch not too far away. Located conveniently at King's Cross, this is a hotel offering value-for-money deals with a great location to boot. Rooms are small, but have every amenity you could ask for. With Hypnos beds and power showers, you have all you need for a comfy stay.