15 Best Hotels in San Diego
Located a little distance from the Mexico Border is the oldest town of California, San Diego. The place is teeming with natural beauty, abundant sunshine and a calming Mediterranean climate. The major city attractions, therefore, happens to be rather outdoorsy, including museums, parks and gardens. And in order to explore this charming city, one needs to have an exactly charming place to sleep and relax, which brings us to San Diego's marvellous hotels.
Affiliate Disclosure: As a Booking.com affiliate, I earn a small commission when you book through links on this page.
Fairmont Grand Del Mar
One of San Diego's most luxurious hotels is the amazing Fairmont Grand Del Mar, well known for its mesmerizing architecture, impeccable dining and excellent customer service. Located some miles away from the Pacific Ocean, this transformed Mediterranean estate is spread over a coastal canyon space of 400-acres. The hotel has a private golf course, beautiful pools, tennis courts, yoga and fitness classes, an Explorer's Club for children, an amazing spa and not to forget, the Michelin-starred restaurant of the hotel. There are more than 240 guestrooms and suites, each with its own marble bathrooms, large balconies and tranquil atmosphere. TripAdvisor has bestowed the title of no.1 Luxury Hotel in California to Fairmont Grand, a literally 'grand' hotel!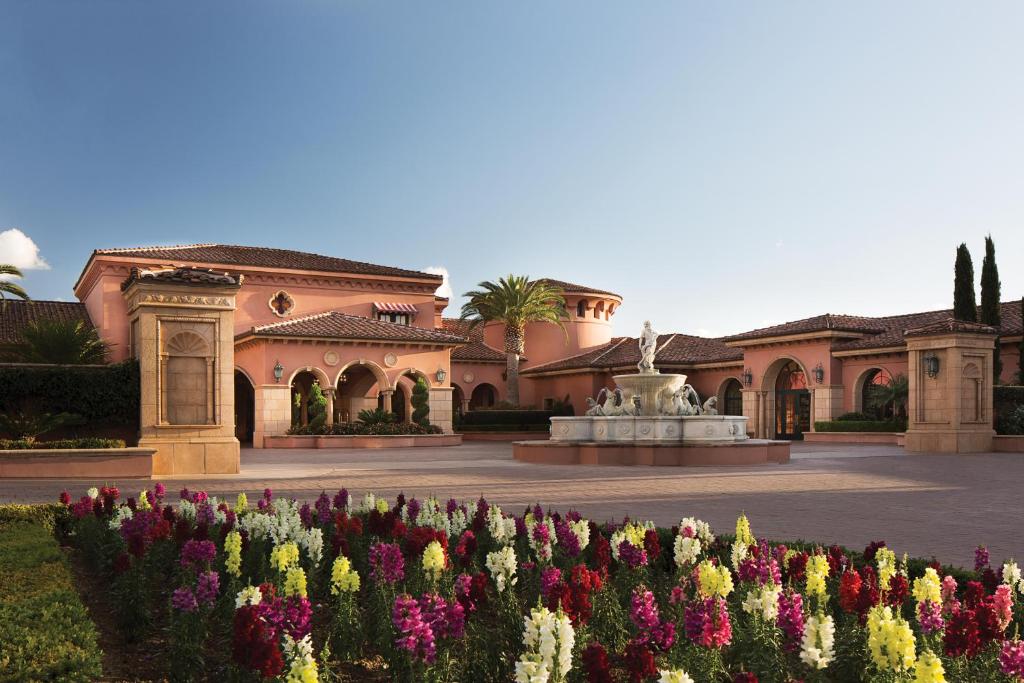 The Pearl Hotel
The Pearl is something of a paradise, located in the heart of Point Loma, San Diego. The hotel recently underwent a beautiful transformation, where they infused the earlier century's charm into its modern setting. The rooms that the hotel provide are, just like the hotel, a comfortable blend of vintage and modern. Queen beds, workspaces, LCD TVs, amazing bathrooms with walk-in showers are the basic features of The Pearl's rooms. An oyster-shaped pool graces the middle of the space, which is fringed with local flora. A cocktail bar and the restaurant Charles + Dinorah offer a delicious menu for you to gobble up. Corporate and private events as well as happening activities are always seen taking place in the Pearl, which is the winner of the TripAdvisor Traveler's Choice 2020.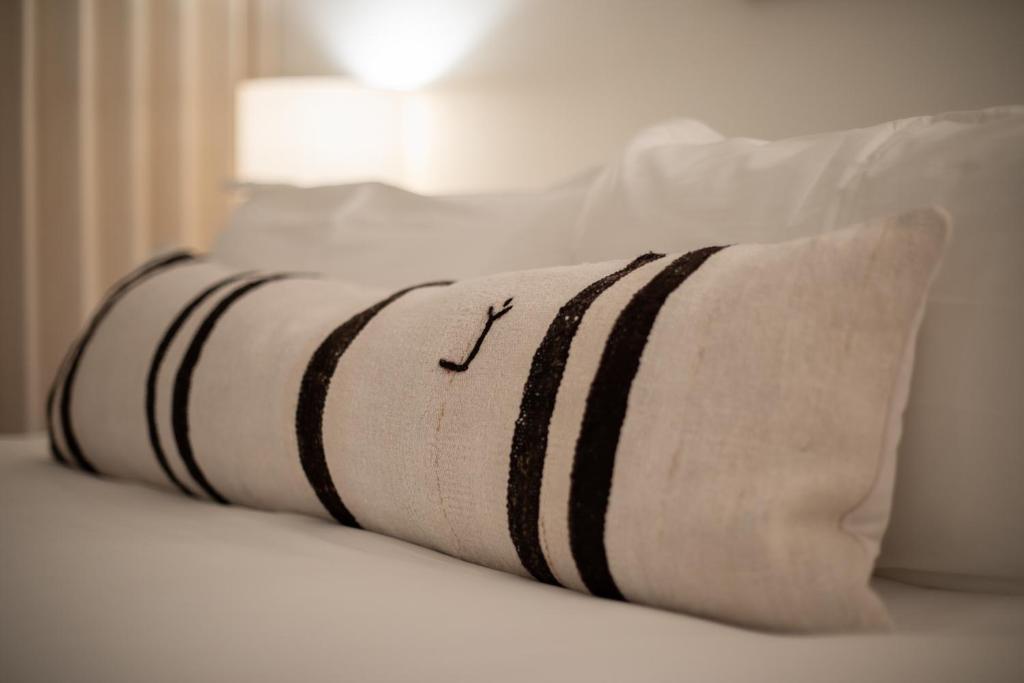 Rancho Valencia Resort & Spa
Called as "A secluded SoCal escape" by Forbes, Rancho Valencia resort is a little away from San Diego, nestling in the folds of Rancho Santa Fe. The rooms of this place are absolutely relaxing, all of them divided into different types of suites, such as Agave, Olive Grove, Eucalyptus ADA, Palm and not to forget Valencia suites. The dining here is especially special, not only because of their special Coastal Ranch cuisine but also for the option of private dining, where you can book special dining venues on the property to enjoy your meals with your loved ones only. From the array of activities, the soothing spa is the absolute best amenity that they offer. Once you step into the resort, you will definitely discover that life is actually fun and exciting!
L'Auberge Del Mar
San Diego's amazing beach city, Del Mar, harbours an equally excellent luxury resort, known as L'Auberge Del Mar. The hotel is exquisite, not only because of the location but also because of the facilities it provides for its visitors. Different types of rooms – such as guest rooms, suites and ADA accessible rooms – are provided, all of which comes with elegant furnishings. In addition to this, you can enjoy the hotel's poolside cabanas, ride beach cruiser bicycles or go surfboarding, to while away your time. The hotel also provides a 24-hour fitness room, Spa L'Auberge and two large tennis courts. As for dining, you will always have scrumptious food in your plate, whether you are at the Bleu Bar or their SoCal style open-air restaurant, Coastline.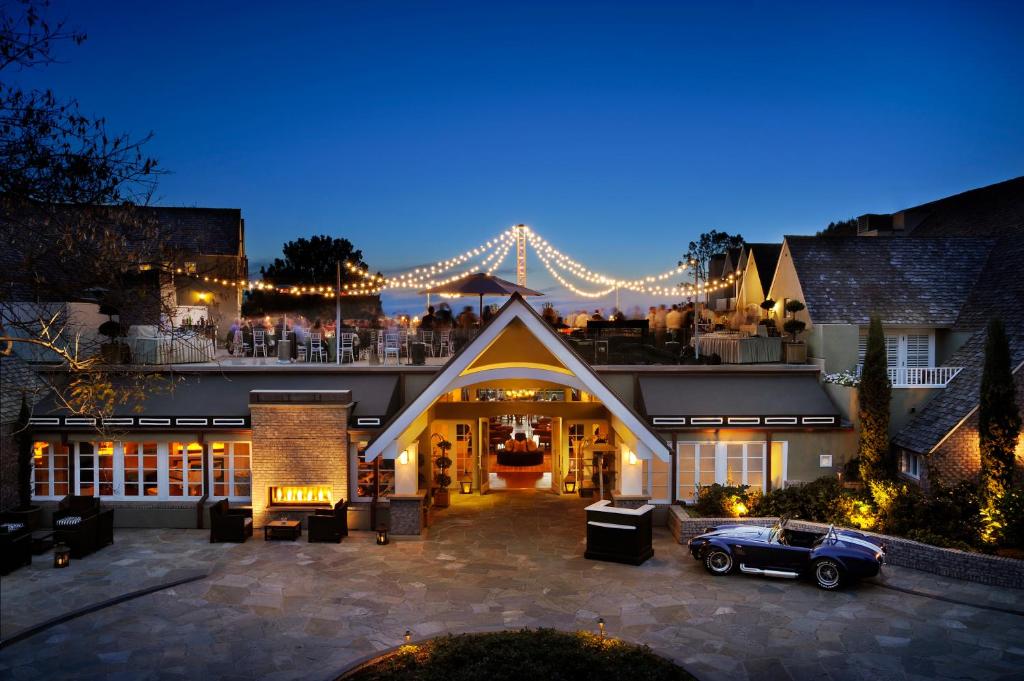 InterContinental San Diego
Sophistication personified, InterContinental San Diego is a beautiful hotel on the downtown waterfront, close from many San Diego's key attractions. There are more than 300 guestrooms, suites and club rooms, all of which are equipped with comfy beds, mini bar, ceiling-to-floor windows and surprisingly, a coffee maker! After dosing on your coffee, it's now time to hit the hotel's amazing dining. The place provides Vistal bar + Restaurant, which looks over the bay and serves mouthwatering coastal Southern California cuisine. There's Layover as well, an outdoor bar and lounge, offering wines, beers and aero-inspired cocktails, among others. Other options include Garibaldi, Del Frisco's Double Eagle Steakhouse and obviously Starbucks. With an absolutely mesmerizing event space to celebrate special days, this hotel is perfect in every sense.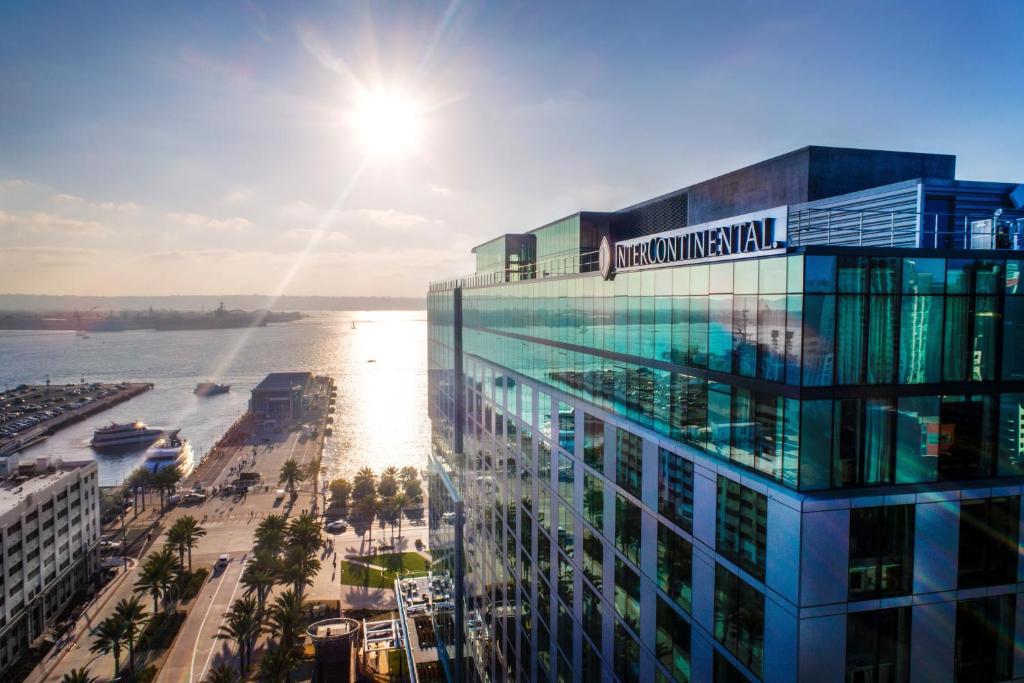 The US Grant
Just a few minutes' walk away from the Broadway Pier is the historic hotel of San Diego, The US Grant. The hotel completed its 100th anniversary back in 2010 and is world-famous for its restaurant, Grant Grill, started in 1952. ¬Along with this signature restaurant, the hotel provides an excellent fitness centre, an in-room massage as well as a state-of-the-art banquet hall to hold events. This 11-storied hotel consists of 270 guest rooms, including three presidential suites. The hotel has been registered as one of the National Register of Historic Places, with guests like Albert Einstein and Woodrow Wilson has lived in the hotel. The hotel is close to the area's popular attractions, making it one of the most sought-after hotels in San Diego.
Manchester Grand Hyatt San Diego
Where will you find a hotel that comes with an amazing spa, a perfect pool, camping facilities, business centre, among other amenities? The answer is San Diego! Manchester Grand Hyatt San Diego is actually the largest hotel in Southern California, comprising of two towers. The property has over 1600 rooms, all of them furnished to make your stay as comfortable and amazing as possible. Once you have settled in, enjoy a scrumptious meal at the different dining venues of the hotel, such as MARKET | ONE, Sally's Fish House & Bar, Pool Bar & Grill and the amazing Top of the Hyatt, which has been declared as the "Best Upscale Bar" by SignOnSanDiego. This hotel, with all the amazing facilities, including the accommodations and dining, happens to be perfect for tourists and locals alike.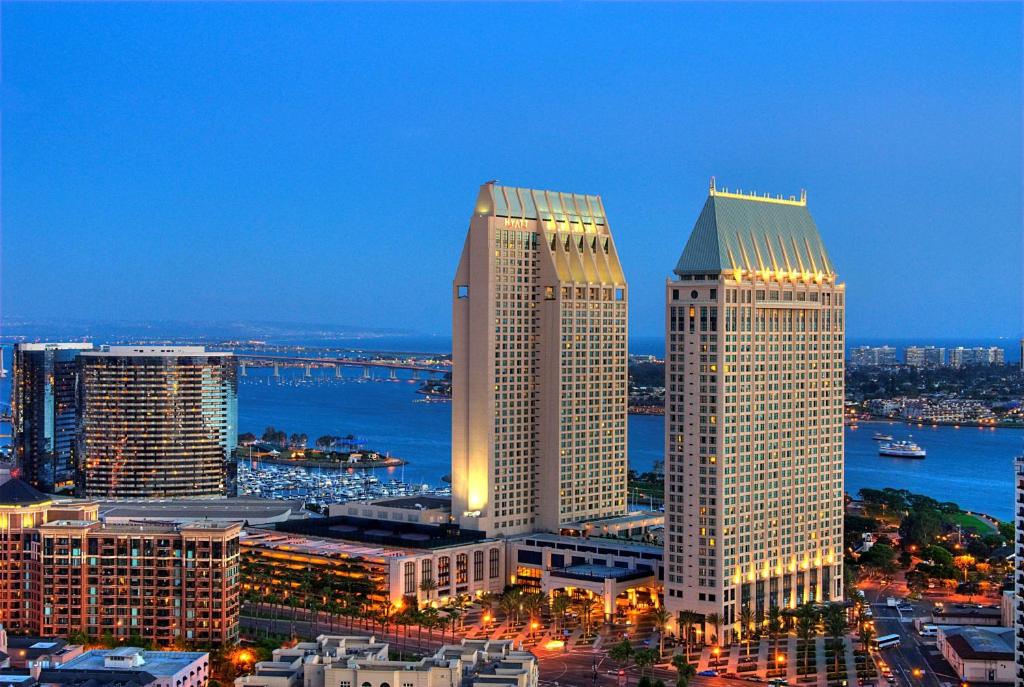 San Diego Marriott Marquis and Marina
One of the charming hotels that you will find on this list is Marriott Marquis San Diego Marina. Located by the West Harbor Drive, this waterfront place has an impressive selection of guest rooms, with flat-screen TVs, WiFi, dedicated workspace and comfortable bedding options. All of these rooms have an added advantage – all of them provides a mesmerizing view of the city beyond. The hotel provides a 24-hour gym, a spa and a couple of outdoor pools. As for the dining affair, there is an array of restaurants, all of them providing a variety of lip-smacking cuisine, from Mexican to Asian-fusion. Their indoor as well as outdoor venues have just been redesigned, meaning you will get a fresh and inviting atmosphere for your special events!
Humphreys Half Moon Inn
Humphreys Half Moon Inn is packed with facilities that will make your trip to San Diego worthwhile. However, the best thing about this hotel is that it is a waterfront hotel, where you can bask in the tranquil atmosphere of Shelter Island. An amazing selection of rooms awaits you at the Inn, including guest rooms with tropical view, luxury waterfront suites and accessible guest rooms. Humphreys also provides a waterfront restaurant, along with a live music lounge, boasting of award-winning cuisine and favourable happy hours. Not only Humphreys has indoor as well as outdoor options for hosting events but also provides facilities for their guests to visit the attractions of San Diego. Humphreys is definitely a waterfront paradise!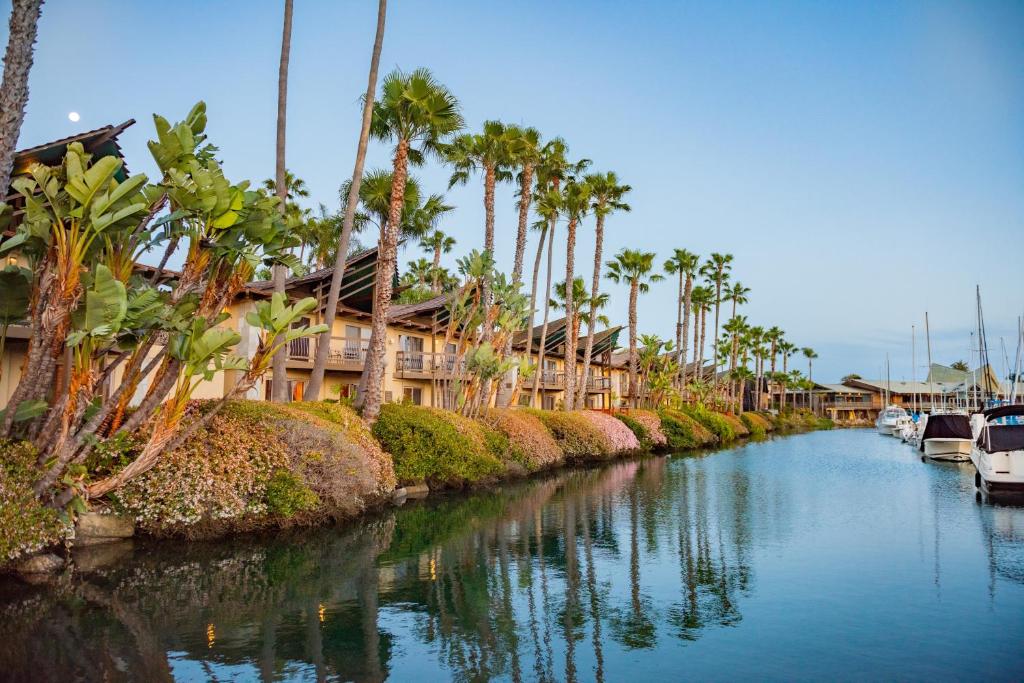 Solamar San Diego
Solamar San Diego is a thriving place, where the city's fascinating culture and modern living experience come together to provide an amazing time in the city. The hotel guest rooms are spacious and luxurious, featuring a soothing aesthetic, ample natural light and other facilities that would change according to the type of the room. The restaurant of this hotel, Jsix, is an amazing open kitchen, with a rotating menu made from local ingredients and captivating local flavours, while their rooftop bar, Upper East provides delicious dishes and signature drinks. Also, this hotel has gone one step forward in ensuring that the space is as safe for people as possible, making Solamar the right choice in these trying times.
Omni San Diego Hotel
A slice of four-diamond high-rise luxury in the Gaslamp Quarter, Omni is a hotel and condominium tower, managed by Omni Hotels & Resorts. It is quite a recent addition to the San Diego Hotels, established in 2004. The tower spans 32-stories, 11 of which is occupied by penthouse condominiums, known as The Metropolitan. There are more than 500 guest rooms and suites as well as a full-service fitness centre, a business centre, a terrace bar & grill, a bar – Zumbido – along with a heated pool, hot tub and stone fireplace in its outdoor terrace. With a number of attractions around, including the PETCO Park, it is definitely one of the best hotels San Diego has to offer.
The Westgate Hotel
San Diego's one of the most elegant landmarks happens to be The Westgate Hotel, known to be the most expensive hotel when it was built in 1970. There are deluxe rooms, premier rooms and amazing suites, all of them equipped with beautiful step-out balcony, oversized marble bathrooms and in-room coffee. The hotel's dining offers a beautiful gourmet experience – there's Veranda, Plaza Bar, Weekend Brunch and Afternoon Tea. If you want more private dining, you can always opt for in-room dining from the Westgate Room kitchen. You can also indulge in the number of events the hotel organizes from time to time, including yoga sessions and live music, after which you can dive into their amazing spa to relax!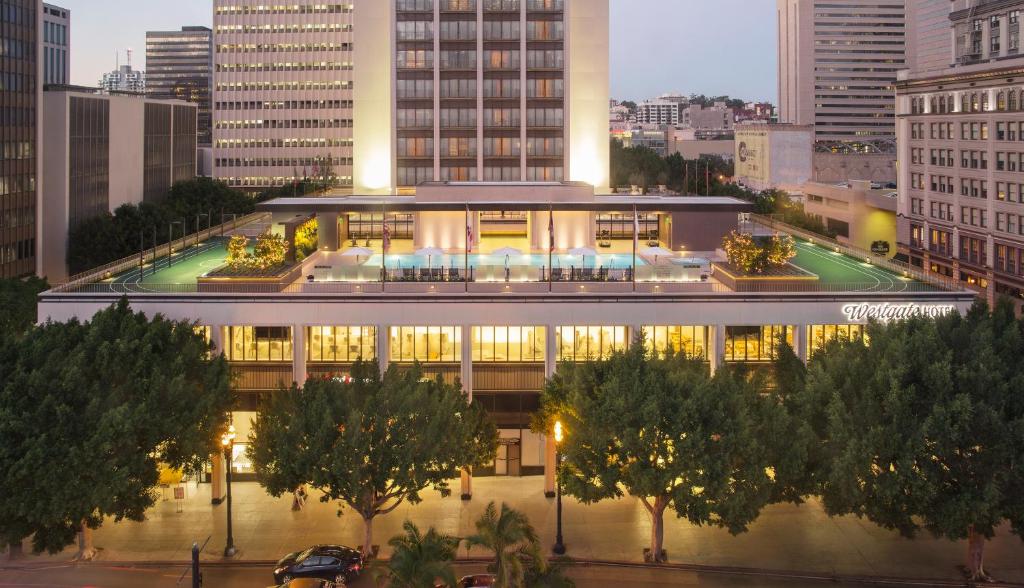 The Dana at Mission Bay
The Dana on Mission Bay is a tropical paradise, where you are provided with an exceptional and seamless living experience. The hotel provides luxurious guest rooms and suites, spread all over the 10 acres of the property. The types of these accommodations include Marina Cove, Water's Edge and the other accessible accommodations. There is a family-friendly Bayside Pool, bikes on rent, Bootcamp fitness class, lawn games and water sports. Now that you have had your fill of enjoyment and relaxation, its time to fill your stomach! Not only do you get access to craft beer brew, but also to a delicious menu in the amazing Firefly Eatery & Bar. Most of the hotels of San Diego overlooks the Bay, and while the Dana is no different, it definitely is superior in every sense.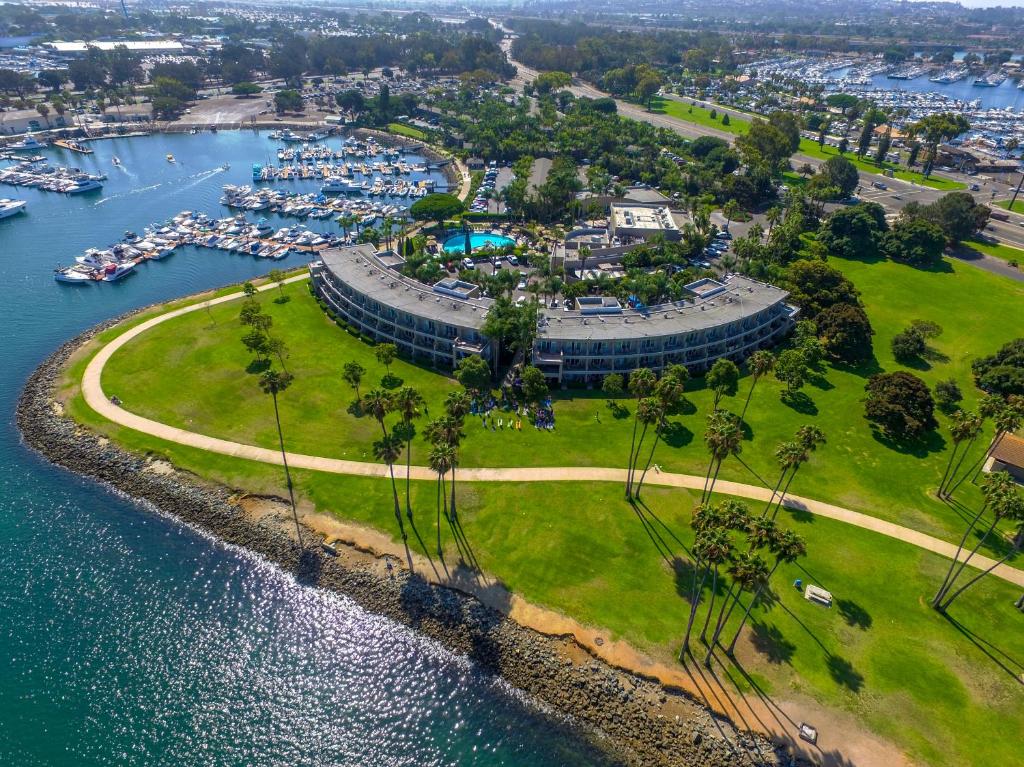 Tower 23 Hotel
Tower 23 Hotel is so close to the beach that once you step out of the place, it will be sand caressing your feet, not concrete! The name of the hotel is reminiscent of the lifeguard tower '23' that is situated right by the hotel. This luxury lifestyle hotel is just a few moments away from downtown San Diego and offers a unique beach-side stay! The rooms of the hotel are available in different types, include deluxe rooms and oceanfront suites, among others – boasting of fresh design schemes, luxury fixtures and modern amenities, a perfect blend of elegance and substance. The hotel's restaurant, JRDN, is upbeat and classy, casual by the day and a hip by night. Beachside heaven, Tower 23 Hotel is perfect for tourists!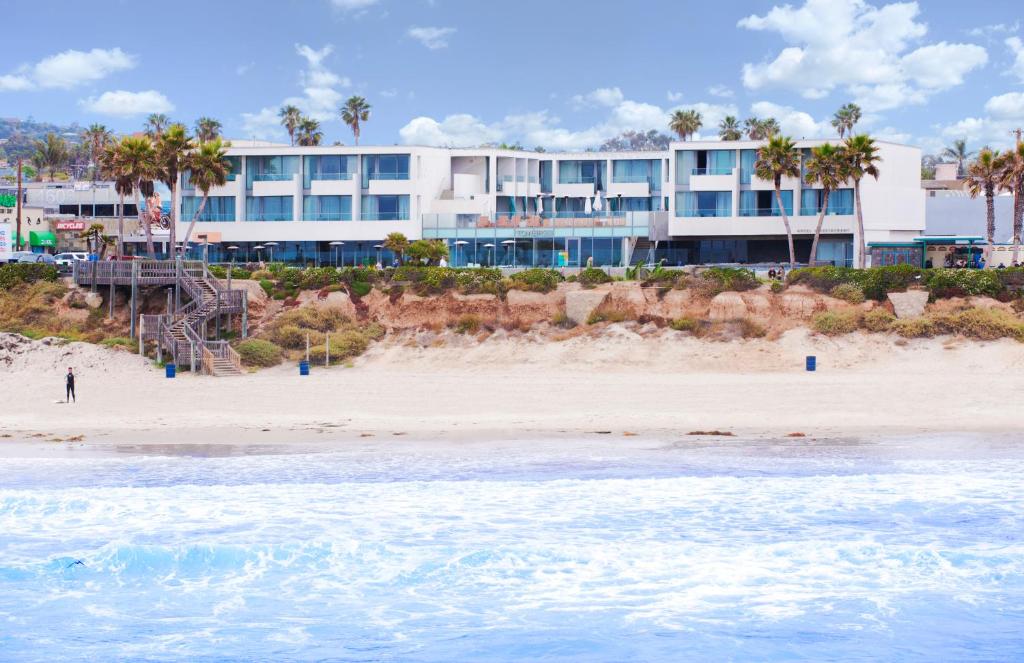 Pendry San Diego
Pendry San Diego is an elegant hotel, located right in the middle of the Historic Gaslamp Quarter and quite close to a number of downtown attractions. The suites and guestrooms of the hotel are characterized by a blend of classic décor and modern amenities, thus accentuating the coastal Californian vibes, all the while maintaining the comfortable quotient of all the rooms. Comfortable beds, posh décor and clean washrooms are provided in all of these rooms and guestrooms. Once you have settled in, now it's time to explore the hotel's delicious dining options, including Provisional, Fifth & Rose, Nasion's Beer Hall, Lionfish and the Pool House, all of which provide an amazing selection of drinks and dishes. There is a rooftop pool, a lounge as well as a spa and a fitness centre, along with a venue for special events; this hotel is definitely a full package!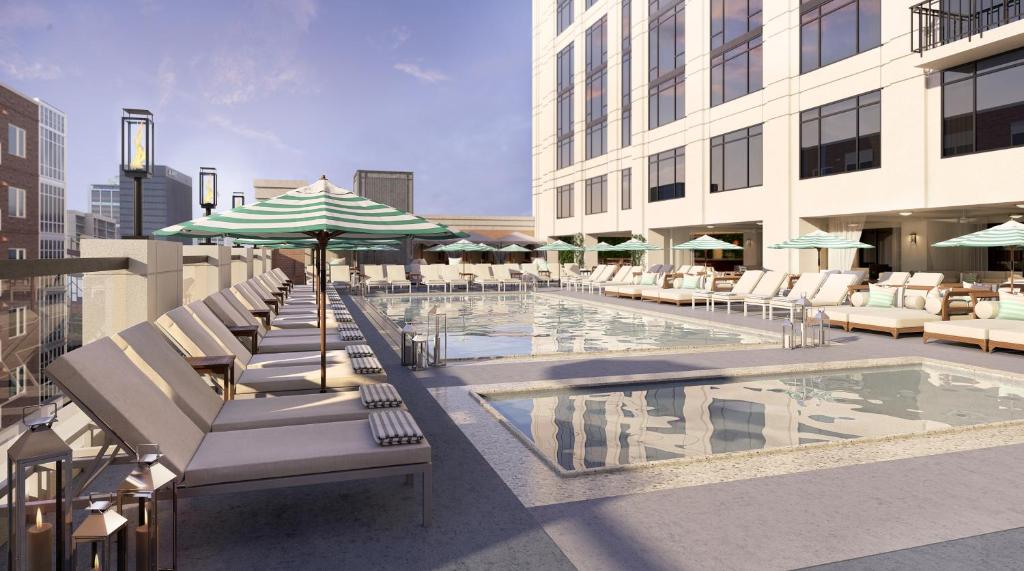 All of these hotels are spread out, especially around the city's many attractions, which proves that everything has been planned and formulated to make your visit easy and efficient. Offering you all kinds of amenities, dining options and recreational activities, this SoCal City makes sure that your stay is as magnificent as you are!