15 Best Hotels in Pittsburgh
Sean Pavone / shutterstock.com
What is impressive about hotels in Pittsburgh is that whatever your preference is, it is there. You can choose from a variety of hotels, including budget motels, luxury hotels and even historic and renovated properties. With such a fresh selection of living accommodations, tourists can plan their stay at any one of the hotels provided below and explore this charming and welcoming Steel City!
Affiliate Disclosure: As a Booking.com affiliate, I earn a small commission when you book through links on this page.
The Fairmont Pittsburgh
The Fairmont Pittsburgh weave together luxurious accommodations, eclectic furnishings and modern amenities to provide you with the best living experience in Pittsburgh! There are more than 180 guest rooms and suites, all of which come with luxurious beddings, a workspace, private bathrooms and soft, comfortable lighting. The hotel also provides a host of services, including concierge service, laundry room, bell staff, access to safes, Larrimor's and a soothing health club & spa! Along with that, the Fairmont is not only pet-friendly but also provides activities to keep your kids occupied. The restaurants of the hotel are few but provide delicious meals, including FL.2, boasting of Modern American cuisine and Andys, an amazing bar; what's more! In-room dining is also allowed.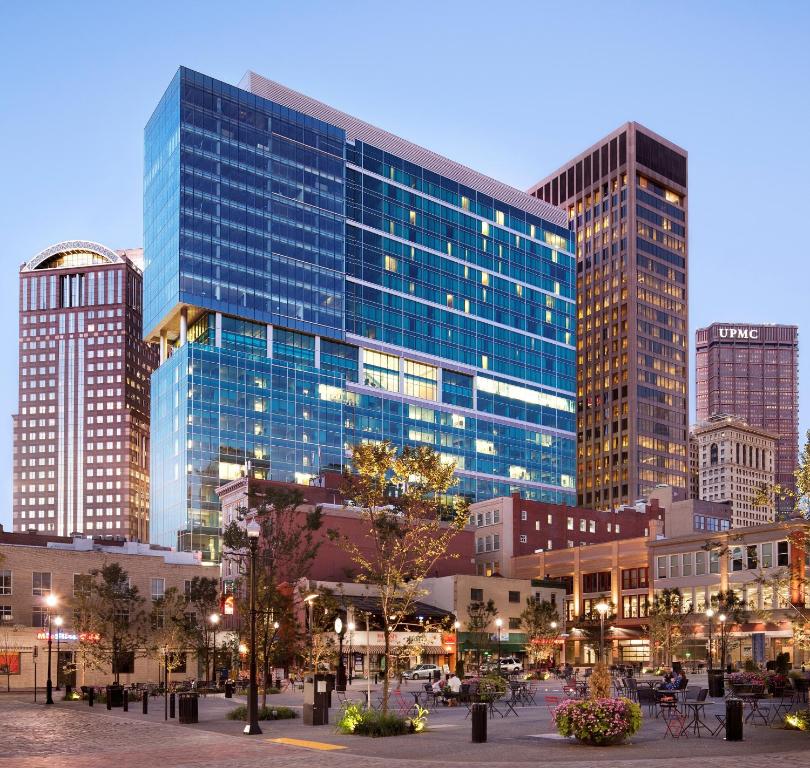 The Oaklander Hotel, Autograph Collection
The Oaklander Hotel, located in the Oakland neighbourhood of Pittsburgh, is full of pleasant surprises! A prestigious part of the Autograph Collection Hotels, the guestrooms are splashed with warm shades of colours, modern furnishings and comfortable amenities. The restaurant of the hotel, Spirits & Tales, serves classic dishes, made by Executive Chef Jessica Lewis with precision and locally sourced ingredients. What makes this hotel an ideal choice is the neighbourhood it is nestled in – being the cultural hub of Pittsburgh, Oakland is rich in being accessible, tourist spots and dining options. With so many impressive things on the inside as well as outside, The Oaklander provides a seamless living experience if you choose to go for it.
The Westin Pittsburgh
As if the case with this hotel's chain, Westin Pittsburgh is one of the best hotels in the city. The Westin is quite close to the Strip District, oozing luxurious comfort all over. The guest rooms, available in a variety, come with fluffy, cosy beds, flat-screen TV and different in-room amenities. The dining services of the Westin include Bill's Bar & Burger and a Starbucks; outside of the hotel, there are even more restaurants at your service - such is the location of the hotel! It is not only pet-friendly but also comes with a fitness centre, a business centre, an impressive meeting event space and car rentals. Surrounded by many local attractions, The Westin is quite a wholesome place to stay at.
Mansions on Fifth Hotel
Though tourists visit Pittsburgh to experience its energetic hustle-bustle, they do need a quiet getaway as their base. And that is why Mansions on Fifth Hotel is one of the best options for them. The guest rooms and suites range from standard and deluxe to presidential, all of which come with a cosy bed, a private bathroom and an amazing seating area. The dining options of the hotel are amazing, such as the prompt breakfast service and the Oak Room Pub. What is unique about the hotel is along with the usual amenities – such as the fitness room – it also provides in-house entertainment. This entertainment comes in the form of top Pittsburgh musical acts performed in the hotel! Doesn't the hotel sound exciting?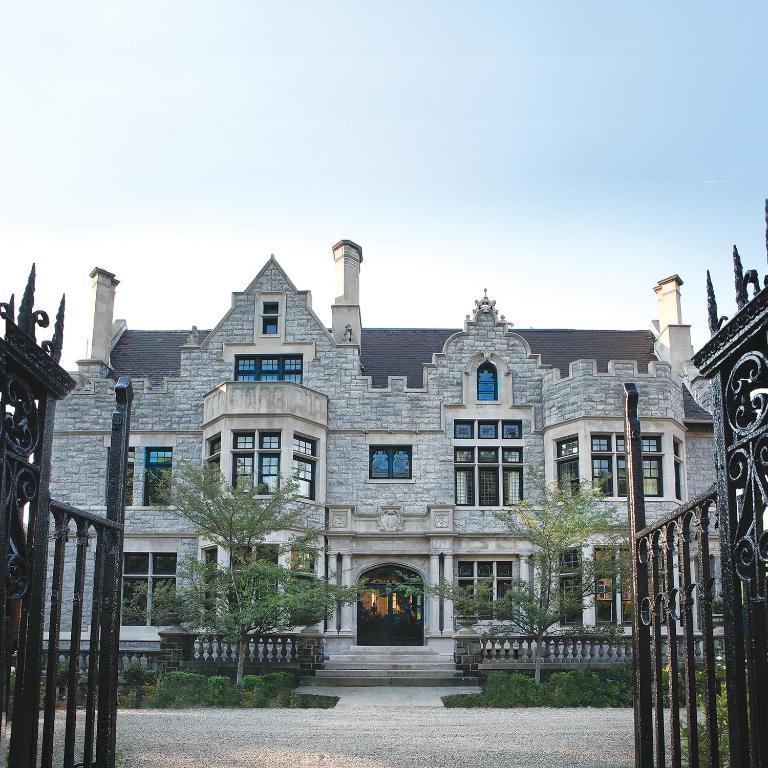 The Inn on Negley
This addition would be a slight deviation from the hotels, but The Inn on Negley is still a popular and much-loved B&B, located in the historic Shadyside area. It is a restored period home, all of the eight guestrooms renovated to perfection. These rooms come with large beds, a private bath and complimentary toiletries, smart TV and free WiFi, among others. This B&B also provides impressive amenities, such as delicious breakfast, complimentary wine on weekends and cookies and iced tea every day. A beautiful addition to this is the high tea service, a favourite place for locals and travellers to hang out at. And since it is just a block away from Ellsworth Avenue and Walnut Street, there are several dining, shopping and entertainment option all around!
The Priory
Another to add in the renovated properties, the Priory was a Benedictine monastery-turned-boutique-hotel, sitting in the Deutschtown section of Pittsburgh. Built in 1888, The Priory comes with an unblemished 19th-century charm, thanks to the antiques and architectural fixtures. You can choose from standard rooms, suites and just a single room, meaning all kinds of tourists can stay here. The hotel also comes with useful amenities, including a fitness centre, a business centre, a sitting room with a wood fireplace, a much-loved floral Priory Courtyard and a handful of beautiful venues for special occasions. As for the dining options, the Priory provides a complimentary continental breakfast and a pub by the name of the Monk's Bar.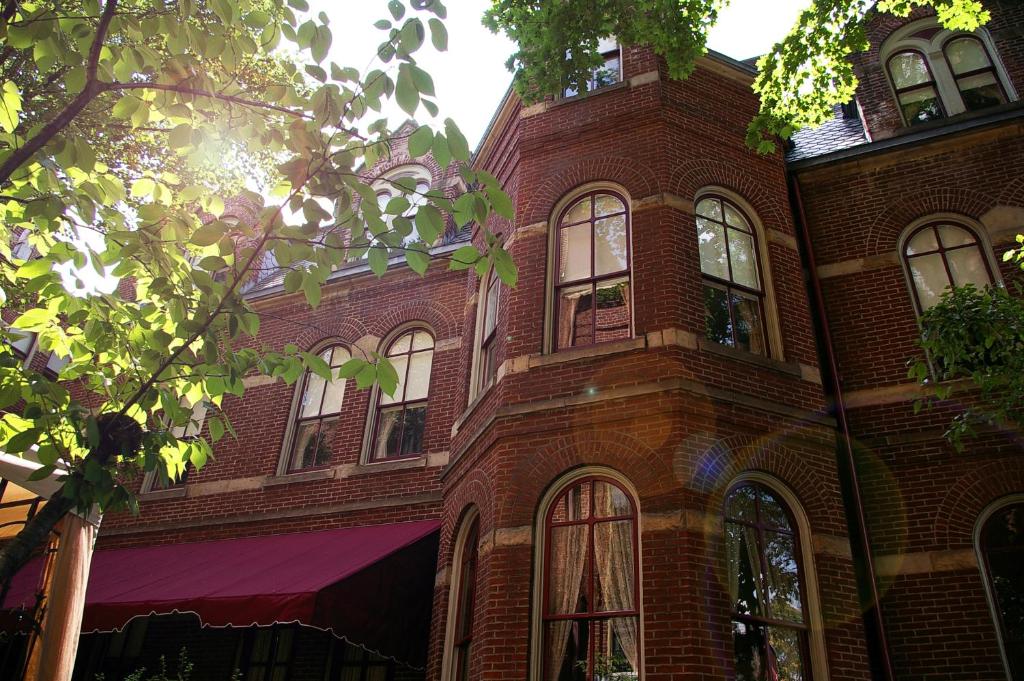 The Parador Inn
What makes the Parador Inn impressive is its rustic feel, Caribbean undertones and convenient location. Found nestling on the city's North Shore, it comes with amazing guest service, spacious guest rooms, and pleasant tropical elements. Formerly a private mansion, the guest rooms, therefore, reflects the grandeur of the late 1800s. These vintage and tropical rooms come with a number of in-room facilities, including a comfortable bed, private bathroom, a gas log fireplace and a refrigerator, among others. The B&B is peppered with public spaces – the most attractive of them being the Gardens – where you can relax and make some new acquaintances. A banquet hall is provided where you can enjoy an amazing breakfast every day. What's more, it is also a great choice for business trips!
Residence Inn by Marriott Pittsburgh
Marriott's Residence Inn nestles by the North Shore and is the extended-stay hotel, which offers everything that'll help you fill your stomach and soul. The hotel is ideal for long stays; the living experience is fashioned accordingly. The guest rooms and suites are, along with basic amenities, equipped with a small kitchenette, which comes with a refrigerator, microwave oven, dishwasher and silverware. And if you are not up to fixing your meals every day, the hotel also provides complimentary breakfast as well as dining services. The hotel also comes with an exercise room, providing cardiovascular equipment and free weights, along with business services. A cherry on the top are the activities peppered near the hotel, including golf, boating, bowling, biking and jet-skiing, among others.
Renaissance Pittsburgh Hotel
The Renaissance Pittsburgh Hotel, located in the downtown area, comes under the Marriott's chain of hotel, just like the Residence Inn. This 4-star hotel resides in the historic Fulton Building and comes with many guestrooms, which provides beautiful views of the city and River Allegheny. The rooms are equipped with luxurious bedding, a mini-fridge, flat-screen TV and a workspace. The hotel offers an amazing pub, Braddock's Street Side, which provides lip-smacking American dishes. Renaissance's services and amenities are top-notch – there's a concierge desk, car rentals, beauty shop, ATM, barber, foreign exchange services, local restaurant delivery services and a variety of business services. The hotel is also close to many recreational options, meaning choosing the Renaissance Hotel is a win-win situation!
Omni William Penn Hotel
This gem of a hotel, located centrally in the downtown area, has been welcoming a steady stream of guests, since 1916. Omni William Penn Hotel features world-class service, spacious living quarters and restaurants providing a delicious meal. The guest suites are adorned with comfortable beddings, a coffeemaker, a work desk, flat-screen HDTV and WiFi Internet service, among others. And when it comes to restaurants of the hotel, it offers an array of options, including the Terrace Room, The Speakeasy, Palm Court, the Tap Room, Brueggers Bagels and even Starbucks! The hotel also offers Wellness facilities, such as a fitness centre, in-room fitness kits and even an in-room massage. And for venues for special occasions, there are around 38 of them.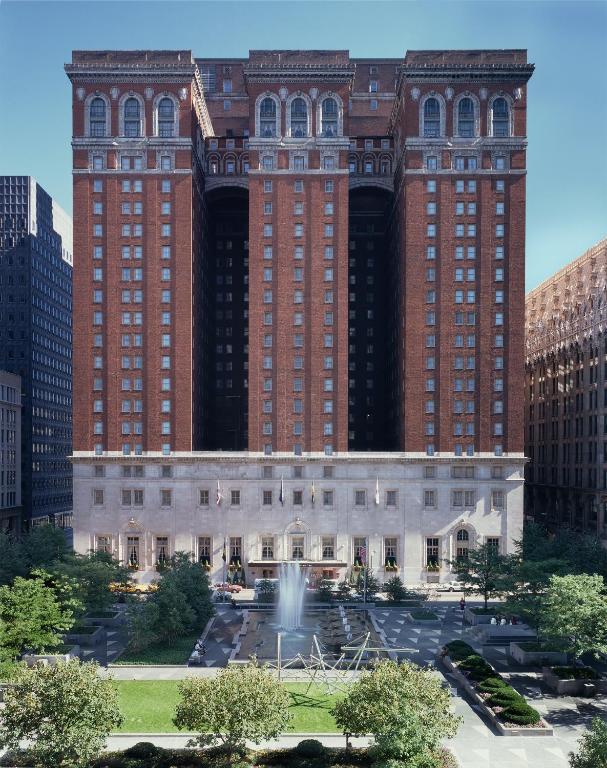 Kimpton Hotel Monaco Pittsburgh
If you are looking for a hotel that mixes modern with vintage, comfort with adventure, then Kimpton Hotel Monaco Pittsburgh is the one for you! The accommodations of the hotel are equally unique and royal, with rooms and suites named, for instance, as King Room and Emperor Suite. All of these come with a luxury bed, private bath and pleasant décor. The hotel also comes with a bag-full – and some more – of amenities, such as a free yoga mat in the rooms, a fitness centre, pet-friendly accommodations, complimentary beverages and access to bikes, among others. Lip-smacking dishes and drinks are provided at the restaurant, the Commoner and Biergarten, the rooftop bar. With such impressive features and the amazing venues of the hotel, Kimpton is a highly sound choice!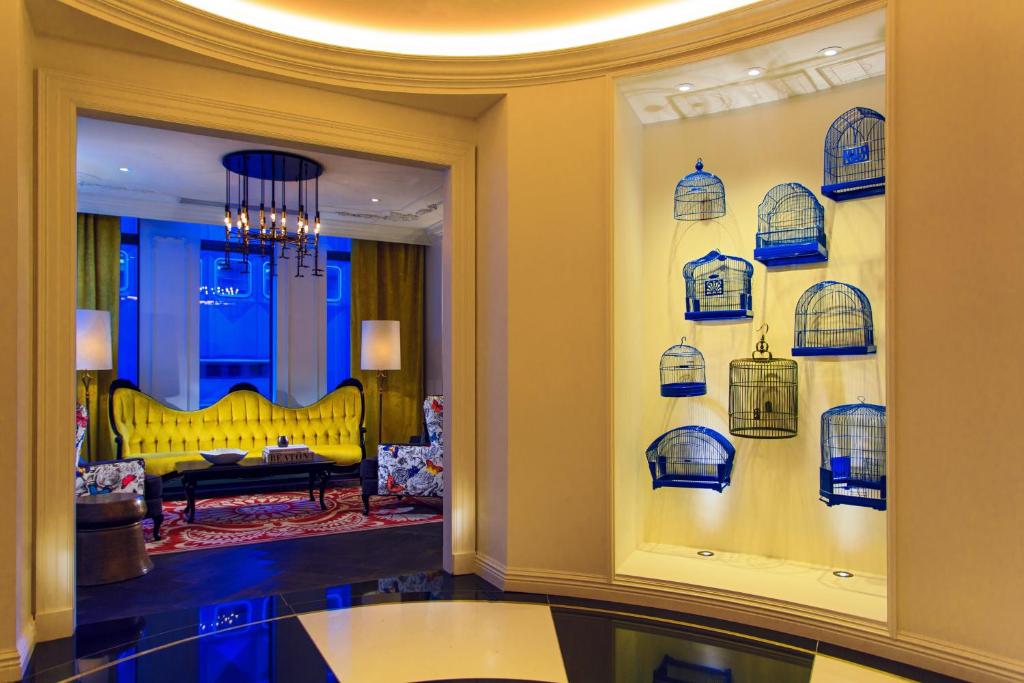 Cambria Hotel & Suites Pittsburgh
A modern refuge in the Steel City, Cambria Hotel & Suites is a state-of-the-art, renovated hotel on Centre Avenue. The guestrooms and suites of this hotel are many, all of which offers, along with basic amenities, a kitchenette, sofa beds, housekeeping and blackout drapes. The restaurants of the hotel are also amazing, starting with the Social Circle Bistro & Bar, a bistro-style restaurant serving American cuisine and Share on Centre, offering craft beers, classic cocktails and local cuisine. Cambria is also equipped with tools to entertain its guest – these include a business centre, an indoor heated pool, a fitness centre, shuttle service, and the hotel's beautiful gift & sundry shop. Upscale, lively and comfortable, the hotel is literally perfect.
Ace Hotel
Staying true to Pittsburgh's hotels' form, Ace Hotel is a boutique hotel, located in a century-old building, near Chatham University. The accommodations of the hotel are divided into easy categories, where you get to choose from small, medium and large rooms as well as suites and accessible rooms. These rooms are designed to provide you with the best of the best, some of them equipped with a fancy seating area. And to satiate your grumbling stomach, you can have a hearty meal at Whitfield and enjoy a calming beverage at the Lobby Bar. Ace is picky about the amenities and services it provides, but they are precise and very helpful; these include a 24-hour front desk, luggage storage and concierge service.
Drury Plaza Hotel

Pittsburgh Downtown area sounds all the more appealing when you find out that Drury Plaza Hotel is situated there. A mesmerizing renovation of the historic Federal Reserve Bank building, it comes with beautiful rooms, amazing eateries, a handful of amenities and top tourist attractions all around. The guestrooms are of four types – King Deluxe, King Suite, Queen Deluxe and Queen Suite – all of which come with comfortable bedding, workspace and a flat-screen TV. The hotel also regularly whips up hot breakfast every morning as well as provide two eateries - 5:30 Kickback and 4th District – and a lobby bar and restaurant. The amenities include the indoor pool, spa, exercise centre and some meeting rooms, to name a few.
Hampton Inn & Suites Pittsburgh
Pittsburgh is peppered with a variety of hotels and one of the finest ones is Hampton Inn & Suites. Located in the downtown area, it is a precise place, putting the customers' needs at the top. The accommodations of the hotel are divided into guest rooms, suites and accessible rooms, all equipped with luxurious beddings, mini-refrigerator, microwave, LCD TV and free toiletries. As for the amenities, the hotel is fully packed with it – there's a swimming pool, fitness centre, business centre, meeting rooms and free parking, to name a few. Hampton also provides daily hot breakfast for as long as you stay there. The neighbourhood of the hotel is pretty exciting, including amazing tourist spots, entertainment and dining options.

The hotels of Pittsburgh are fascinating, focusing on blending the local culture with modernity. The versatility and awesomeness of these hotels - which range from luxury hotels to cute B&Bs – actually makes it harder for the tourists to choose just one!