15 Best Hotels in Orange County
Orange County is definitely among the most iconic counties of the United States; all thanks to its upscale communities, gorgeous trails and beaches, and mentions in the films and TV shows.
It has everything that you might need for a great weekend trip or holiday. With so many shopping malls, restaurants, museums, and beaches, there is something for everyone. This is only improved by Southern California's sunny weather. So, if you are planning your next vacation, here are the top hotels in Orange County where you can stay and have a great time:
Affiliate Disclosure: As a Booking.com affiliate, I earn a small commission when you book through links on this page.
Avenue of the Arts Costa Mesa Hotel, A Tribute Portfolio Hotel
This boutique hotel is one of a kind where luxury meets mod-chic. Right from the entrance that is framed by lavish chandeliers, you will be exposed to a unique atmosphere. You will feel like you have travelled somewhere far beyond Orange County. Silver Trumpet, the hotel restaurant run by chef Hector Zamora, is known for its free-range and delicious organic food. They also serve weekend brunch lakeside that features mimosas and Bloody Mary.
Since 2014, the Avenue of the Arts Costa Mesa Hotel has maintained its AAA Four Diamond Rating that acknowledges its superior and upscale features. The hotel amenities they offer and the friendly nature of the staff is bound to make your trip extra special. For some entertainment, you can always visit the Segerstrom Center for the Arts for a concert or a musical that is right across the street.
In fact, Disneyland is only a short drive away from the hotel. If you are travelling by air, they also provide free shuttles to the John Wayne Airport.
The Ritz-Carlton, Laguna Niguel
If you want a playful and luxurious experience, the Ritz-Carlton in Laguna Niguel is the perfect option for you. The best selling point for this hotel is the breathtaking ocean view. Its close proximity to Dana Point Harbor will ensure that you have the opportunity to experience the beauty of Southern California. All the rooms offer a peaceful place for you to relax while enjoying the sunrise and the sunset. They also offer an in-house spa that features ingredients like sea salt, seaweed, and algae that are known for nurturing and restoring the body.
There are five dining options in the hotel ranging from fine dining to casual. You can enjoy lunch at the 180blũ and dinner at Raya where chef Richard Sandoval prepares his pa-Latin cuisine with locally caught seafood and fresh ingredients. Mission San Juan Capistrano, the birthplace of Orange County.
If you visit the hotel in July or August, you can attend the Pageant of the Masters which features living art.
Inn at the Mission San Juan Capistrano, Autograph Collection
This Hacienda-style hotel is located in the heart of Mission San Juan Capistrano. It is a new Marriott property that offers a glimpse into San Juan's historic traditions that date back to the founding of the mission. The rooms at this hotel are replete with Spanish-inspired decor, state-of-the-art amenities, etc. Many of the rooms even overlook the Great Stone Church. It is the perfect place for you to soak up the rich history of California.
If you like swimming, you can spend your time at the sparkling pool of the inn or drink something at the chic lobby bar. The Ysidora Restaurant and Lounge at the hotel serves traditional Spanish dishes made with regionally sourced ingredients and cooked with a twist. Once you are done eating the delicious tapas, vegetables, and wood-fired meats, you can take a walk in the olive garden.
Laguna Cliffs Marriott & Spa
If you want a place to relax and enjoy the sun, the Laguna Cliffs Marriott & Spa are the perfect option. Rated number 1 in guest service satisfaction and awarded the AAA Four Diamond Rating, this hotel will take care of all your needs. Located between the historic Dana Point and the beach, it is truly a place you can go to get away from everything.
Designed with exuberant colours, this hotel reflects against the greenery of the hillside so that you feel like you are living on an island. It sits on the majestic California riviera. Stretched across 42 acres, this Cape Cod-style hotel is the perfect spot for some fun and relaxation. It also has green and eco-friendly programs like clean air initiative, water conservation, extensive recycling and more.
For times when you are looking for thrills, you can visit Captain Dave's Dolphin to go whale watching or hitch a ride to the famous Catalina Island.
Nomads Hotel in San Clemente
If you are a surfer, then this hotel is the perfect escape for you. Located in San Clemente, it offers a unique, hip experience to all its guests. Surrounded by palm trees and white, bare walls, this hotel truly captures its guests. Its owners, surf enthusiasts Jeff Gourley, Renee Gourley, and Sean Rowland created this place to bring world experiences into the hotel through surf, art, food, and music.
Every single room has been designed to be a reflection of the Bali Room, California Room, and Baja room. They also offer surf packages if you want to learn how to surf or are looking for surf rentals or surf spots. If you want to visit surf spots like Trestles, the hotel offers shuttles to take you and pick you.
You can end your day at the Canteen that specializes in Surfer Soul Food. They also have 120 of the best tequilas in the world, locally acclaimed pole bowls, and a wide range of beers.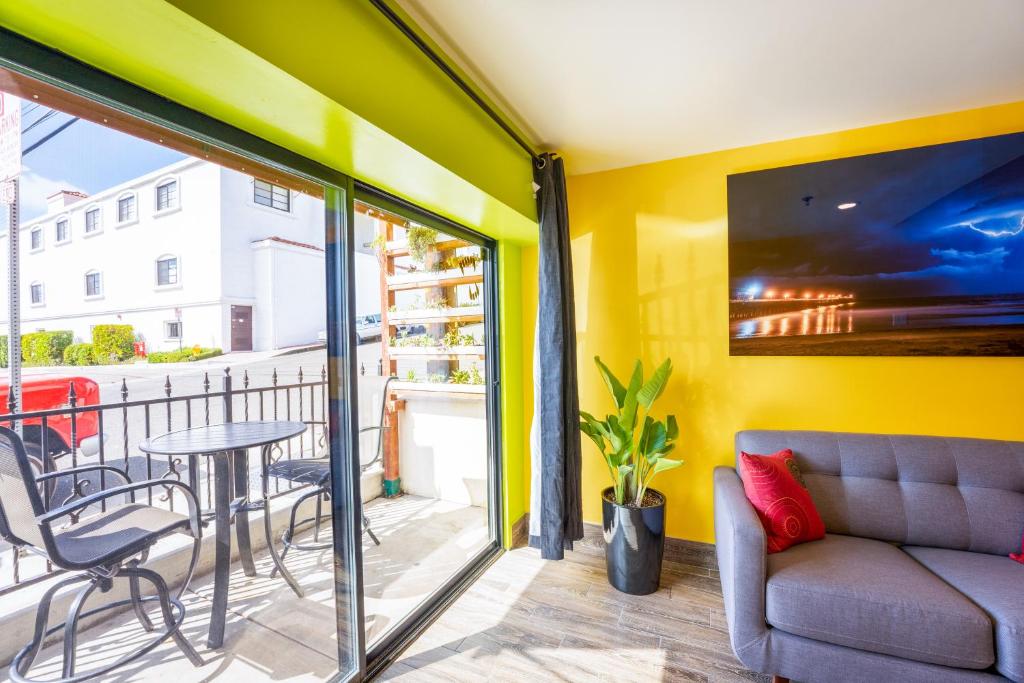 Lido House
The Lido House, located in Newport Beach, has been designed to celebrate the Cape Cod Style. It is the perfect place for watching a sunset while sipping your cocktail. There are several local boutiques, the marina, and the paddleboard within walking distance from the hotel. At the hotel, you will have access to several spa-like amenities, balconies and fireplaces overlooking the marina, and private suites with full kitchens.
If you want, you can stay at the tri-level cottage run by a social captain. The Mayor's Table Pacific Pub & Kitchen is a great place to enjoy dinner. It features vegetable-forward cuisine and locally caught seafood. The spas at the hotel are known for recharging and refreshing their guests. From skin therapy to massage, they have everything to tailor your experience. If you love hiking, you can explore the 2,400 acres of land on Crystal Cove State Park.
Hotel Joaquin
Located atop Shaw's Cove, this is a quaint resort that is surrounded by palm trees and the ocean. The resort is so beautiful and relaxing that it will inspire you to have a cosy staycation. This seaside resort is known for its one-of-a-kind, chic, and playful decor. Even though it has been nestled to offer an out-of-the-world experience, there are several events nearby that will help you enjoy your stay.
You can catch a drama, musical, or stand-up comedy show at the Laguna Playhouse that is a short ride away. If you visit during the winter season, you will be able to enjoy the works and talents of artists at the Sawdust Festival. Saline, the hotel's restaurant serves food inspired by French and Mediterranean cuisine.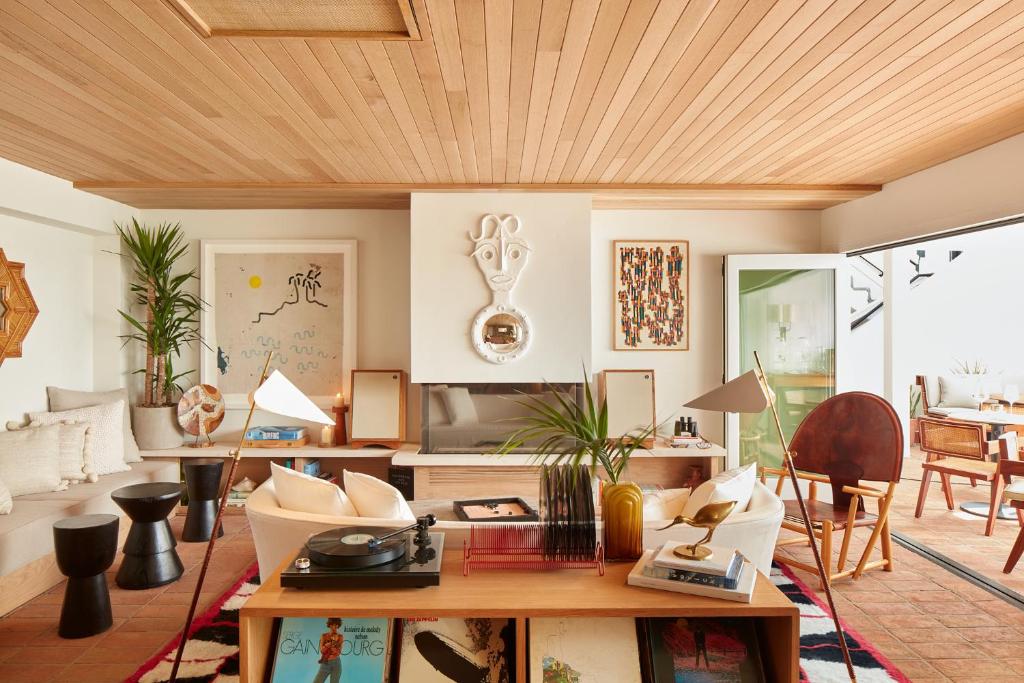 Pasea Hotel & Spa
This hotel features a beautiful ocean backdrop in Huntington Beach. Located in the middle of the surf city, it is a gateway for people who want to stay local. It has 250 guest rooms with a view of the ocean that you will never forget. They have a Balinese spa named Aarna that was named as one of the top spas in the US by American Spa Magazine. It is guaranteed to provide you with immense body treatment and relaxation.
For food lovers, the hotel offers locally sourced cuisine at Tanner's Restaurant that ranges from traditional American food to seafood. They also organize brunch at Treehouse that sits atop the restaurant. It is the perfect place for sipping mimosas, eating French toast, and asking in the breeze from the ocean.
Renaissance ClubSport Hotel
Located in Aliso Viejo, this hotel defines the word 'renaissance'. It features an aquatics centre, a kid's splash park, and a state-of-the-art gym. Anything you need, you can wind within the bright walls of this hotel. Almost all the rooms have plush king-sized beds, flat-screen televisions, and a skyline view of the city. You can enjoy dinner at the hotel's restaurant, Citrus Fresh Grill, which has live music every Friday night throughout summer and spring.
There is a multi-court gymnasium, a 6-lane junior Olympic lap pool, and six group fitness studios along with a pool bar and a recreation pool. If you want to keep your children busy, you can send them to Kids World that has several activities for them. They also have an R Spa where you can get a massage, therapeutic cupping, body scrub, and more. The famous Laguna Beach is a short drive away from the hotel.
The Ranch
Located in Laguna Beach, this hotel is definitely somewhere out of this world. It is nestled between the beach and the rocky cliff tops and looks like something from a destination magazine. It was originally a watermelon farm. It was later turned into a hotel when a local resident decided that this special piece of Laguna history should be preserved by renovating the lodge while keeping the architecture intact.
Thanks to the reclaimed water system used by the lodge, they are able to preserve 21.2 million gallons of water every year. There are 97 rooms in the lodge that are warm and have a ranch-style experience.
Balboa Bay Resort
This is a refined and upscale resort sitting at Marine's edge. It has a beautiful ocean backdrop so that you can enjoy your cocktail while watching yachts pass by. The resort features classical decor and a sophisticated palate if you are willing to try it. All the rooms are furnished with brown beach tones and have beautiful views overlooking the marina.
The first-floor rooms have mini patios leading straight to the marina. There are different restaurants in the resort where you can enjoy breakfast, lunch, and dinner. The resort also offers several amenities like a spa, wellness centre, a dry bar, and water sports.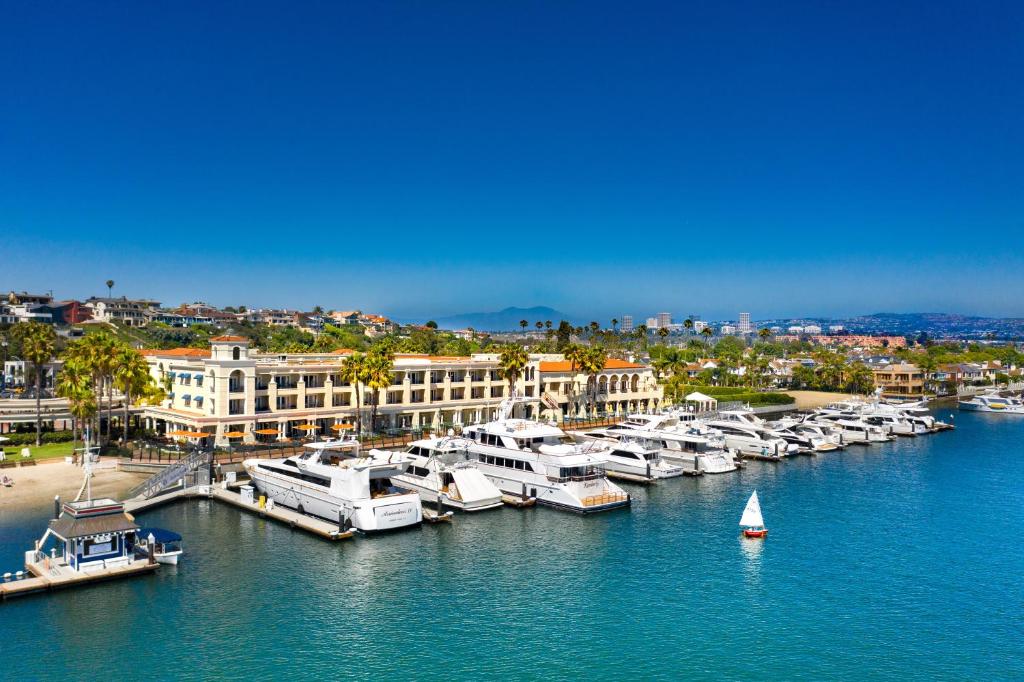 Monarch Beach Resort
This resort is located on a hillside and features Tuscan-inspired architecture. Every inch of the resort is decorated with plan trees along with lush greenery and high arches. It has been awarded the AAA Five-Diamond title and is the perfect place to have a getaway. They have their own beach club and they can teach you how to surf, kayak, and paddleboard.
If you don't like beaches, you can always set up camp by the pool in a daybed or cabanas and enjoy lounging with a drink. They also have a resort sunset tradition where they ring a bell that starts the happy hour.
The Crystal Cove Beach Cottages
Located in Newport, these cottages will help you get back to a simpler time. It was originally built as a seaside colony. 24 of these original cottages have been restored to their original architecture. The bathrooms and the communal kitchenettes will give you a dorm-like experience while the brightly coloured clapboards and verandas will add to the cosy feeling.
If you prefer, you can also stay in a single cottage. It is only three miles away from the Laguna Art Museum.
Disney's Grand Californian Hotel & Spa
This is a warm and rustic hotel that gives a nod to the Californian architects Greene & Greene and the iconic designer Frank Lloyd Wright. The main lobby with the fresh carpet, snazzy hardwoods and new furniture is the perfect spot to gather before the makeover. There are four pools in the hotel that come together and create a pseudo waterpark.
It also has a fountain, chaise lounges, a pool concierge, and a cabana to ensure that the place has an elevated splash.
Montage Laguna Beach
This is one of the most amazing hotels in Orange Country that has a Mosaic pool and live entertainment every night in the Lobby Bar. On some nights, there is a skillful solo pianist and on some others, there are popular songs performed. It is the focal point that offers indoor and outdoor seating. If you like modern coastal cuisine, you have to dine at Studio.
This five-star restaurant has an unforgettable setting where it sits on a 50-foot bluff and has stunning Pacific vistas.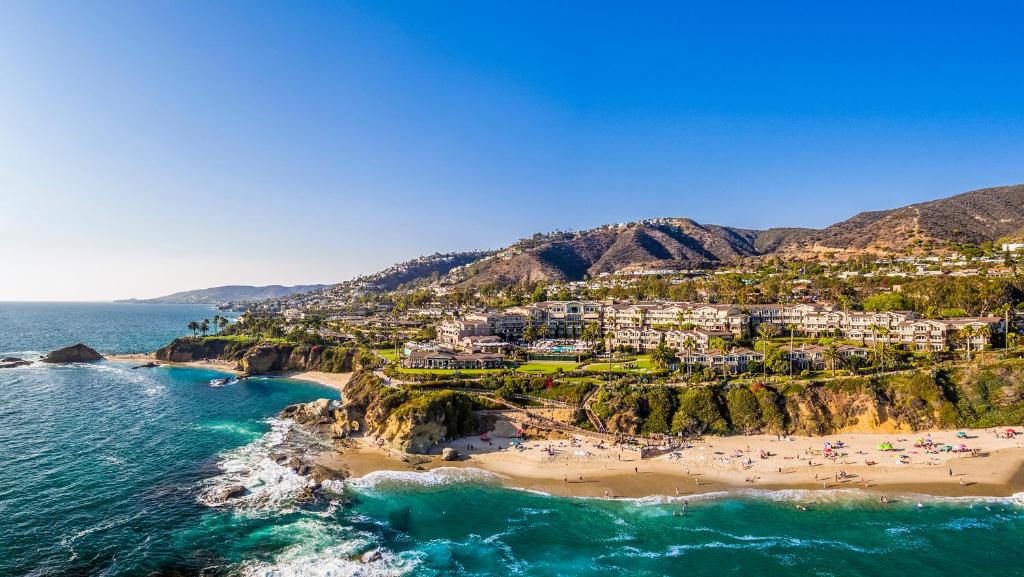 As mentioned before, Orange Country is known for its beautiful beaches, gorgeous weather, and stunning coastal views. It is the quintessential image of what most people think of California. If you are planning a visit, this list will help you find a place that can give you all the experiences you want including outdoor activities, dining, local experiences, and beaches.