15 Best Hotels in Ojai
Ojai is a city located in Ventura County, California that is nestled in an oak-studded and golden valley. It is a deeply spiritual town about 80 miles northwest of Los Angeles that offers a serene escape to tourists. For years, it has been a haven for organic farmers and hippies. Today, it is drawing all types of travellers with its small-town charm, scenic setting, and bohemian vibe.
Since it sits in one of the east-west valleys in the world, its sunrises bathe in the sunshine valley and late sunsets create "Pink Moment" that surrounds the Topa Topa Mountain peaks in rosy hues. A lot of photographers and artists find inspiration in these lights across the valley. If you want, you can admire their work in several galleries located all across the town.
But, if you want to have a relaxing getaway in Ojai, you need to find the right hotel. There are a lot of options and finding the right one can be tricky. Do you want to be tucked into the hills or want to be near downtown? Do you want a pool or some entertainment for kids? These are some of the questions that you must answer before finalizing a hotel. Whatever you are looking for, here are some of the best hotels in Ojai that will encompass the hospitality scene of the town perfectly:
Affiliate Disclosure: As a Booking.com affiliate, I earn a small commission when you book through links on this page.
Ojai Valley Inn & Spa
This hotel is the quintessential Ojai escape for someone who wants to take a relaxing break from their hectic city life. Since its opening in 1923, this historic resort has pampered its guests. At the entrance, there is a golf cart waiting that whisks them to their room through the sprawling and beautiful grounds. There are three relaxing pools where you can forget about your worries. They also have a world-class golf course and an award-winning spa. You can also take advantage of all the perks they offer like romantic candle-lit room service, wine happy hour, and bike rentals you can use for taking picturesque paths to downtown. Apart from serenity and romance, it also caters to children and pups. For children, there are kid' camps, art classes, and teen lounges. Some of the restaurants in the resort have a dog menu.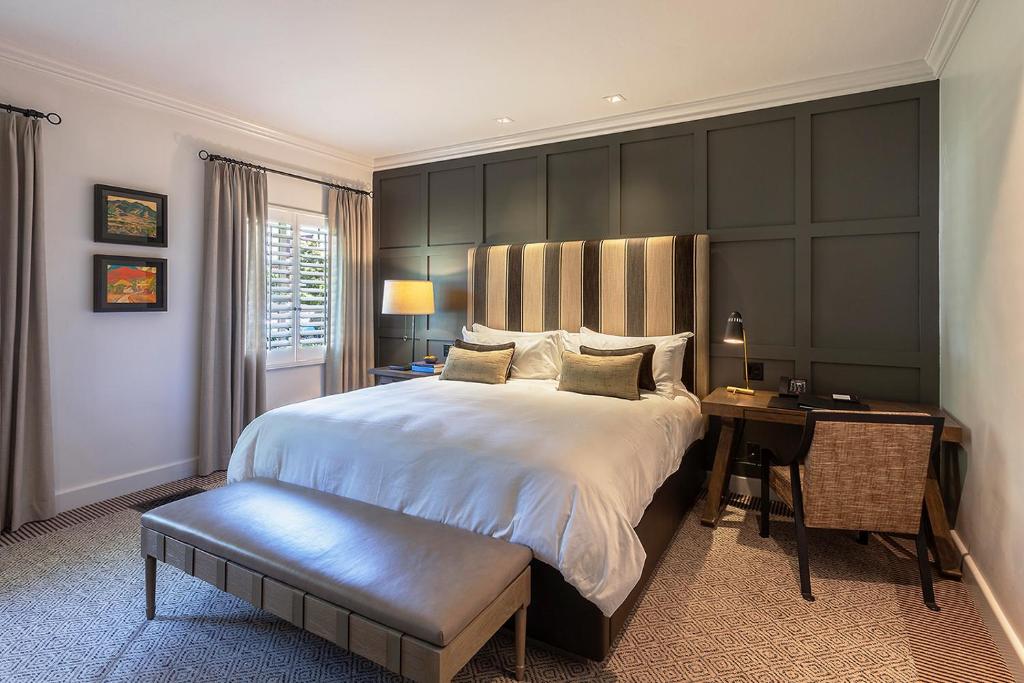 Ojai Rancho Inn
Ojai Rancho Inn is the newest hotel project of Shelter Social Club. They are also behind the Agave Inn in Santa Barbara, Sama Sama Test Kitchen located in Santa Barbara, and the Hamlet Inn in Solvang. From the outside, the inn doesn't look like much. It looks like a simple, lodge-like motel with some cacti and a parking lot. But, once you get inside, you will be stunned. Even the front office has been designed impeccably with beautiful ceramic light fixtures, old-school coffee thermoses on the porch, and a lot of local, handmade goods for sale. The aesthetic of the hotel is the perfect blend of clean and earthy, modern and rustic.
All the rooms come with their own front porch, vintage camp chairs, raised hot tubs, and log bed frames that give you an upscale hotel experience. Also, you can borrow cruiser bikes. The hotel has a rough-hewn stage, a lawn for shows and parties, and a standard pool in the back. Ojai Rancho Inn is currently blowing up. Many aesthetically minded people from LA have been reserving rooms. So, if you want to make a booking, you will have to do it several months in advance. Overall, it is a perfectly styled hotel that is perfect for your next Instagram post.
The Capri Hotel
If you are looking for a reasonably-priced hotel in Ojai that has clean rooms, mid-century style, and a location within walking distance from downtown, then this is the perfect option for you. The minibar of each room comes with a bottle of local wine and the beds are firm and comfy. The pool area might be a little rundown, but there are big umbrellas, shady cabanas, and a big lawn for your kids to play with. The hotel is kid-friendly and has a wading pool for the little ones. If you want a pet-friendly, kid-friendly, and affordable place to stay, this is an ideal hotel for you.
Su Nido Inn
Named after the Spanish word for the nest, this hotel is definitely a soothing nest for its guests. There are several spacious suites offered that are all named after birds. It also features living rooms with fireplaces and kitchenettes surrounding the beautiful Spanish-style courtyard. If you are in town for the weekend, this boutique inn is the perfect base. It is only a 5-minute walk away from the downtown shops. So, you can conveniently explore the city. Also, all the guests on-site are treated with a day spa. The Peacock rooms come with a jacuzzi. So, if you want bubbly fun, you will have to make a special request. If there aren't any Peacock rooms available, you can also opt for Sparrow or Raven.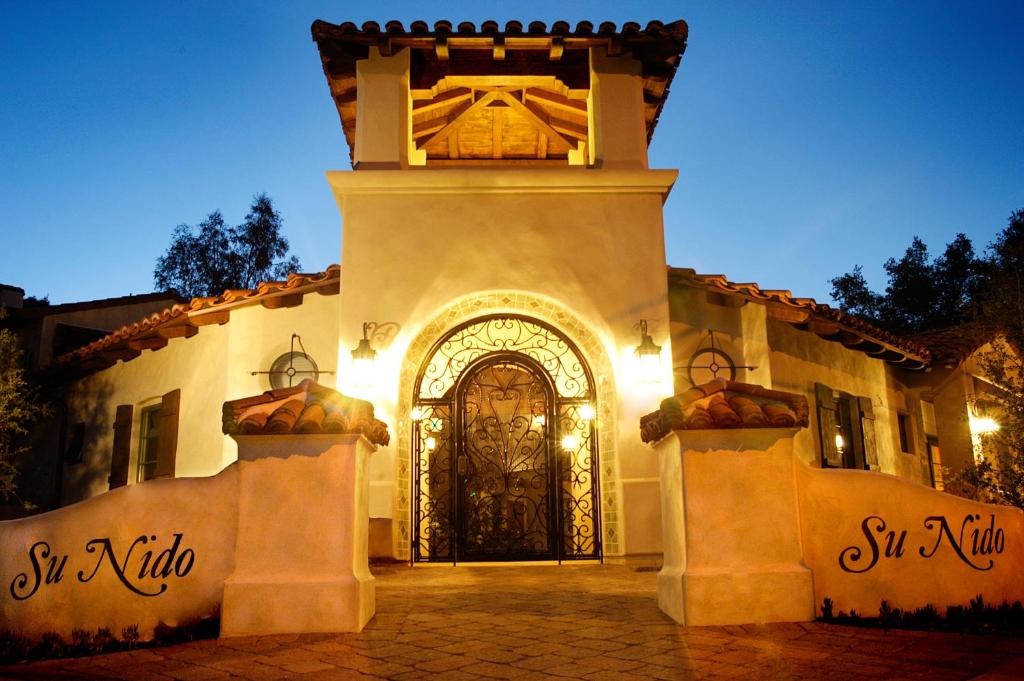 Lavender Inn
If you are looking for a classic bed & breakfast experience, the cozy Lavender Inn is the perfect option for you. It is a charming B&B that includes many uniquely decorated rooms. It also has an overlooking porch where you can enjoy your breakfast, and a beautiful free-form garden that is filled with flowers and herbs. Also, when it comes to breakfast, there is nothing that can be compared to the delicious homemade meals made in Lavender Inn every morning. It includes frittatas, freshly baked biscuits, squeezed juices, etc. Apart from this, you will also get several other bonuses like meticulous individualized service, short walking distance to the main stretch of restaurants and shops at the centre of downtown Ojai, and wine and cheese every evening at 5 PM. Also, the Inn hosts wedding ceremonies regularly and offers a spy, private yoga lessons, and culinary classes.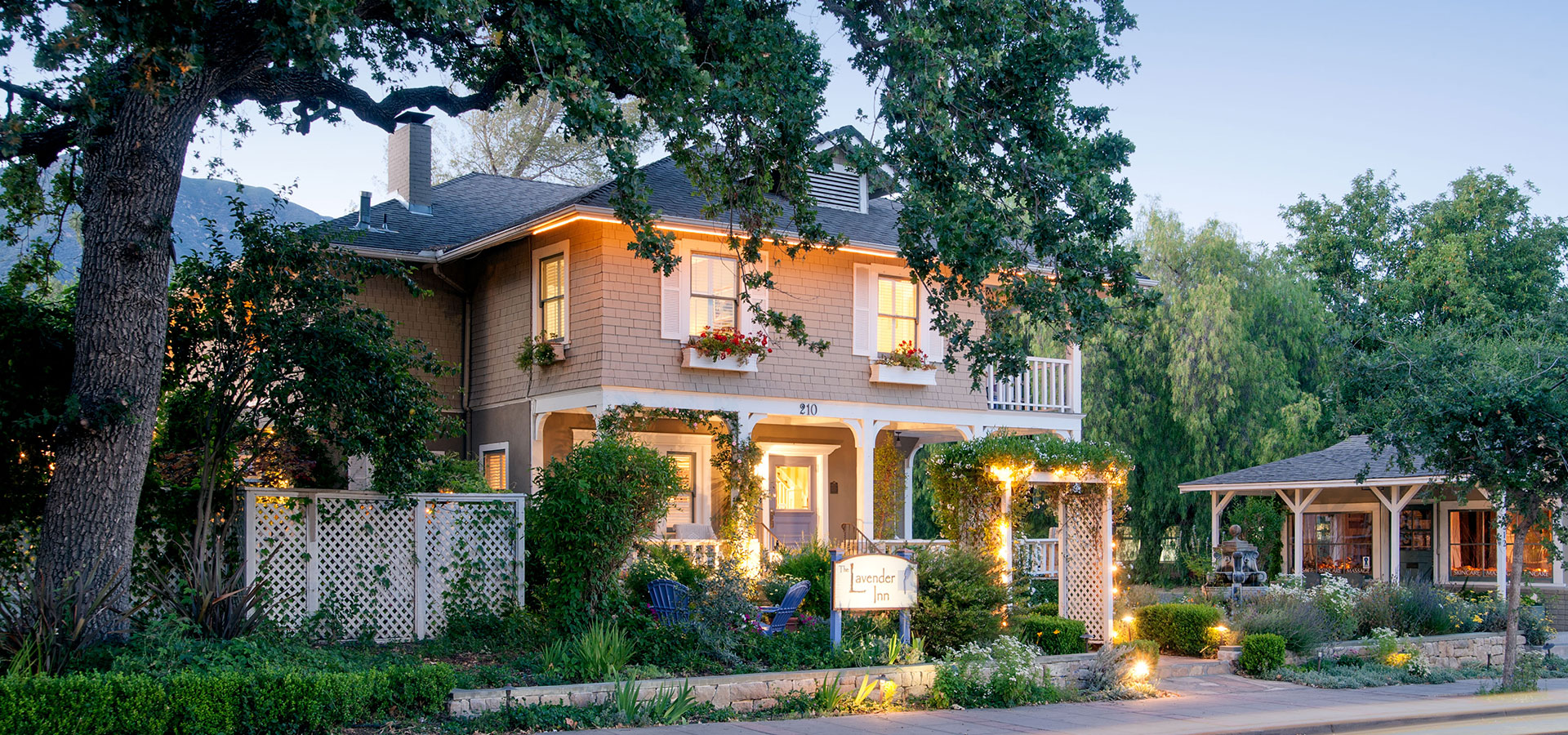 Blue Iguana Inn
This is a hacienda-style, peaceful hotel that has Spanish architecture, nestled on the main road into the city of Ojai. It offers several amenities like complimentary continental breakfast, tastefully decorated and dog-friendly suites with high ceilings and hardwood floors, a jacuzzi, and a pool. The hotel is not centrally located. However, Ojai is small which means that everything is a short drive away.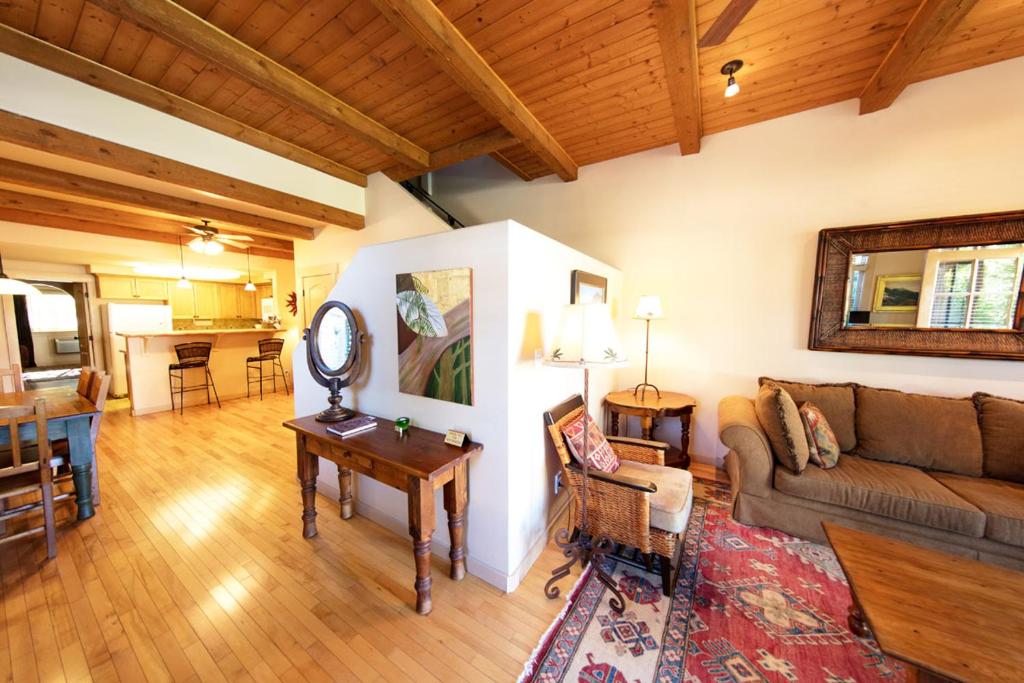 Casa Ojai Inn
This hotel offers modern amenities, comfortable accommodations, and is only steps away from unique leisure opportunities, galleries, and local shops in Ojai Valley. Apart from the 24-hour available front desk, it also features functional and tasteful plantation-style decor. All the spacious guest rooms have large armoires that contain 27-inch TVs along with expanded cable service. With the rooms, you will also be able to enjoy individual climate controls and desk space. The Ojai Trolley Service, which helps you explore Ojai stress-free, has a stop right outside the hotel. You can also visit other attractions of Ojai, Mira Monte and Meiners Oaks within minutes.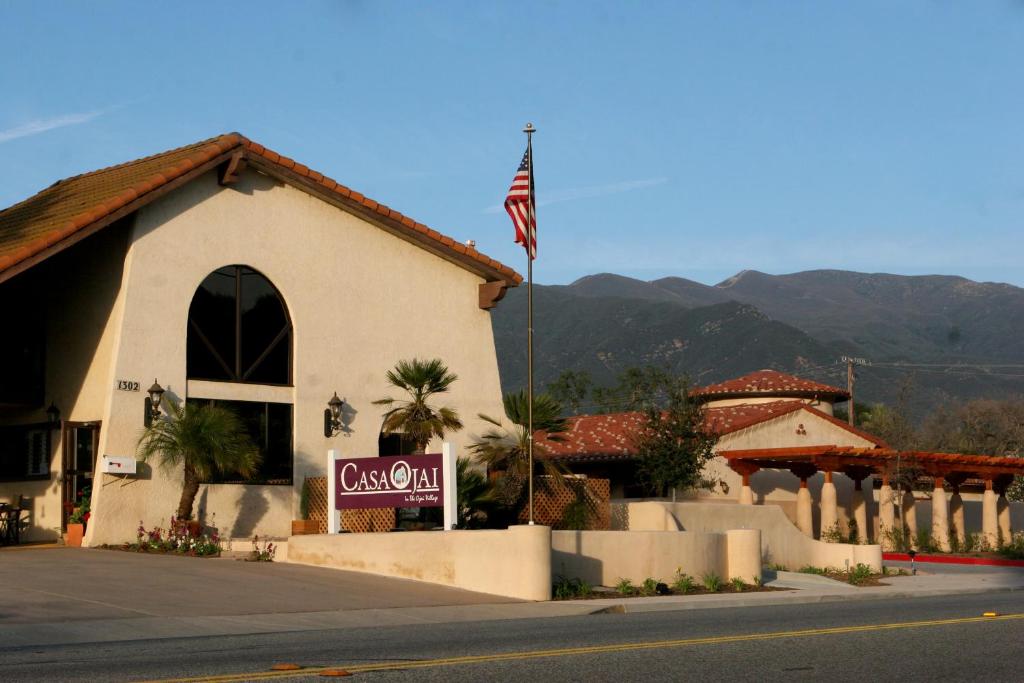 Chantico Inn
This is a boutique-style hotel located in Ojai that has a flat-screen TV in every room along with an outdoor hot tub and swimming pool where you can relax. Apart from this, they also have a continental breakfast every day. Every room at the inn comes with Wi-Fi, a refrigerator, a microwave, and tea and coffee-making facilities. You can also rent a bicycle. The hotel has on-site massage options available. If you are looking for some outdoor activities, you can opt for cycling, fishing, or hiking. Family-friendly activities like the Arcade and the Libbey Bowl and the historic downtown Ojai are only a 5-minute walk from the hotel. The Lake Casitas Recreation Area is 10.5 km away.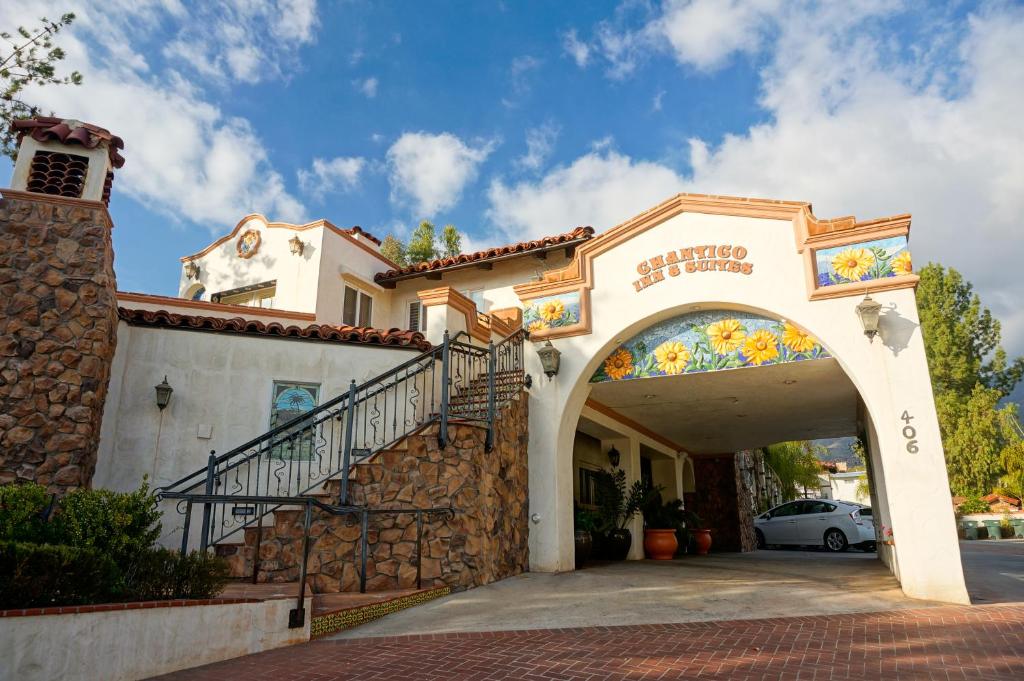 Motel Hummingbird Inn
This hotel is nestled in the foothills of Topa Topa Mountain and offers an outdoor pool and free Wi-Fi in all the guest rooms. Apart from showcasing mountain views, all the rooms at the Hummingbird Inn, Ojai have a 42-inch flat-screen TV. A microwave and refrigerator are included as well along with a hairdryer and environmental-friendly toiletries in each bathroom. You will also get complimentary tea and coffee, dining areas, and a spacious garden to relax in while enjoying the mountain views. The hotel is 1 mile away from the Los Padres National Forest and adjacent to the Soule Park Golf course. Also, it is 16 miles away from the Pacific Ocean and Emma Wood State Beach and 8 miles away from the Lake Casitas Recreation Area and Park.
Caravan Outpost
This hotel is located near the valley of the Topa Topa Mountain. It offers accommodation in the classic Airstream Caravans and free Wi-Fi on-site. There is a garden in the hotel and guests can hike nearby. To ensure that you have access to all the items you might need for your convenience, a general store is located on-site. The Santa Barbara Municipal Airport is about 34 miles away from the property and the Central Santa Barbara is 27 miles away.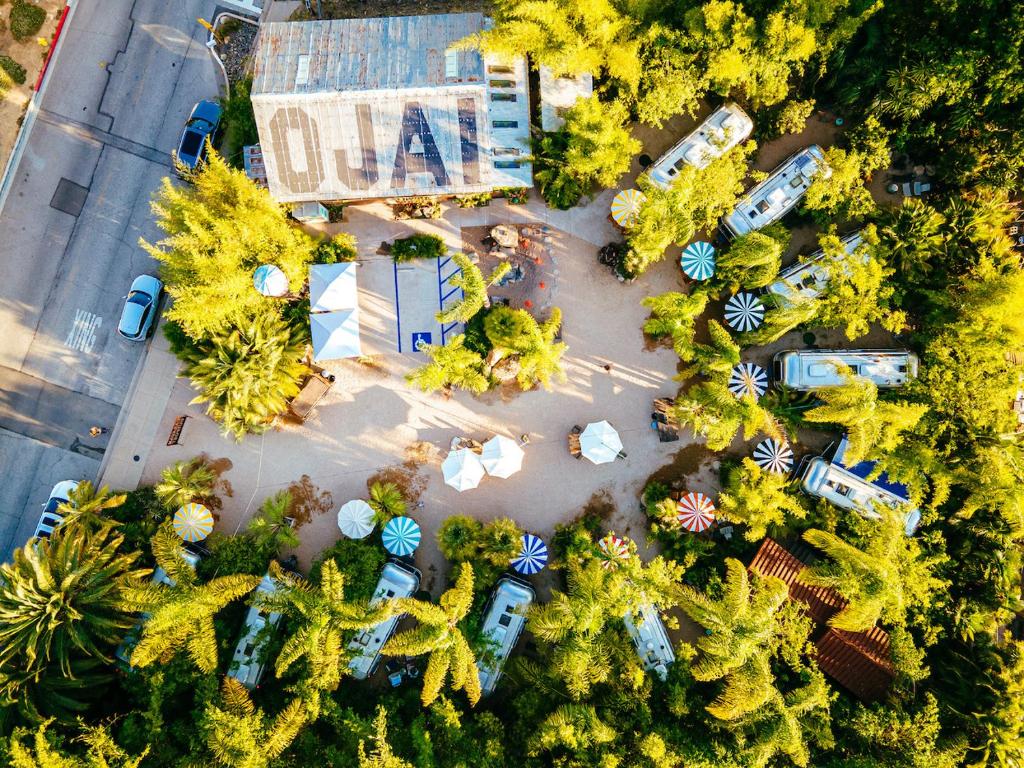 Ojai Retreat & Inn
Located 24 miles from Santa Barbara, the Ojai Retreat & Inn offers free Wi-Fi throughout the property along with free private parking. Some units have a seating area like a patio or a balcony. Extras with the rooms include a hairdryer and free toiletries. Oxnard is 18 miles away from Ojai Retreat & Inn, while Ventura is 11 miles away. The nearest airport, Bob Hope Airport, is 55 miles from the property. The Los Angeles International Airport is about 82 miles away.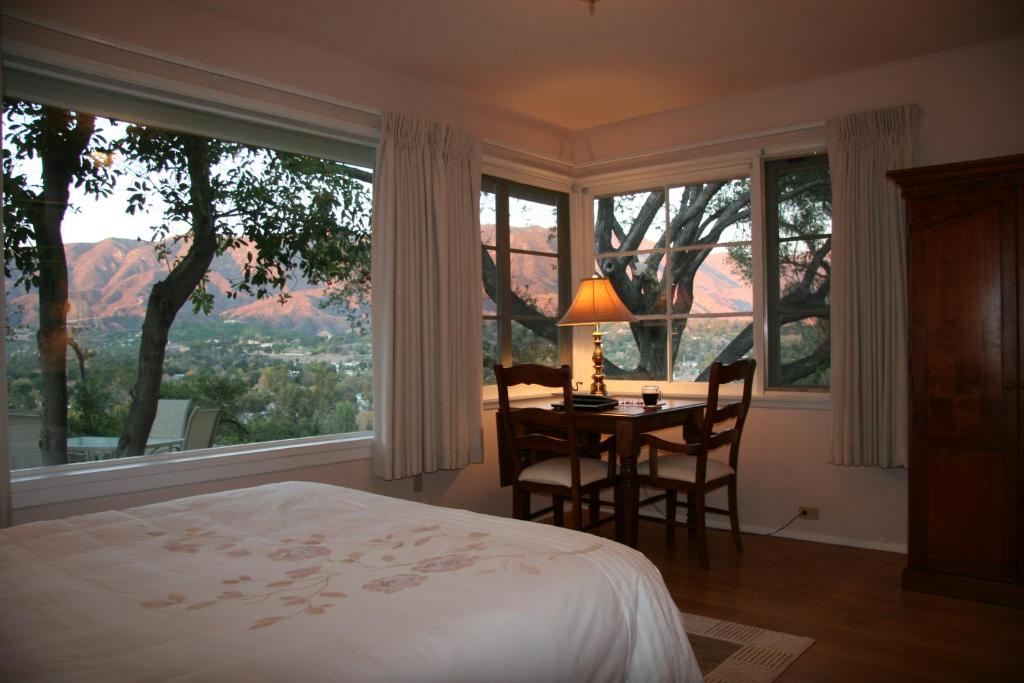 The Emerald Iguana Inn
Located about 26 miles from Santa Barbara, this hotel in Ojai features views of the garden and an outdoor pool. To get accommodation here, you must be 14 or older. All the rooms feature a TV with cable channels. There are some units that come with a seating area, balcony, and terrace. All the rooms have a private bathroom with free toiletries and bathrobes as extras. You will be able to get concierge service at the hotel. Oxnard is 18 miles from the hotel, while Ventura is 12 miles away. The nearest airport, Santa Barbara Airport, is 34 miles from the hotel.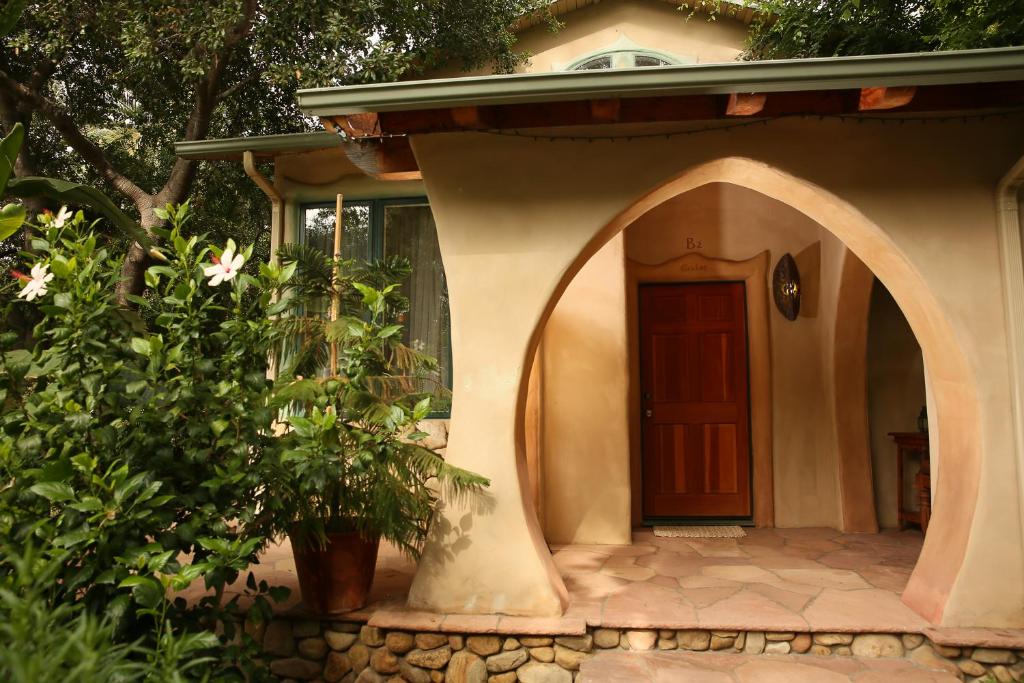 Thacher House
Thacher House is an LA-transplant Calvin Zara's refurbished four-bedroom that is somewhere between an organic co-op farm and a bed and breakfast. There are four private cabins on the property that you can use for getting a fully immersive experience, away from the hustle and bustle of the city. It doesn't accommodate more than 20 guests at one time. If you do plan to stay here, you will have to share the grounds with a family of ghosts and chickens, in addition to a garden and pomegranate and citrus trees. All the food that is served in the dining room is from the Thacher House farm or locally sourced. They also offer cooking, baking, wine-making, olive-oil pressing, and other classes.
Topa Vista Hotel Ojai
This hotel in Ojai offers air-conditioned rooms that overlook the beautiful Ojai Valley. It is adjacent to the First Missionary Baptist Church and 1.7 miles away from the city center. The Museum of History and Art, Ojai Valley is 25 minutes' walk away. The Valley View Preserve is near the property as well. All the rooms have a closet, a patio, and an LCD flat panel TV. There are several restaurants within 100 feet from the hotel including J B Coffee Connection, Jolly Kone, and Ojai Sports Grill.
Cois Dara (Cush Dara) Under the Oak
This hotel is tucked into the foothills of Los Padres Forest and is only five minutes away from downtown. It is a two-bedroom housing option that is perfect for a small group or family who is looking for seclusion. The owner has spent some time in Morocco and the design has been thoughtfully influenced by that. There is a library that is stocked with books on wellness and healing.
The Pepper Tree Retreat
This is an oasis where couples, small groups, and individuals can relax and enjoy the views of Ojai Valley. They offer comfortable accommodations in a 1950 cottage and 1910 farmhouse that are surrounded by open space, gardens, and orchards on the East End of Ojai. All the guest rooms are equipped with earth-friendly/eco-sensitive personal amenities and organic bath linens. Every morning, the guests are served a continental breakfast with several organic options in the dining room. The whole property is vegetarian and alcohol-free. Since this is a quiet retreat, they only welcome children over the age of 12 years. Service animals are welcome at the hotel, but other pets will have to stay out.
Oakridge Inn
Oakridge Inn has 33 individually decorated guest rooms that feature microwaves and refrigerators. They also offer cable programming on their flat-screen television for entertainment and complimentary Wi-Fi service to help you stay connected to the internet. There are private bathrooms for every room with tub/shower combinations, hairdryers, and complimentary toiletries. Other conveniences offered at the inn are complimentary newspapers, daily housekeeping, and tea/coffee makers. You can also take advantage of one of the many recreational opportunities offered by the inn like a spa tub. The inn is a 15-minute drive away from the Ventura County Fairgrounds and Los Padres National Forest.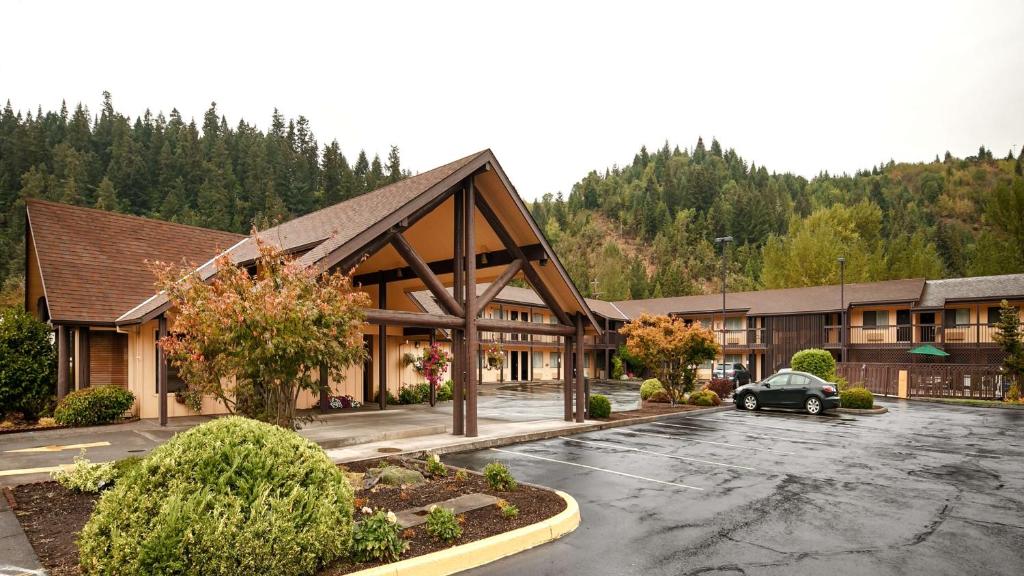 If you are someone who wants to explore California and want to get away from LA, the pastoral, cozy town of Ojai is the perfect option. It has a unique blend of old-school, artists, hippie healers, and new school folks working on making the city hip again. There is no shortage of things for you to do in Ojai and nearby areas.