15 Best Hotels in Menorca
Menorca is a family-friendly beach destination that often gets overlooked because of its brasher or bigger Balearic cousins, Ibiza and Mallorca. From ancient standing stones and old fortresses to world-class dining, there is no shortage of amazing places for you to visit around this Mediterranean Isle. If you are planning to visit Menorca in the future, here is a list of best hotels for you to stay:
Affiliate Disclosure: As a Booking.com affiliate, I earn a small commission when you book through links on this page.
Fontenille Menorca Torre Vella
Torre Vella is an isolated 200-hectare property that is down a red dirt road. You can explore the land on walking trains through vineyards that lead to cliffs over the ocean. You can take a short drive to explore the beaches. The Playa Binigaus is just 20 minutes away by car and the long Son Bou is 10 minutes away. The closest town is Alaior that has a pretty tree-lined park and a historic centre dating back to 1304. The hotel has a local palette of rough driftwood, limestone, and white-washed walls that gives it a dreamy setting. Overall, it is natural and flawless.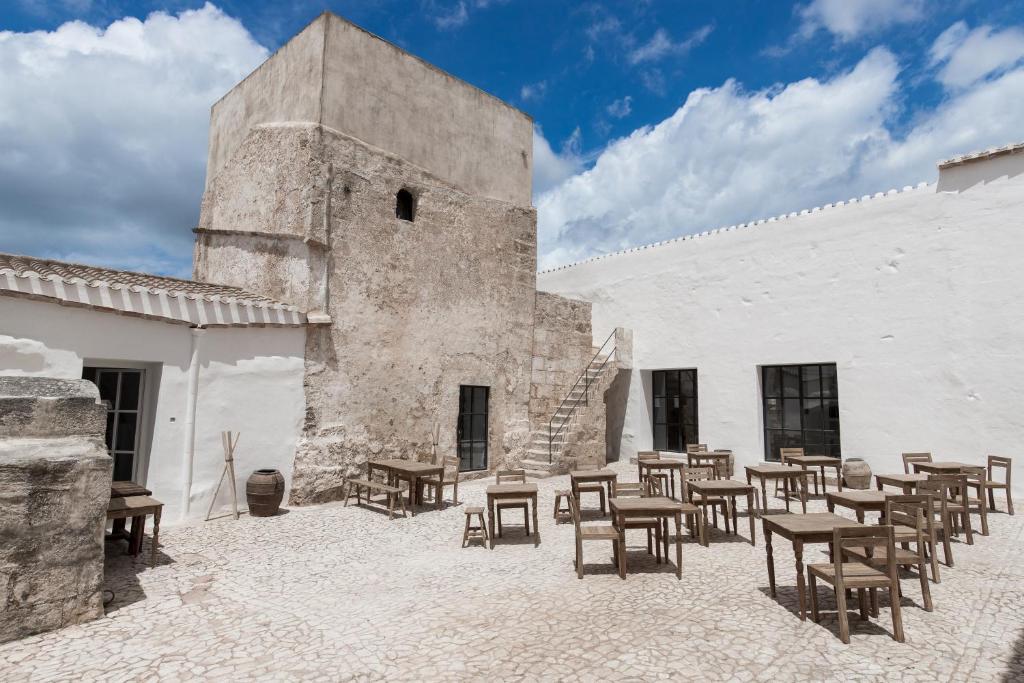 Menorca Experimental
Menorca Experimental is one of the whitewashed farmhouses that have largely untouched beep blue coves poking out of their pine groves. It is spread across 30 hectares of land near a popular walking route. To visit the nearest secluded cove, you will have to walk for 5 minutes. Son Bou, the longest beach on the island, is only 10 minutes away by car. Coves d'en Xoroi, a bar cut into a cliff-face, is only 20 minute drive away. The hotel organizes a bunch of rotating activities including pottery, painting, and yoga classes. There is also a chapel with sea views that you can use for a wedding.
Alcaufar Vell Hotel Rural
Since the 14th century, the Alcaufar Vell Hotel Rural has been run by the Mercadal family. It is a green-shutted mansion that focuses on ensuring your fun and relaxation during your stay. It is surrounded by several olive trees and is the perfect getaway for foodies and stylish young couples who are looking for something new. Also, it offers farm-to-table experiences. You can enjoy it in Jardí dels Ullastres while sitting under a sprawling tree that is decked with lanterns. If you want to work up your appetite, you can take a stroll followed by a swim in the pool. It is the perfect place for someone who likes to stay close to nature.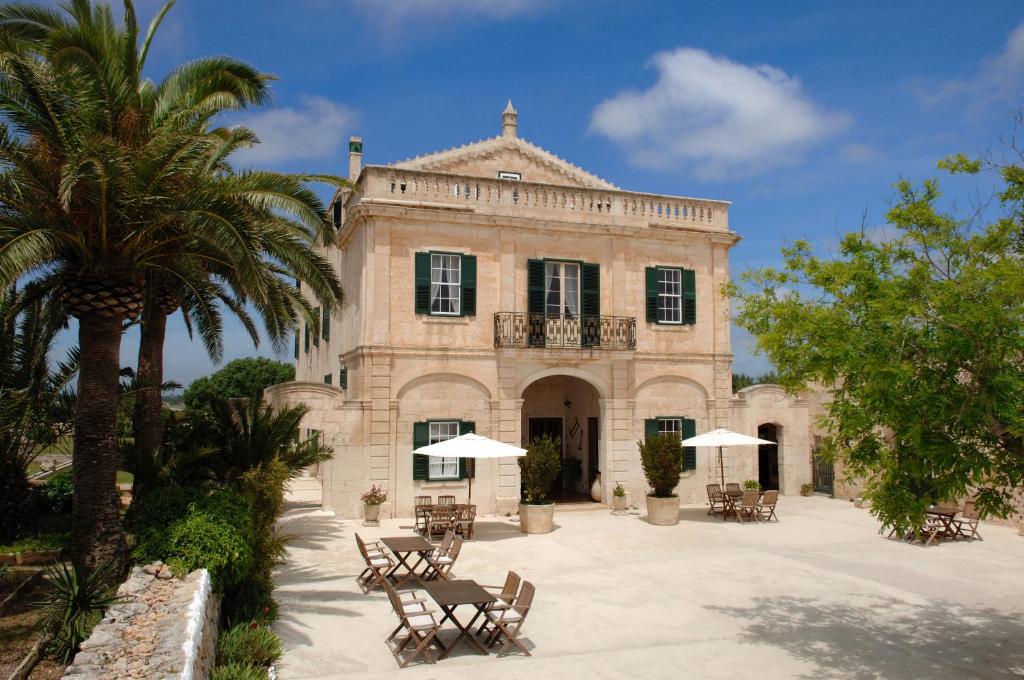 Biniarroca Rural Hotel
Located a mile northeast of Sant Lluis village, southeast Menorca, this beautiful hotel is tucked down a stone-walled and narrow road. The harbourside capital of the island, Mahón, is only a three-mile drive north. It is home to British-era forts and castles, grand Georgian-style buildings, and great restaurants. Other popular attractions include several Talayotic archeological sites, the Binifadet winery, and the Sant Lluís' 18th-century windmill. The nearest beach is six miles away and the airport is four-and-a-half-mile drive west. The hotel has peaceful jade-hued pools along with a low-key cafe-bar, a library lounge, and a calming garden.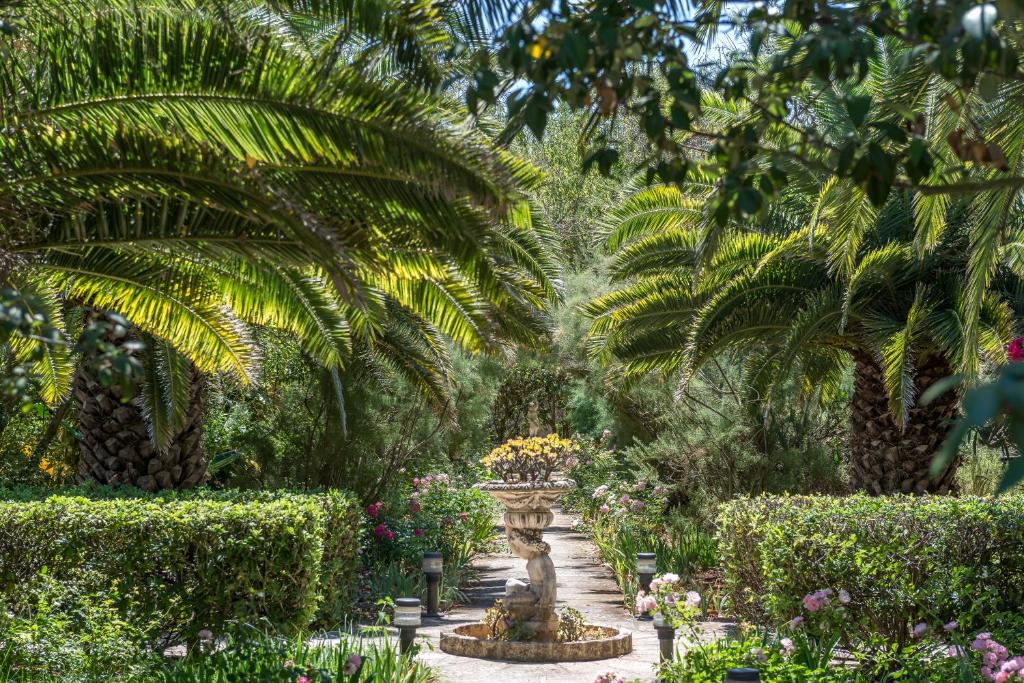 Torralbenc
Located in the soft, rolling landscape in the southeastern region of the island, this former farmstead has a rural setting. However, thanks to its elevated position, you will also get broad sweeping sea views and cooling breezes. The scenic coast is only a few miles away. There is a small resort town only a five-minute drive, 10 if you take a bike, where you will also find the Cala'n Porter beach. The capital Mahón is only 15 minutes away and the Menorca's airport is 10 minutes away. In the hotel, you can get a wide range of holistic treatments at the spa. There is also a small gym where you can arrange alfresco yoga sessions for yourself.
Meliá Cala Galdana
With the wide expanse of clear water, sweeping crescent of golden sand, and dramatic white limestone cliffs, there are only a few bays that match the beauty of Cala Galdana. And with the prime position of this hotel, you will have access to the promenade. From there, you can take a five-minute walk to reach the main cluster of restaurants and shops at the resort. The hotel is located at the western end of the south coast of the island. The airport and Mahon are half an hour's drive away.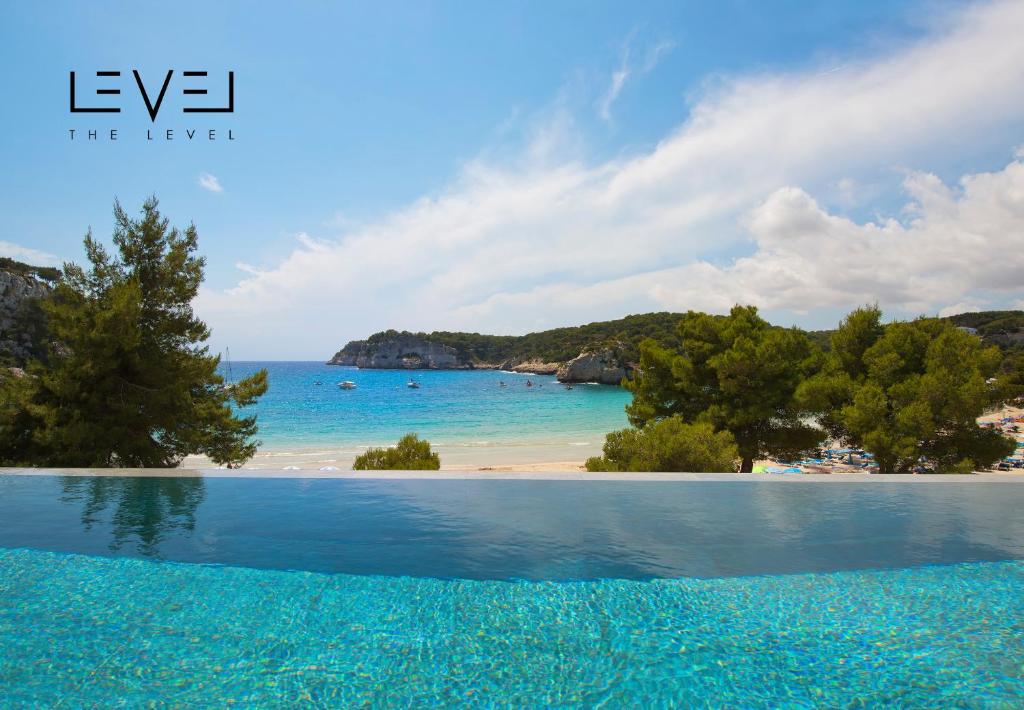 Hotel Tres Sants
Located at the core of the handsome, labyrinthine old town of Ciutadella, this hotel has an inconspicuous entrance that you might stroll right past. The major sights, best restaurants, and shopping streets are right on the doorstep including the elegant Plaça des Born and the 14th-century Catalan Gothic cathedral. Also, it's only a five-minute walk to the seafood restaurants and pretty port area. This hotel is a local, family-run chain with informed, efficient, and professional service. You can also get massages at the hotel. Other services include a library lounge, rooftop terrace, and the ground floor cafe.
Ses Sucreres
Located down a peaceful street of Ferreries village, this hotel hits the sweet spot between the agriturismos on secluded hillsides and the many hotels on the coast. With a population of only 4,695 people, there is the perfect sleepy bustle in the village. There are some pretty signs like the shoe factories and the church of San Bartomeu. You can drive down to the beaches in less than 10 minutes. The hotel has a communal dining area, low lighting for the evening, and a two-level courtyard.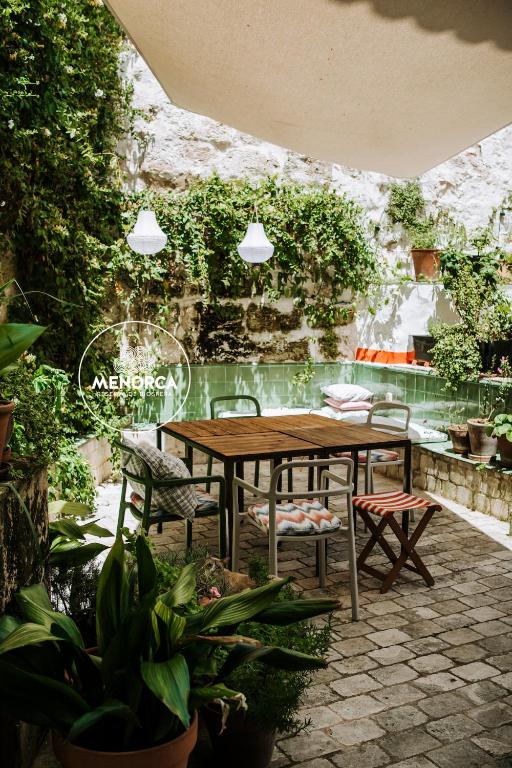 Smoix Restaurant Hotel
Located on the tony avenue that borders the pictorial old town, the Smoix Restaurant Hotel is only minutes away from restaurants, shops, and eye-pleasing squares. This includes the palm-tree lined and quaint Plaça de Senplaxada and Plaça d'Artrutx, a pedestrian block that faces a park and is filled with eateries. Ciudadela is one of the best towns in the Balearics because of its landmark attractions like the town hall and the port. The staff working at the hotel is local, friendly, and happy to answer your questions. Even though the reception area is not open 24/7, you will be given a number to use for emergencies.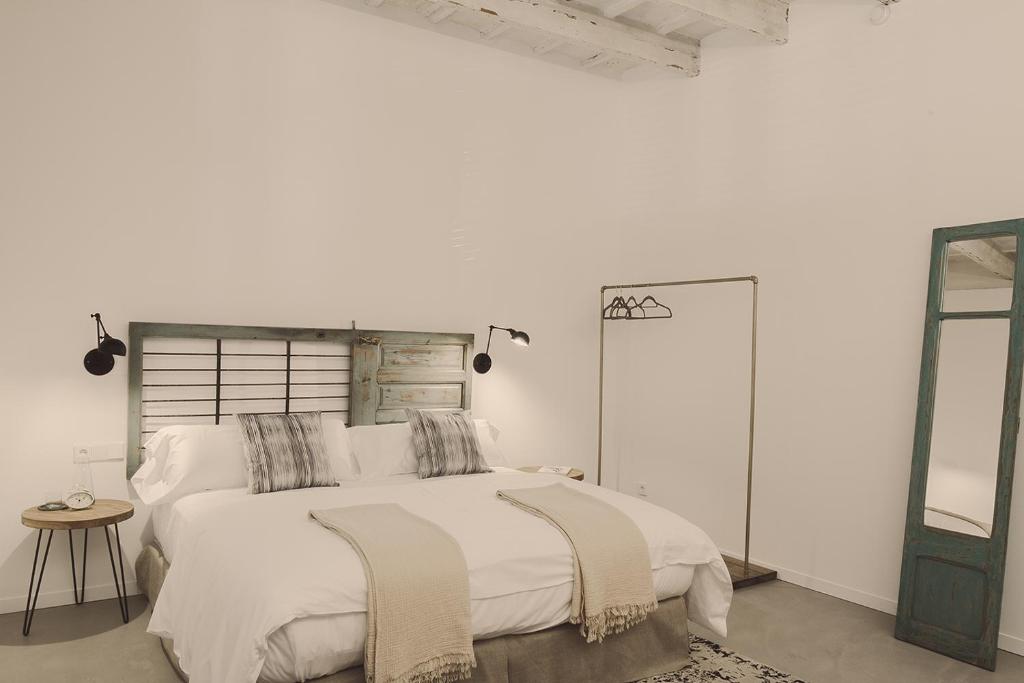 Son Vives
This amazing hotel is located on a view-laden and secluded hilltop just three miles north of the Ferreries village. It has a spectacular setting which makes it feel like it is removed from everywhere else. However, it is only two miles north of Menorca's major road, Me-1. The hotel has a relaxing pool area with a view of the gorgeous coast and mountain and is perfect for a lazy afternoon. Yoga classes are organized three times a week. You can also opt for horse riding or biking. Apart from this, they also have a quality restaurant, a coffee stand, and a self-service honesty bar.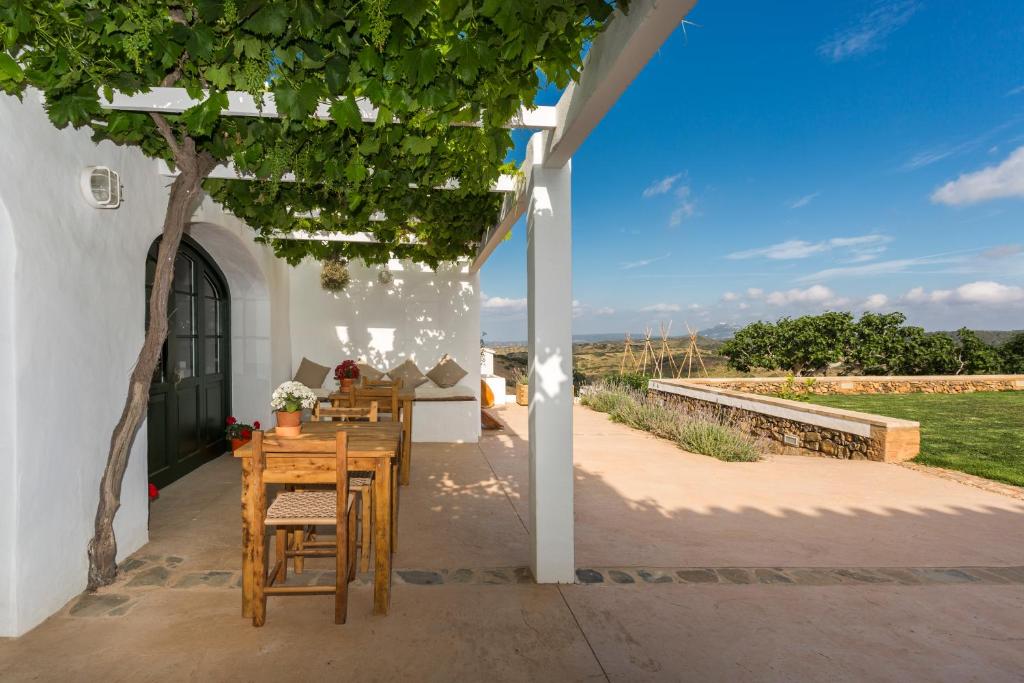 Jardí de Ses Bruixes Boutique Hotel
Located in a narrow street, this hotel is lined with residential townhouses in the heart of the Menorcan capital. The buzzy city centre is only a five-minute walkway. It is known for its shopping lanes, pavement cafes, and handsome colonial architecture. The Mahón's port quarter is an eight-minute walk away where you will be able to find ferry connections to the mainland and Majorca along with harbour-front restaurants. The hotel occupies an early 19th century Menorcan townhouse. This homely yet switch boutique property has a carefully crafted interior that includes restored geometric floor, high-ceiling sunlight spaces, and gleaming white walls.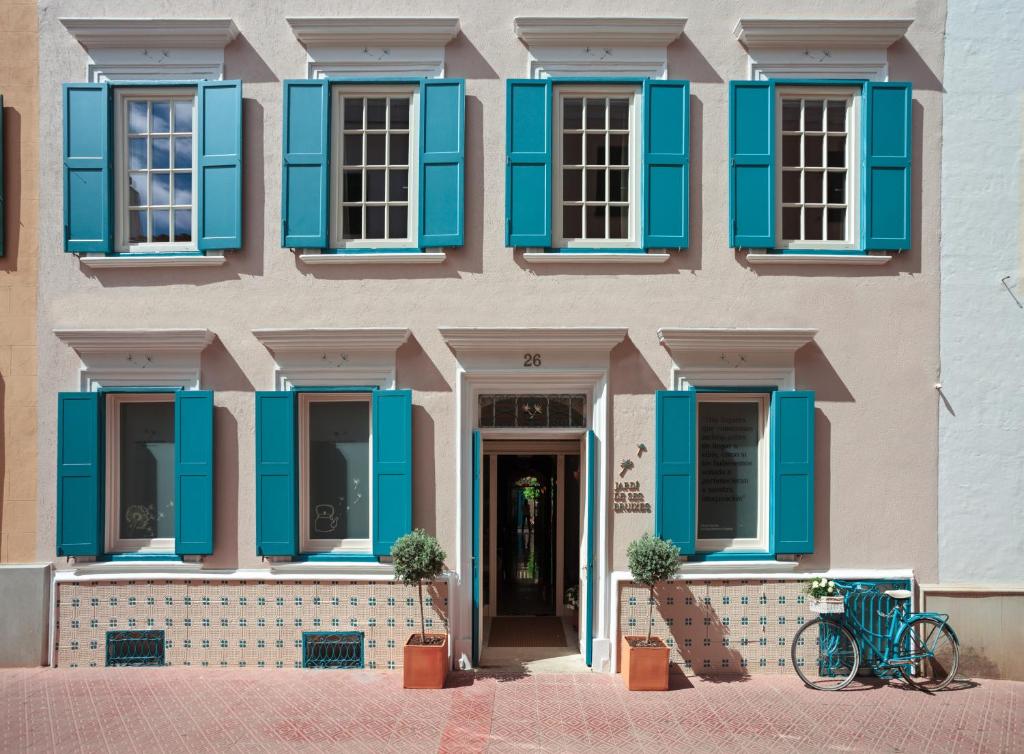 Port Mahón Hotel
This hotel is a few footsteps away from the water's edge and gives sweeping views of the vast natural harbour of Mahón. Located in a quiet residential area, the hotel is set on manicured grounds and offers tranquillity and peace. The heart of Mahón is only a 10-minute walk away where you will find tons of bars, restaurants, and shops. There are several seafood restaurants close to the hotel. The airport is only five kilometres (three miles) away. It has a large pool, pristine gardens, and a Colonial-style façade that will give you the feeling of luxury, tropical living.
Hotel Rural Sant Ignasi
Located between the quiet beaches of the north coast and Ciutadella, this hotel is an hour-long drive from the airport. It is an 18th-century country house that is set in large gardens and painted a shade of ochre. It also has a tennis court and a pool. The interior is quite spacious with beamed ceilings and wide arches. The hotel is furnished tastefully with comfortable sofas and rustic antiques. This hotel has a very relaxing and peaceful atmosphere. You can even rent bikes or go for watersports or riding.
Casa Albertí
It is one of the many grand homes located on a street full of centuries-old mansions. A five-minute walk will take you to the lively fish market of the city, central Plaça d'Espanya, majestic British-era buildings, 16th-century Sant Roc arch, and past churches. There are also a lot of shopping streets, excellent tapas bars, and restaurants. If you take the shortcut, you will be able to reach the port in only five minutes. The hotel is known for its salmon-pink facade and original period character. This includes beamed ceilings, wrought-iron banisters, spiralling marble staircase, check-tile floors, and dangling chandeliers.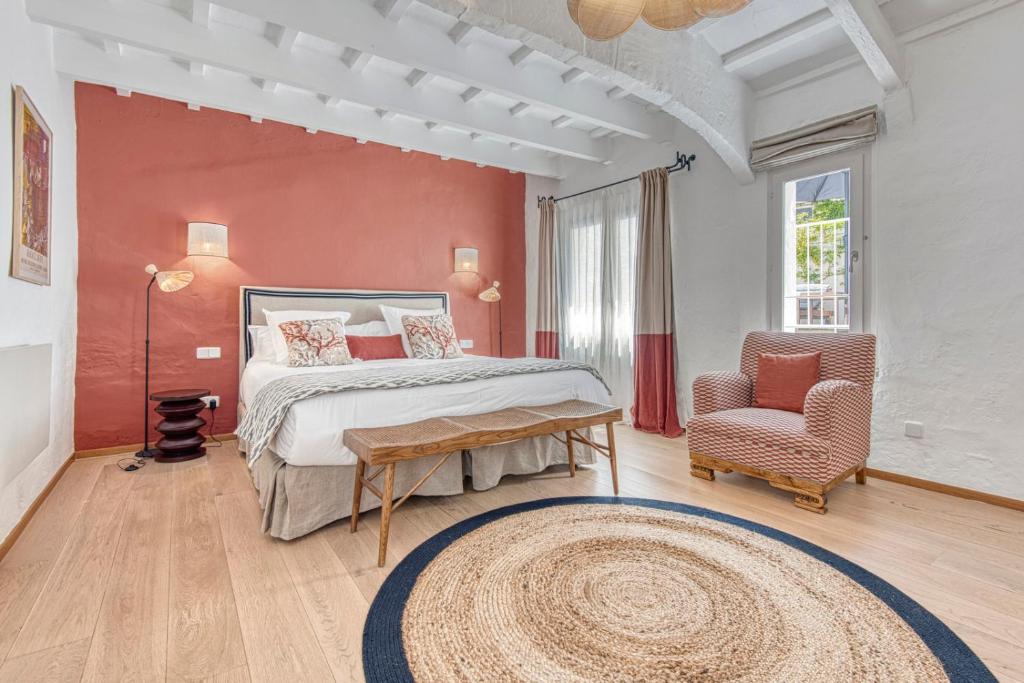 Hotel Can Faustino
This style-centric Chateaux and Relais property offers modish rooms that have a hint of vintage detailing. However, the public spaces of the hotel are the opposite as they accentuate the past. It has an ivory-hued stone facade, exposed beams, period wood furnishings, wrought iron banisters, and arched high ceilings. Also, it features ornate fountains, a town hall, and a central obelisk. Just around the bend, you will find the medieval cathedral that is a popular tourist attraction. Other famous sites are the neighbouring excavated ruins of Museu Municipal, and the most famous square of the Old Town, Plaça des Born.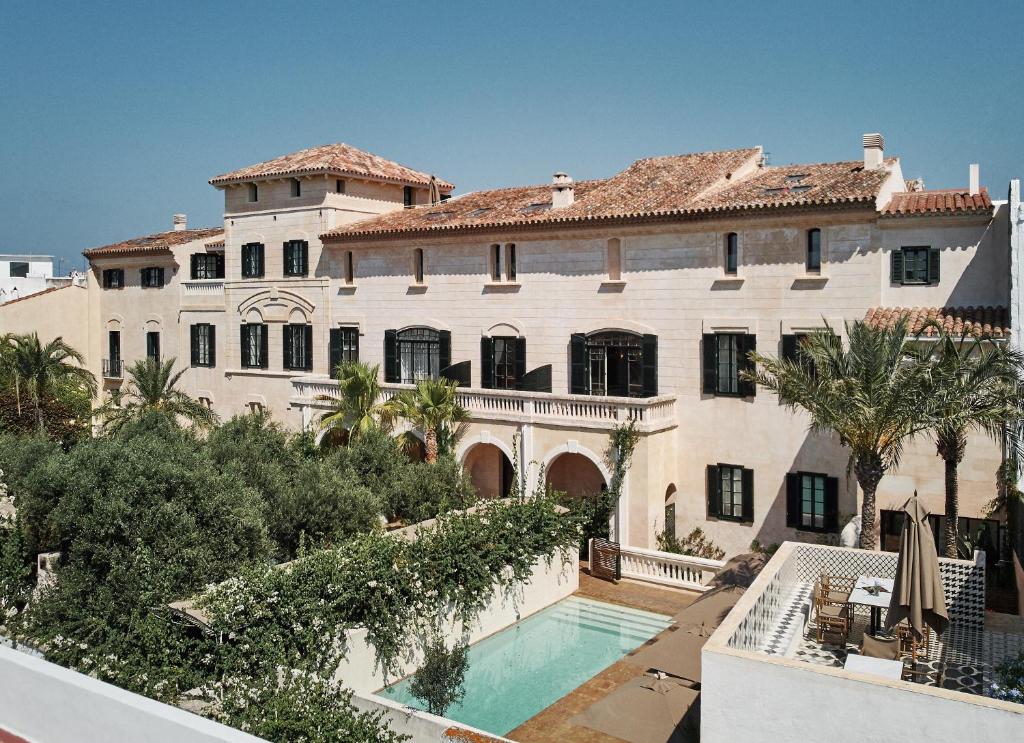 Hotel Hevresac
Hotel Hevresac is located in the town of Maó-Mahon. It is an eight-room hotel that embodies the lo-fi and unbodied nature of the island. Known for its part homily and part city beach bad environment, this is a well-furnished boltholte that pays homage to a lot of Pinterest-approved trends like feathered chandeliers, porcelain mosaic tiles, and Nordic firewood fireplaces. It is among the most affordable places on the island. The money that you save here can be splurge on the signature dish of Menorca - lobster stew that is enjoyed best by the harbourside.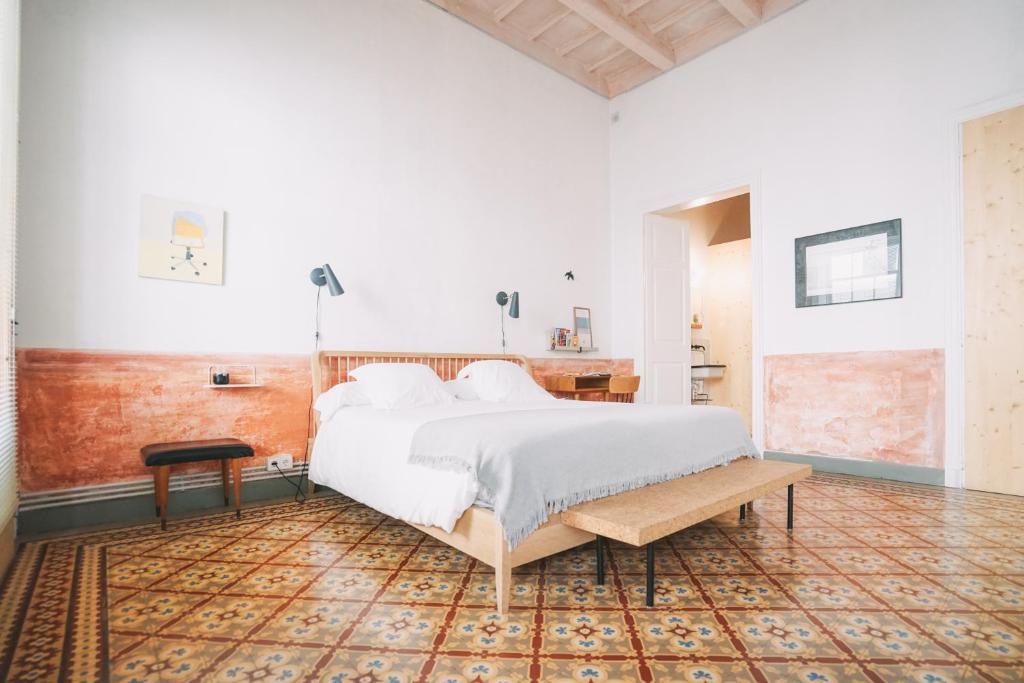 Casa Ládico
A former palace, this hotel has been modernized sensitively to transform into a restful urban hideaway. It has original lofty ceilings, sash windows, and exposed beams which have been preserved and blended gracefully with the sleek bathrooms, contemporary furniture, and the soothing Farrow & Ball colours. Throughout the hotel, you will find a lot of sculptures that give it an artistic edge. The main shopping area is only a minute's walk away along with the Santa Maria church and the market. Just a 10-minute stroll will take you to the picturesque port that is lined with restaurants, bars, and boutiques.

Sant Joan de Binissaida
This is an agrotourism hotel that offers a sense of rustic tranquillity and remoteness. Surrounded by rolling farmland and a patchwork of fields, this hotel has a footpath that connects it to the camí de cavalls of the island that runs along the rocky coastline. About three miles from the hotel is the Sant Lluis town that is definitely worth the visit. If you want to get impressive harbour views, you can visit Es Castell. The airport is only a 15-minute drive away and the Mahon city centre is 10 minutes by car. The building of the hotel has been recovered from the ruins of an 18th-century farmhouse. It features exposed sandstone walls, terracotta tiling, and ancient polished flagstones that give it the feel of a rural homestead. There is some modern artwork as well to add a contemporary flavour to the hotel.
The island of Menorca has attracted several independent souls. If you are an adventurer who enjoys fine foods like artisanal cheeses and lobster stew along with better beaches, this is the perfect vacation for you. From post-Punta Prima to endless Son Bou, there is something for everyone here.