15 Best Hotels in Memphis
Kevin Ruck / shutterstock.com
Downtown Memphis is situated along the Mississippi River and the metro area, and the city comprises suburbs covering the whole southwest Tennessee, northern Mississippi, and East Arkansas. Several beautiful parks lay in their embrace, keeping it more nature friendly than in most cities. A park system called the River Walk connects Tom Lee Park in the south to the Mississippi River Greenbelt Park in the north engulfing most of downtown Memphis.
The pleasing greens mixed with the complex and extensive cityscape make it one of the 19 most cities in America. And as the demand has presented itself, we got to provide our fellow tourists with a list of the best hotels in the best places in Memphis.
Affiliate Disclosure: As a Booking.com affiliate, I earn a small commission when you book through links on this page.
The Peabody Memphis
Located on 149 Union Ave, this luxurious hotel holds the No. 1 place in the ranking given by U.S. News. It is even the most reputed and well-known among people resident in Memphis. The renowned Peabody Duck Parade serenades the tourists every day, twice. The hotel dates back to 1925 and is one of the city's oldest ones. Tourists and guests are provided with modern-day amenities like beds with Egyptian cotton sheets, Wi-Fi access, 42-inch flat-screen TVs, etc. while still oozing out the luster of the old times. It also has a resort-style spa, a fitness center, and a business center.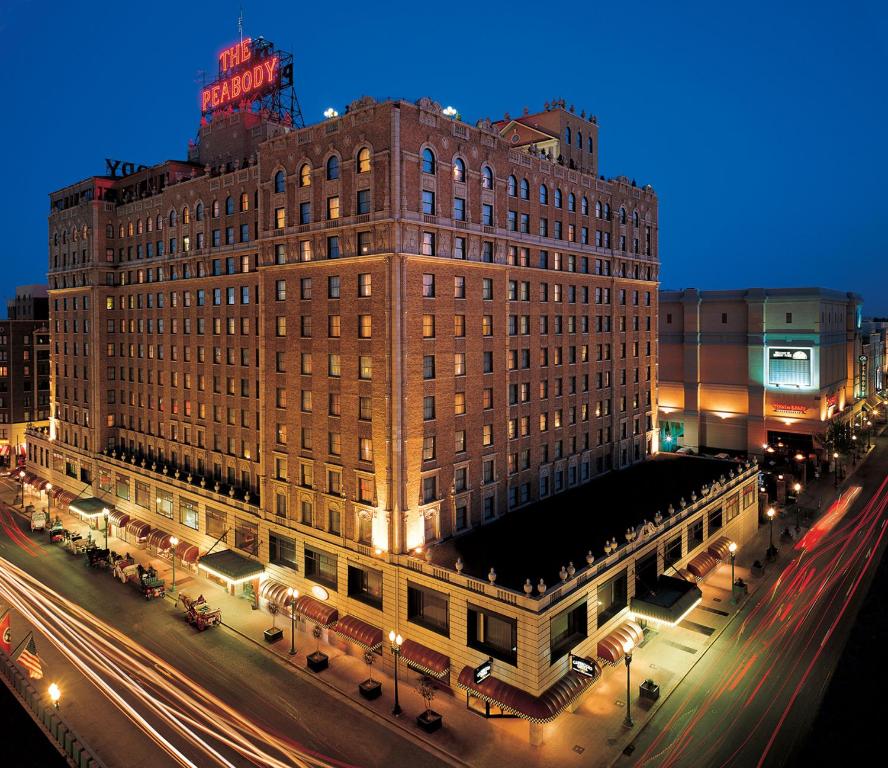 River Inn of Harbor Town
The 4.0-star hotel located 2.1 miles from the city center, is one of the most renowned hotels in Memphis. Located at 50 Harbor Town Square, the hotel is well known among guests for excellent staff that makes them feel at home. Amenities include 32-inch flat-screen TVs, free wireless internet, and complimentary breakfast. You can also choose the waterside rooms with the view of the Mississippi. The rooftop offers a lively view of Memphis. You can also enjoy food and drinks on the terrace or head to eateries in the hotel.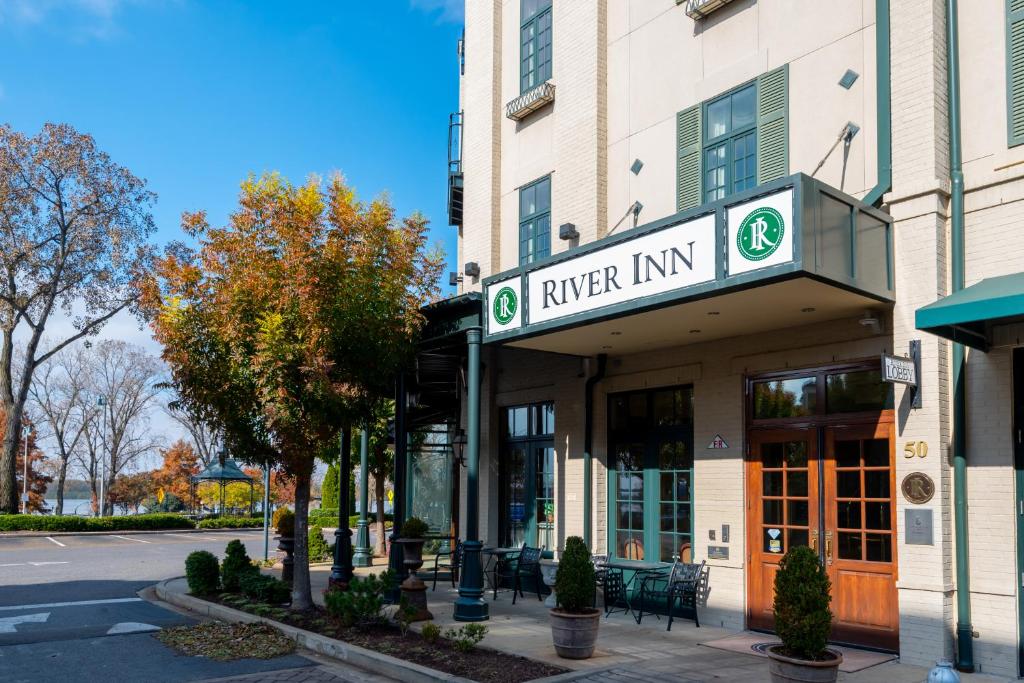 Hu Hotel
Top-notch location and top-notch staff members. Located in the heart of Memphis, just a few blocks away from the Mississippi River, the boutique-style hotel is just a drive away from many tourist attractions. Basic amenities include flat screens, minibars with local goods, and free wireless internet.
The diner serves Southern dishes like the famous Nashville hot chicken. There's a rooftop bar that offers a great view of the Mississippi River, by the name of Roof.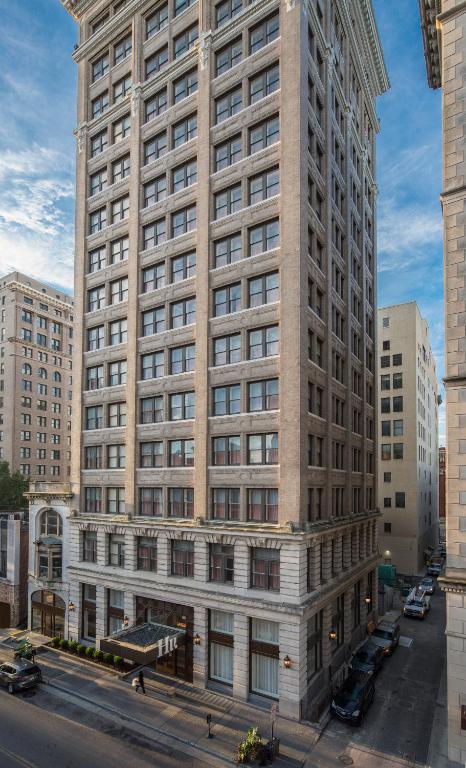 The Westin Memphis Beale Street
The hotel is located right off Beale Street famous for its history. Taking advantage of its nightlife, it attracts music fans and party people. Recently among its many amenities the luxurious Heavenly Beds, clean rooms, and bathrooms with separate showers and tubs have been rated well. Other amenities include coffee and tea makers, minibars, and flat-screen TVs with Netflix. On-site fitness center, a business center, and a sea-food-based restaurant and lounge famous by the name of Bleu.
Big Cypress Lodge
A 4.5-star class hunting-themed hotel offers luxurious accommodations for travelers who love rooms with the theme of wild that resemble treehouses. Amenities include work desks, mini-fridges, and flat screens. The lodge features a fitness center and a spa with the best south-inspired treatments. It offers multiple dining options with unique cuisines. You can sit comfortably on your couch near the fireplace or you can enjoy looking at the alligators in more than one pond (from a distance).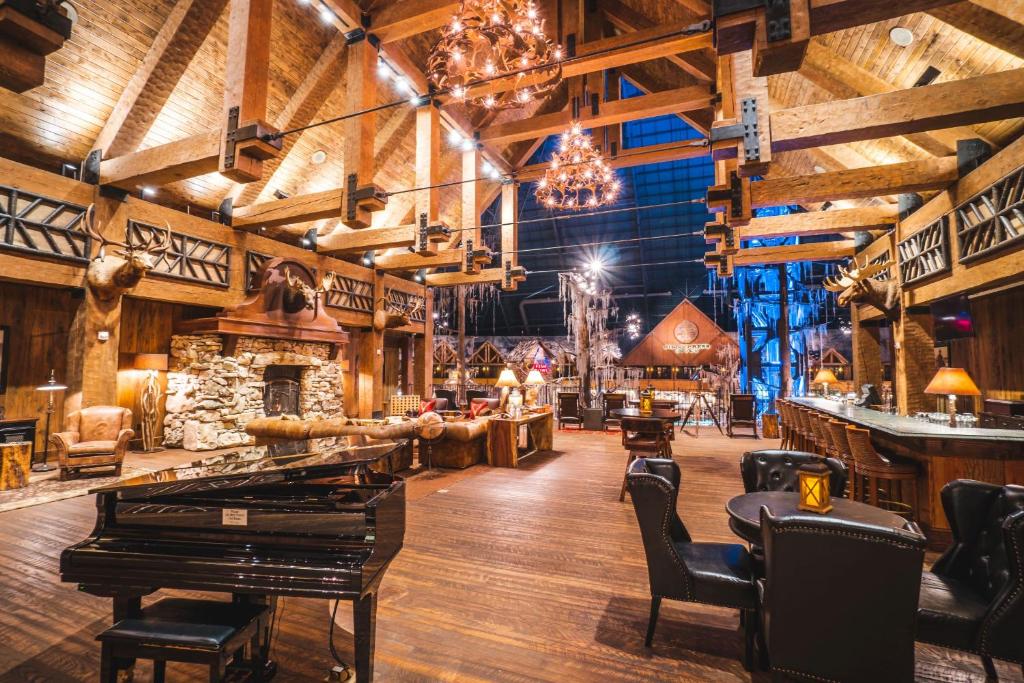 Hotel Napoleon
Blocks away from the Mississippi River this hotel exhibits a historical shine with modern mien. The hotel was built in 1902 and the building the hotel is located in is the National Register of Historic Places. With the texture of the building old, the interiors emit the most contemporary looks. The rooms have a black and white décor with amenities such as a coffee maker, a work desk, a flat-screen, and a mini-fridge. Guests can have free access to wireless internet, an American restaurant, and a fitness center. Numerous eateries and shops are in the vicinity so can enjoy Beale street to the fullest.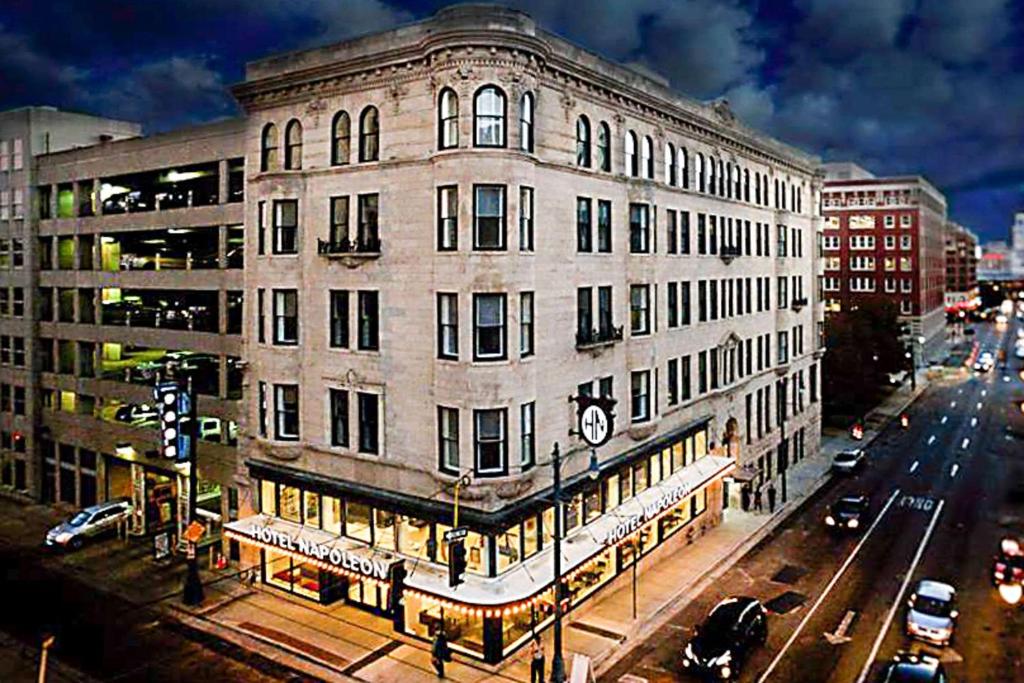 Crowne Plaza Memphis Downtown Hotel
Located on 300 N 2nd St, the hotel is just 2 miles away from Beale Street, and nearer to the Memphis Cook Convention Center. It is a place known for its great on-site restaurant. You can sit down and enjoy your supper and grab a drink if you want at the Blues Patio. You have access to the outdoor pool, while you are staying. Every room has a workstation installed with a mini-fridge and wireless internet free of cost. Local stores and attractions are in the vicinity.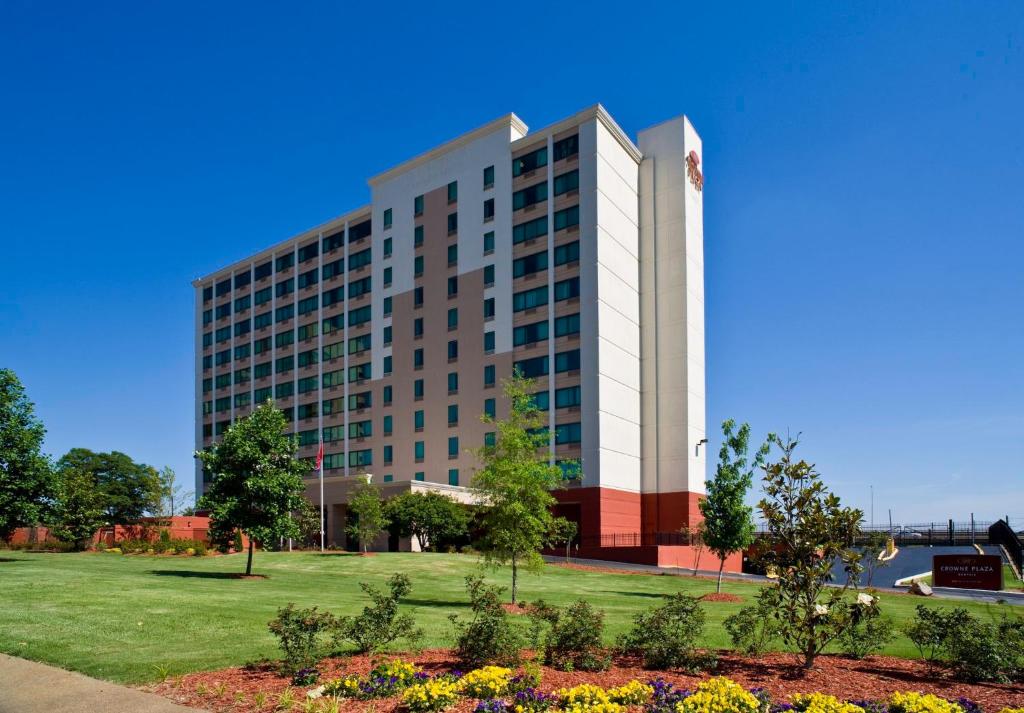 Marriott Memphis East
Located at 5795 Popular Avenue, the hotel has 229 modern décor rooms and 3 lavish suites. Guests have full access to the Wi-Fi, premium movie channels, and marbled floor restrooms. You even have access to a PURE hypo-allergenic room, in case you have allergy sensitivities. Other amenities include free parking, a fitness center open 24 hours, and a swimming pool indoors. Coda serves casual Memphis cuisine and special cocktails and even provides a breakfast buffet. The hotel is in close proximity to various tourist attractions in Memphis.
Hilton Memphis
Located 20 miles from the popular Beale Street, the Hilton is an airport hotel. All accommodations offer amenities such as flat-screen TVs, a workstation, and access to wireless internet. It also features an on-site fitness center, an outdoor pool, a bar, and a restaurant. People often book a room in the outskirts of Memphis to enjoy the cityscape from their hotel room. Hilton Honors members can earn and redeem reward points by staying here.
DoubleTree by Hilton
Located on 5069 Sanderlin Ave, the hotel is within a drivable distance from Memphis International Airport and Downtown Memphis as well. Each of the 266 guest rooms features a workstation, a comfortable plush-top mattress, a mini-fridge, and a flat-screen TV with complimentary access to the internet. Moreover, you can sit and have a meal at the on-site restaurant, a fitness center, and an indoor pool. You can even have your Memphis-centered cuisine outside the hotel. There are many restaurants proximal to the hotel. And the parking is free of cost.
Embassy Suites by Hilton, Memphis
Conveniently located at 1022 Shady Grove Rd S in Memphis, Embassy Suites offers comfy two-room suites that include a bedroom, a living area, a sofa bed, a mini-fridge, a microwave, a coffee maker, and free access to the Wi-Fi. Other on-site perks include an indoor pool, a gym/fitness center, and a business center. It also offers complimentary breakfast to the guests staying there, which is served in a spacious air atrium. It also has an evening cocktail reception. It has other restaurants too in the proximal to the property and offers free parking for the people staying.
Holiday Inn Hotel & Suites Memphis-Wolfchase Galleria
Located on 2751 New Brunswick Road, 20 miles east of downtown Memphis. Memphis Zoo, Graceland, and Beale Street are situated proximal to Wolfchase Galleria. Amenities include microwaves, coffee makers, mini-fridges in every room while in addition to these, the suites also have kitchenettes and wet bars. Wi-Fi access, a daily newspaper, and parking is complimentary and requires no charge. Guests have full access to an on-site fitness center, a business center, a heated indoor pool with hot tubs inside and out, and Kem's restaurant that serves in a sports bar atmosphere. Children of the age 18 or younger can stay for free.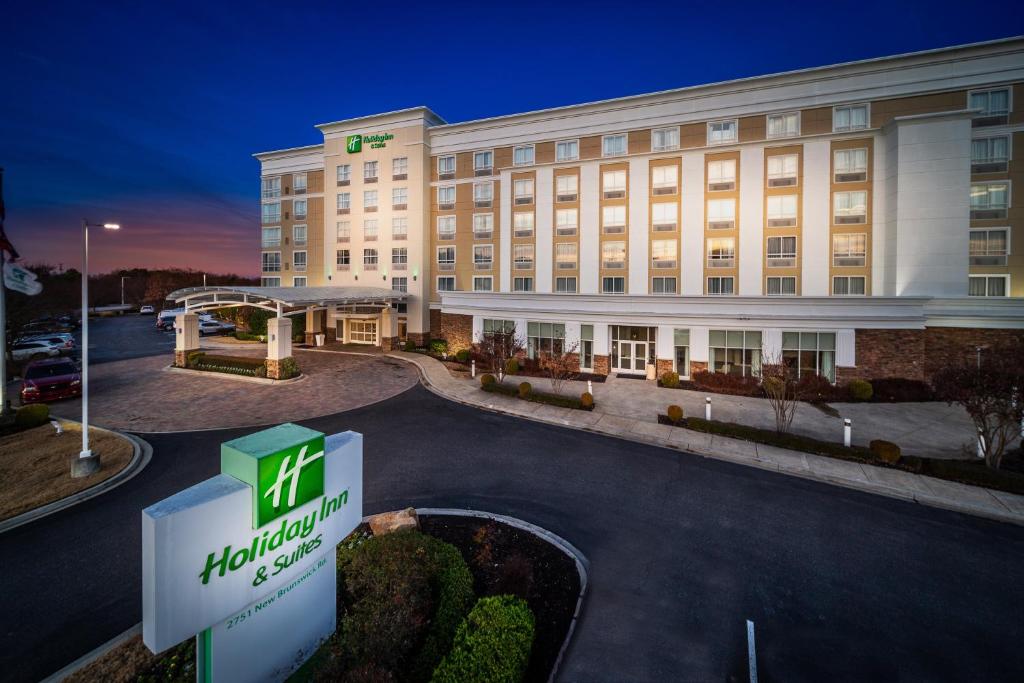 Residence Inn Memphis Downtown
Located on 110 Monroe Ave in the heart of Memphis, the hotel was built in 1930 and is registered on the National Register of Historic Places. Every accommodation has full kitchens, work desks, flat screens, and complimentary access to Wi-Fi. They have separate living rooms and regularly stocks the fridge, through its complimentary grocery shopping service. Every suite has 2 HDTVs with DVD players and premium movie channels and if sitting idle is not the real you, the hotel gives you full access to the 24hr open health club. It also has a business center.
Staybridge Suites Memphis - Poplar Ave East
Staybridge Suites, situated on 1070 Ridge Lake Blvd offers suites with full kitchens that include a dishwasher, a full-size refrigerator with an ice machine, and a stovetop. They also offer comfortable beds with pillow-top mattresses, work desks, TVs with premium channels and a DVD player, and complimentary Wi-Fi. The rooms shine with modern décor and are spacious and clean. The hotel features a 24hr business center, a fitness center, and an outdoor pool. Guests can enjoy a free breakfast buffet. The staff is friendly and caring even with the pets.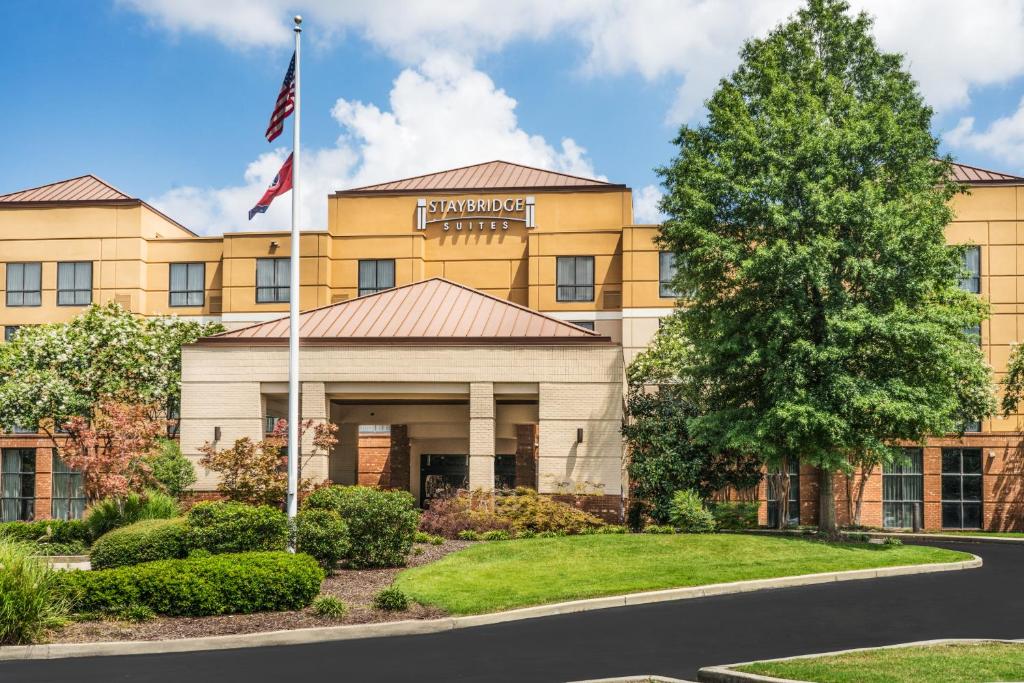 Courtyard Memphis Airport
Located at 1780 Nonconnah Blvd, just 3 miles from the Memphis International Airport, Courtyard Memphis Airport is considered one of the best hotels as it is very conveniently located, and is suitable for short visits to Memphis. All the guest rooms offer a minifridge, a coffee maker, flat screens, and free access to the Wi-Fi. Guests also have an option for having a hearty breakfast and a luscious dinner on-site in the Bistro. You can also have your favorite cocktails here. The parking is complimentary and the hotel also offers a pool and a fitness center. Many tourist attractions are proximal to the property such as AutoZone Park and Liberty Bowl Memorial Stadium.
Four Points by Sheraton Memphis
Located on 4090 Stansell Ct, a very safe area in the proximity of the FedEx Express World Headquarters, the hotel radiates with modern décor and offers modern amenities. The amenities include complimentary Wi-Fi access, a flat-screen TV, a microwave, and a mini-fridge in every room. You also have access to an indoor heated pool, hot tub, a gym/fitness center, and a business center, and other on-site facilities. Located in the lobby, visitors can have a hearty breakfast, dinner, and drinks at Pinwheel Bar 7 Grill. Famous parts of the city such as Germantown and Collierville fall in the vicinity, and so are the TPC Southwind golf course and the Mike Rose Soccer Complex.
Holiday Inn Memphis-Univ of Memphis
Located on 3700 Central Ave, adjacent to the campus of the University of Memphis. All basic amenities are preinstalled in both rooms and the suites. The amenities include a mini-fridge, a microwave, a coffee maker, a flat-screen TV, and complimentary Wi-Fi. The property gives guests full access to the fitness center, business center, convenience store, and complimentary parking and coffee in the lobby. Famous for its American cuisine and drinks, the hotel has an on-site, Medallion Restaurant, and Lounge. Famous destinations and tourist attractions are a short drive away, from the hotel.
There you have it, folks. Have a nice stay!