15 Best Hotels in Ljubljana
Slovenia's capital Ljubljana is a stunning city straight out of a fable. Europe's greenest and most livable city, Ljubljana boasts of verdant views, emerald rivers, medieval castles, quaint cafés, and much more. Given its majestic atmosphere, it only makes sense to kick back in hotels that treat you like royalty. Check out the best places to stay in Ljubljana, and find a place that helps you walk into your very own fairy tale.
Affiliate Disclosure: As a Booking.com affiliate, I earn a small commission when you book through links on this page.
Grand Hotel Union
The classically elegant Grand Union hotel is a Ljubljana landmark. Its history dates back to over a century ago, and today is a prestigious stamping ground for the rich and famous. Savor Slovenian hospitality in this well-known Art Nouveau-style hotel located smack dab in the historic city center. Its location puts it minutes away from the picture-perfect Old Town, The triple bridge, and the city's castle. Due to its opportune location, the hotel also commands magnificent views of the imposing castle and the hill it stands on.
The Grand Hotel Union has rooms suited to different tastes. From smart hotel rooms to gorgeous studio apartments, there is something for everyone.
If you stay at this historic hotel, you will have access to a swimming pool, spa and Sauna services, a 24hr gym, and their very own restaurant among others.
https://www.booking.com/hotel/si/grand-union-executive.en.html?aid=1919618&no_rooms=1&group_adults=2&label=ljubljanabh
Antiq Palace
Fairytale kingdoms are nothing without ancient palaces. This niche is fulfilled by the Antiq palace. Though its title dates back to the 16th century, on one side of the hotel, you can even find old Roman walls while its main entrance faces the Gosposka Street in Old town. The Baroque building stands right next to the Academy of Music while being steps away from the Ljubljanica river.
Antiq Palace houses 19 spacious rooms and sophisticated suites. The suites are sizable even for families while certain rooms are connected for discerning individuals looking for extra space without surrendering their privacy. Services include a wellness center, laundry, a gym, free Wi-Fi among others. The hotel has its very own paid parking as well.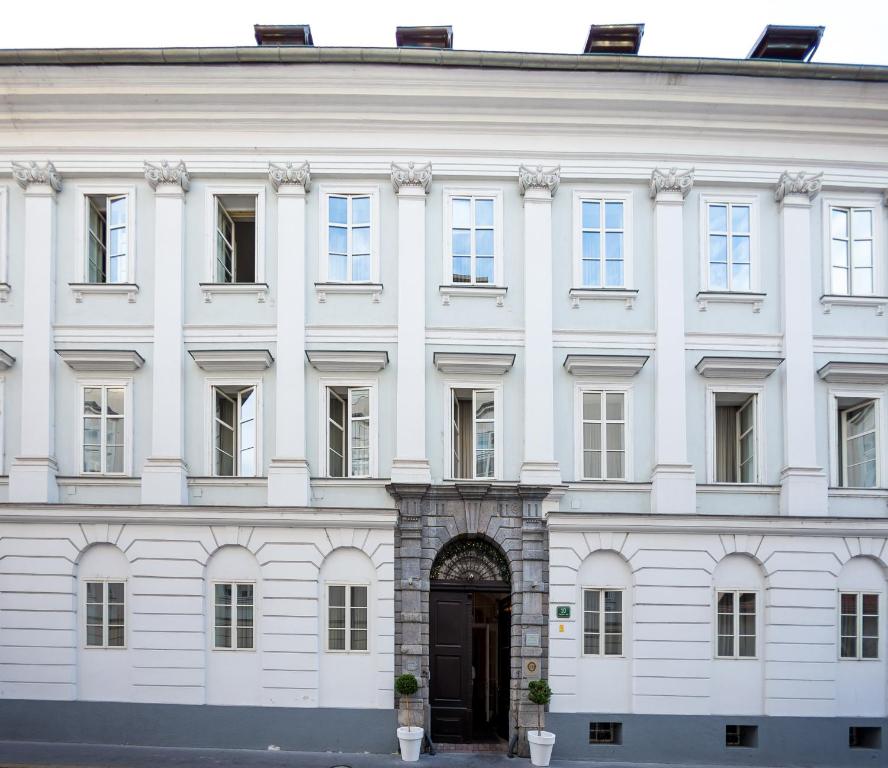 Hotel Cubo
If you are looking for something more hip and modern in the medieval town of Ljubljana, your search can end at Hotel Cubo. Do not be fooled by its pristine 1930 Art-Deco frontage. Inside, Hotel Cubo is a sleek, contemporary, tastefully designed space. The 26 rooms are tailored to fit different space requirements. Whether you are looking for quiet twin rooms, suites with larger bathrooms, or a stunning view, Hotel Cubo has something for everyone. The young multilingual staff at hand is always ready to hand you what you need- be that hypoallergenic pillows or information about the city. Don't forget to help yourself to Cubo's free bikes to ride around the city. Order yourself a picnic basket curated especially by the in-house chef to keep you satiated for the day ahead.
https://www.booking.com/hotel/si/cubo.en.html?aid=1919618&no_rooms=1&group_adults=2&label=ljubljanabh
Hotel Zlata Ladjica
Being so rooted in history, it is no wonder that the buildings in Ljubljana have so much character in them. Overlooking the Ljubljanica river, The Hotel Zlata Ladjica is housed in a 500-year-old building that was recently restored. The alluring hotel's name translates to 'the Golden boat' and pays homage to the old roots of the building and the city itself. This stunning building preserves antique doors, furnishings, and memorabilia.
Ljubljana is one of the most sustainable cities in the world. Zlata Ladjica does its bit to help keep up with that reputation. It is a hotel focused on environmental conservation. Their rooms use bedspreads and sheets that waste less water in production. Their operations are alert about reusing and recycling materials, and the restaurant uses only fresh, seasonal, and locally sourced ingredients.
This boutique hotel offers 15 specially crafted rooms with an eclectic mix of modern architectural pieces with antique decor pieces. Each room is built to evoke a sense of history and tradition while giving patrons the best of modern comforts.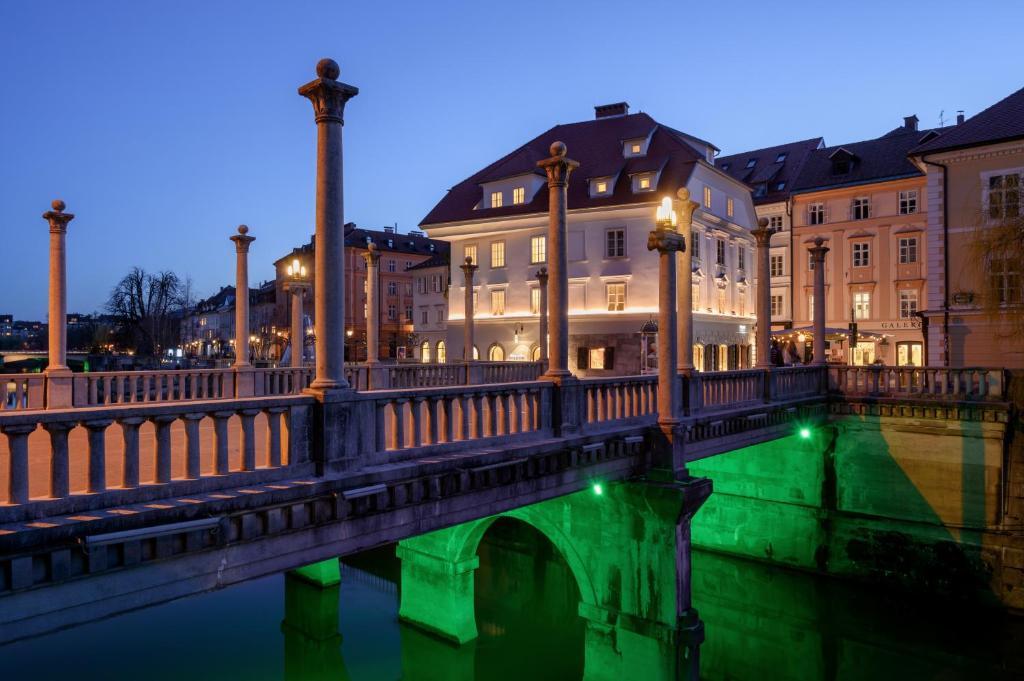 InterContinental Ljubljana
No list of Ljubljana's best hotels can be complete without mentioning the 5-star InterContinental hotel. Located in the heart of the city, the hotel is very well-connected and only minutes away from both the bus and train station. The towering building commands an enormous view of the picturesque city from its rooftop restaurant. Supervised by Italian chef Alfredo Russo who is a Michelin-starred chef, the food here is not to be missed when passing through the city.
Those staying here can choose their pick from any of the many tastefully furnished spacious rooms, all of which look out at the dazzling city center. Rooms are all air-conditioned and include all modern amenities such as cable TV, a minibar, a safe, and more. If however, your search is for something a bit grander and stately, the Presidential Suite might suit your tastes. The room is situated right below the rooftop restaurant and offers sprawling views, your very own fireplace, and more.
Vander Urbani Resort
Tucked between Castle hill and the Ljubljana River, the Vander Urbani resort is strategically tucked away from the crowd despite being close to the main attractions. It stands in the heart of Old town, proud of its own unique design. The chic resort's ultra-modern interior uses only the very best of furnishings for their guests.
The Vander Urbani resort is one of the few hotels in Ljubljana to house a pool. An infinity pool installed on the rooftop offers some serious relaxation along with stunning views of the city. The rooftop also boasts a bar and restaurant with views of the river. The serene, private rooftop bar has a very good collection of Slovenian wines. They hold around 200 bottles of wines from the region.
The posh resort has on offer 20 stylish rooms specially designed to live up to the hotel's ultra-modern vibe. The handpicked furnishings are truly designer and differ from room to room.
Hotel Nox
This eclectic hotel is best for those looking for easy transfers in and out of the city. The Nox Hotel is one of the few places in Ljubljana that offers free and easily available parking. Moreover, it is only a 12-miles drive from the airport. The contemporary hotel is tucked away under the shadows of the Šmarna Gora hill. The hotel's interiors borrow style elements from nature, such as oak, giving it a luxe feel.
Like most well-known buildings in Ljubljana, Hotel Nox is also an architecturally interesting structure. Despite its unusual exterior, what makes the hotel memorable is its layout of rooms. All 24 of the eclectic hotel rooms have been designed by different architects in Slovenia. Each of the rooms demonstrates a different style and architecture design and has its own story to tell.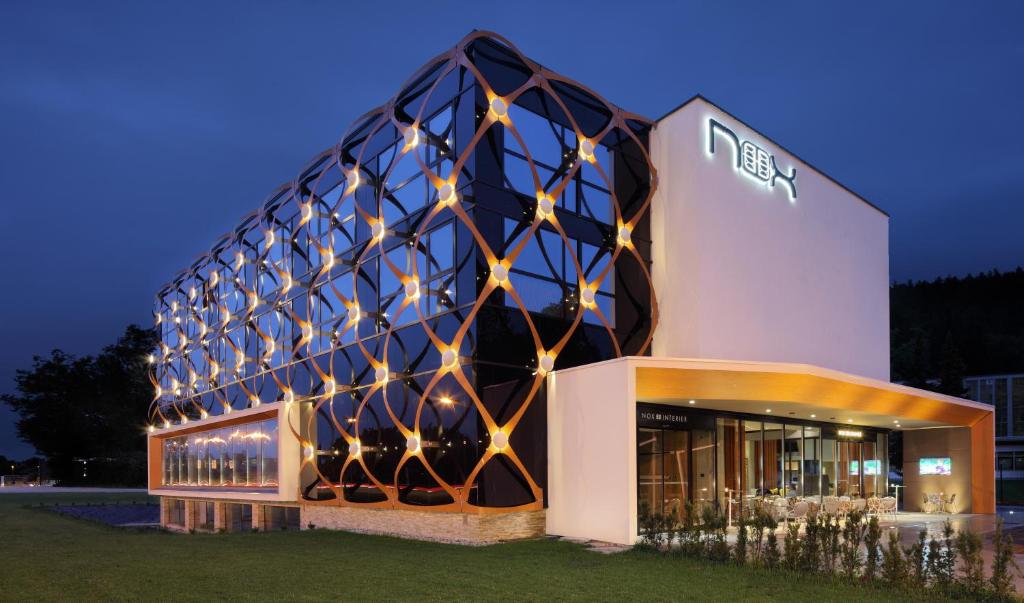 Lesar Hotel Angel
Situated beneath the castle, Lesar is a stylish yet homey resort. The boutique hotel is tastefully furnished with artworks and period pieces. The façade of the hotel is an 1800 century construction, which was renovated into this stylish accommodation. Out-of-sight terraces behind the hotel allow for a quiet spot surrounded by verdant greenery where guests can hide away from the bustle of the city. These spots also veil a great spot for al fresco dining opportunities, and in summers often have tables put out for this reason.
The rooms are luxurious, often come with wood-paneled ceilings and fascinating touches of art and decor. There are 15 of these luxurious rooms available for guests.
https://www.booking.com/hotel/si/lesar-angel.en.html?aid=1919618&no_rooms=1&group_adults=2&label=ljubljanabh
Best Western Premier Hotel Slon
Best Western Premier hotel in Slovenia's picturesque capital flaunts a sleek contemporary look softened by its pastel color palette. The hotel is positioned to be in the world-famous pedestrian-heavy city center. Quaint cobbled streets mark the area, are easy to walk on, and due to the hotel's location, it is easy to reach any of the green capital's landmarks. The hotel also has its very own coffee shop that treads on the cobble-stoned pavements right outside the hotel.
Best Western offers all the amenities that are expected from a hotel brand. It offers valet parking, porters, a 24×7 concierge and have room service open for all hours. For families, this is one of the few places that offer babysitting services, as well as a kids club.
Hotel Park Ljubljana
Located at the Tabor quarter, this hotel is unusually placed in the middle of a 1960s apartment quarter block. Minutes away from Tivoli park, the main benefit of this vibrant hotel is the peace and quiet guests get to savor. The hotel has on offer 207 rooms, all decorated tastefully in earthy tones and clean lines. The rooms on the upper floors of course command great views of the surrounding mountains and bright rooftops.
It is also a hotel dedicated to being environment friendly and even offers discounts at their in-house restaurant to those who arrive by public transport.
For drivers of electric cars, chargers can be found at this location. The hotel has on offer a self-service laundry, Wi-Fi, parking, and room service.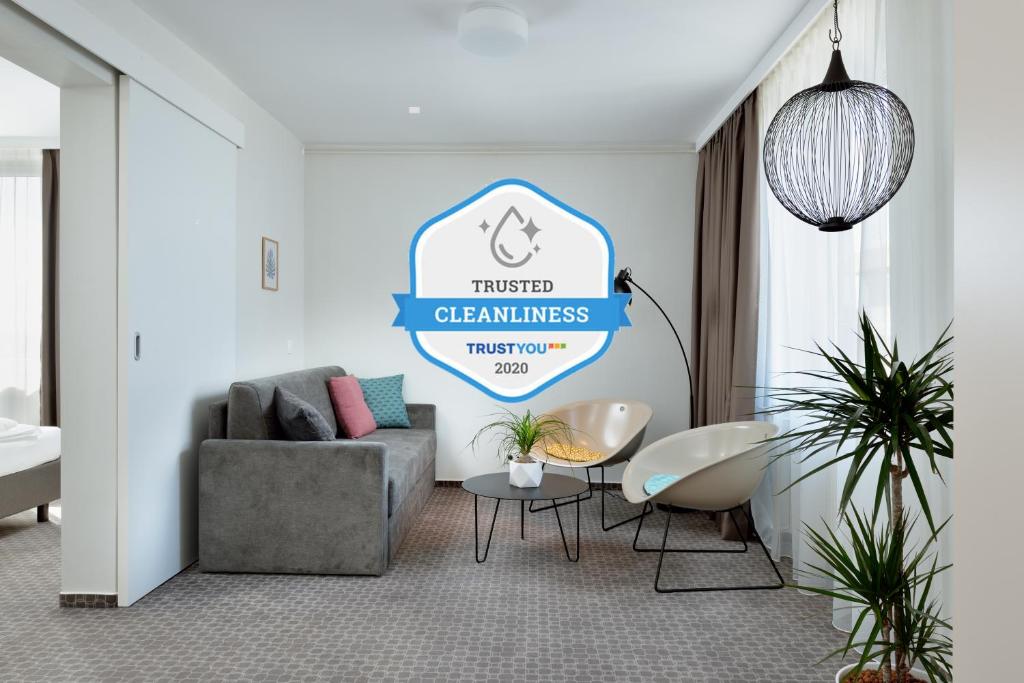 Central Hotel
The name is perfect for this modern, sleek, and functional hotel that sits a hundred yards away from the central square of this gorgeous city. The hotel is close to a garage, making it simpler for guests to wander around the city. Visitors can start their gastronomical adventures at Nobel Burek right opposite the building which is famous as the city's best Burek. Central Hotel itself is also known for the Frank Sinatra-inspired bar which serves creative original cocktails and homemade pastries. The in-house restaurant is known for homely food reminiscent of Slovenian grandmothers' food.
Rooms here are spacious and bright. Their focus is on functionality, so all necessary amenities are made available. They are also designed in a way as to wastes less time and space. The hotel has fast Wi-Fi available for those who need to stay connected. If looking for great views, some rooms at this polished hotel offer views of the city's fairy tale castle.
https://www.booking.com/hotel/si/garni.en.html?aid=1919618&no_rooms=1&group_adults=2&label=ljubljanabh
City Hotel
J's City Hotel is at an arm's reach from the central square, less than a kilometer from the train station while being barely 25 minutes from the airport. This breezy contemporary locale enjoys some great views of the castle beyond the leafy canopy. The hotel's amenities include bike rentals for up to 3 hours, Europcar car hire services, laundry, Wi-Fi, and a fitness center.
The hotel's large collection of 198 rooms are all air-conditioned and has rather large bathrooms. Most rooms feature the works of a prominent photographer, usually of the city that lures visitors into seeking out the quaint cobbled streets of the city. There is a restaurant attached to the lower floor of the hotel which serves up warm healthy meals with locally sourced ingredients. Their pastry chef allows for a decadent afternoon tea as well.
Hotel Galleria
Half a mile from Ljubljana's historic castle, Hotel Galleria is a luxurious hotel housed in a protected baroque-style building. The building's historic stone walls peep through and compliment the traditional, French style adopted by the hotel. The hotel's 16 rooms are all inevitably unique, being built within such an old edifice.
An in-house café and courtyard garden give guests an open but private space to soak in the sun. The leafy spaces also provide some respite in the summer. To ward off the heat, all bedrooms are fitted with air-conditioners, though the old thick walls also help. The hotel does have Wi-Fi access and bar service.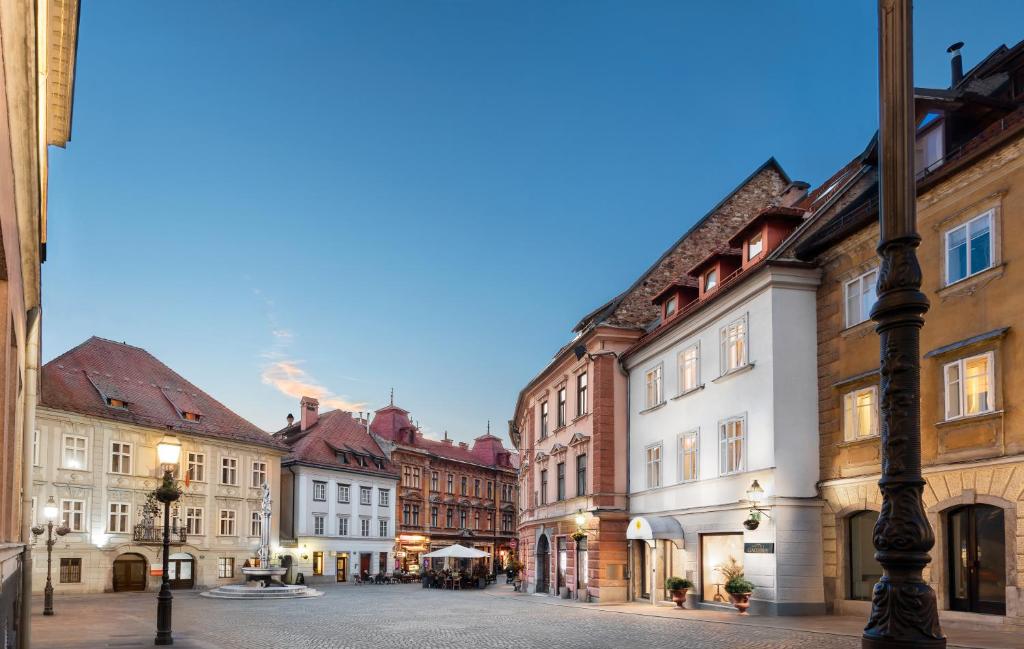 Adora Hotel
This family-run business focuses on creating a warm, sunny, welcoming space with a personal touch. The small but elegant hotel is located on the outer edge of the old town, making it easy to access the city's many landmark sights. There are bus stops outside the hotel. The bus network is very well-connected, making it an uncomplicated task to get around the city. For others, parking is available.
The ten homey rooms in the hotel are decorated with teak wood furniture by the owners themselves. The warm wood and white walls make for a comfortable, relaxing setting. A little sunny courtyard tucked away from the traffic also makes for a peaceful retreat.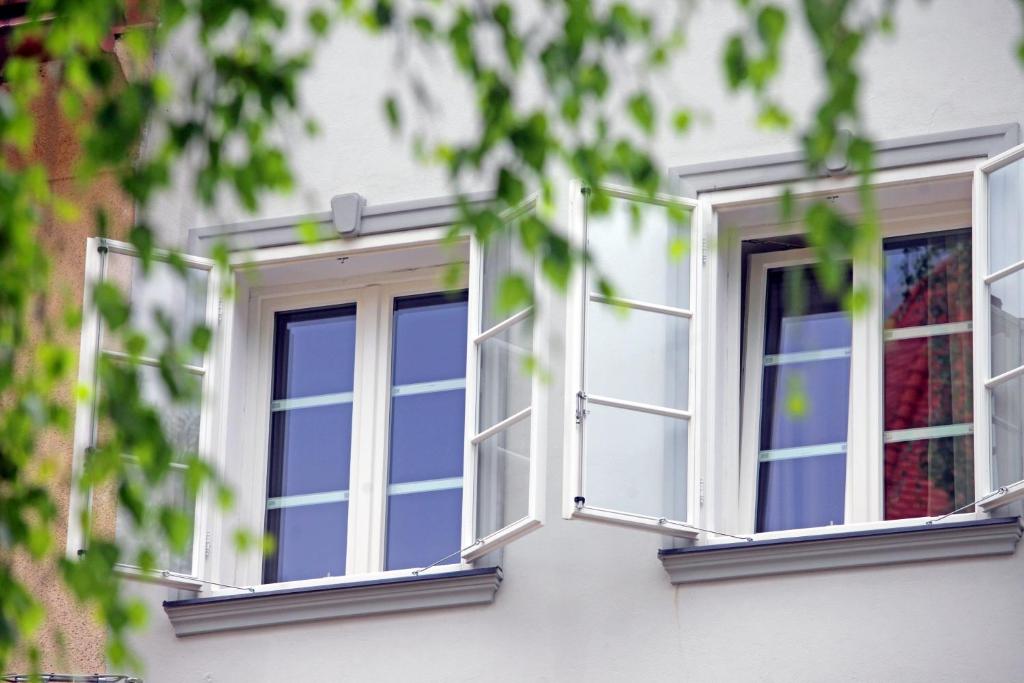 Radisson Blu Plaza Hotel
Placed off the H3 highway, the Radisson Blu Plaza Hotel is an imposing structure of glass and metal that looks out to the business district of Ljubljana. For those traveling with family, the Atlantis water park right next to the hotel might provide some respite.
The Radisson Blu's modern-style rooms and suites offer comfortable beds, Wi-fi connectivity, hairdryers, and other modern amenities. The suites all also include individual temperature-controlled rooms and are built for longer stays.