15 Best Hotels in Binghamton, NY
Binghamton is the proud recipient of the two most fascinating double monikers - the Carousel Capital of the World and the Valley of Opportunity. Located in Southern New York, near the Pennsylvania border, Binghamton is home to some last remaining vintage carousels of the world. It is also a thriving manufacturing, educational, and healthcare hub. The location of the world-renowned Binghamton University makes the city of rolling hills a sought-after destination among students not only in America but across the world. In fact, there is so much to see and discover in this wonderful city that you need to drop anchor for a few days at least.
You would be ecstatic to know Binghamton has a bevy of hotels that are the ultimate names in sophisticated living. So here's a list of some of the best luxury and premium hotels in Binghamton that offer world-class amenities along with some excellent gastronomic delights.
Affiliate Disclosure: As a Booking.com affiliate, I earn a small commission when you book through links on this page.
DoubleTree by Hilton
Located in downtown Binghamton, the Double-Tree by Hilton is one of the most well-known three-star hotels in the city. Equipped with stylish and comfortable guest rooms, it is the front-runner in grandeur and elegance. The hotel offers a host of top-rung facilities, including a 24-hr business center, free Wi-Fi, non-smoking rooms, pet-friendly rooms, and a fitness center, among others. It also provides a free five-mile shuttle service covering the Binghamton University and Animal Adventure Park. Another top draw of this sprawling picture-perfect property is the 5,000 square feet (464.52 m²) Riverwalk Athletic Club. You can lap up the fun proffered by its large salt-water indoor pool and the whirlpool. The chic River Bistro overlooking the Chenango river presents a fine dining experience with an impressive combination of American cuisine topped with French techniques. Also, don't miss their welcome chocolate cookie.
Fairfield by Marriott Binghamton
The Fairfield by Marriot is a name in both comfortable living and great hospitality. Located centrally off Interstate 81, it is very close to the Binghamton University, Binghamton Devils, and Otsiningo Park. You can also walk down to the Cutler Botanic Garden, a renowned horticulture center located three minutes away. The hotel has excellent facilities like free Wi-Fi and large, spacious rooms where you can work or simply laze around. If you are looking out for some exercise, you can use their state-of-art fitness center or take a dip in the indoor pool. What makes Fairfield by Marriott even more guest-friendly is the complimentary, delectable breakfast they serve. Being able to choose from a wide array of healthy options like sausage, oatmeal, fresh fruit, yogurt, etc., right in the morning is an opportunity you simply cannot miss.
Holiday Inn Binghamton
The Holiday Inn is located in the heart of downtown Binghamton. The hotel's proximity to important places of leisure and business makes it a popular choice among vacationers and corporate travelers alike. The Holiday Inn boasts state-of-the-art guestrooms equipped with gigantic television screens. They also have sprawling areas dedicated to business meetings and gatherings. Other amenities include a fitness center, access to 24-hr free Wi-Fi, and a heated indoor pool. In case you want to watch some live sports, you can hop across the street to Visions Broome County Memorial Arena to catch a game of the Binghamton Devils AHL Hockey. To satiate your hunger pangs, you can drop by Cafe Select located inside the hotel premises to partake of their lip-smacking delicacies.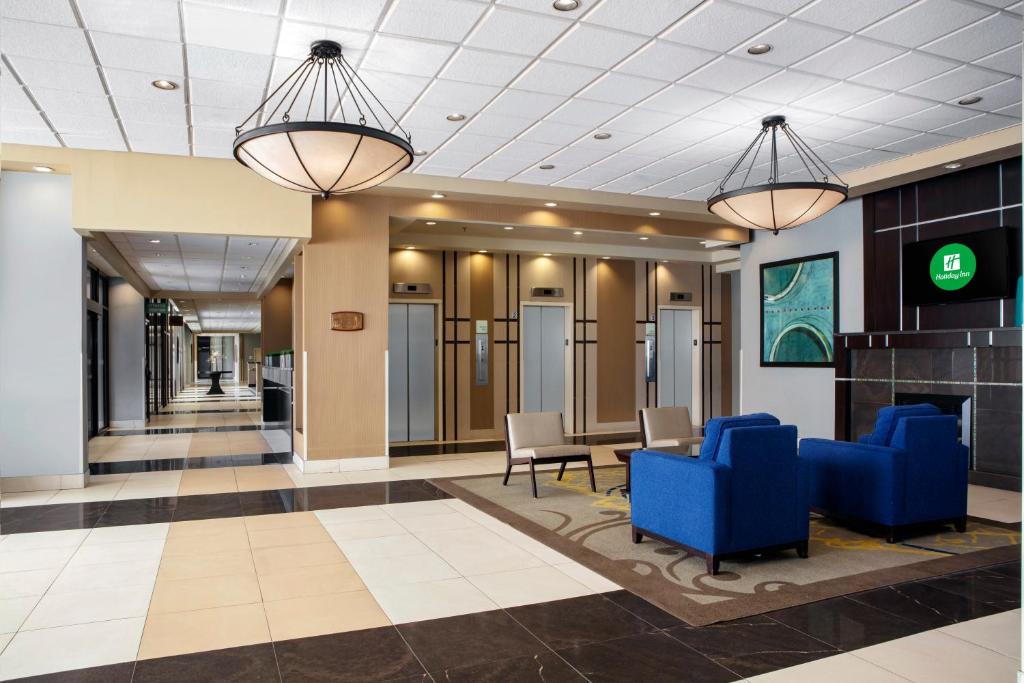 Quality Inn & Suites Vestal Binghamton
The Quality Inn & Suites Vestal Binghamton is the melting point of comfort, convenience, and quality. Their guest rooms are the benchmark of clean and comfortable living. The Quality Inn and Suites is one of the most pet-friendly hotels in Binghamton. One of their other special features is the large community hall equipped with a fully functional kitchen for guests. The nearby tourist attractions are the Binghamton University, Binghamton Zoo, Anderson Center for the Performing Arts, etc. The other exemplary services offered by the hotel include complimentary breakfast, free newspaper, free Wi-Fi, an exercise room, an outdoor pool, meeting and reunion centers. Their on-site Japanese restaurant Fuji San is the hallmark of an out-of-the-world culinary experience.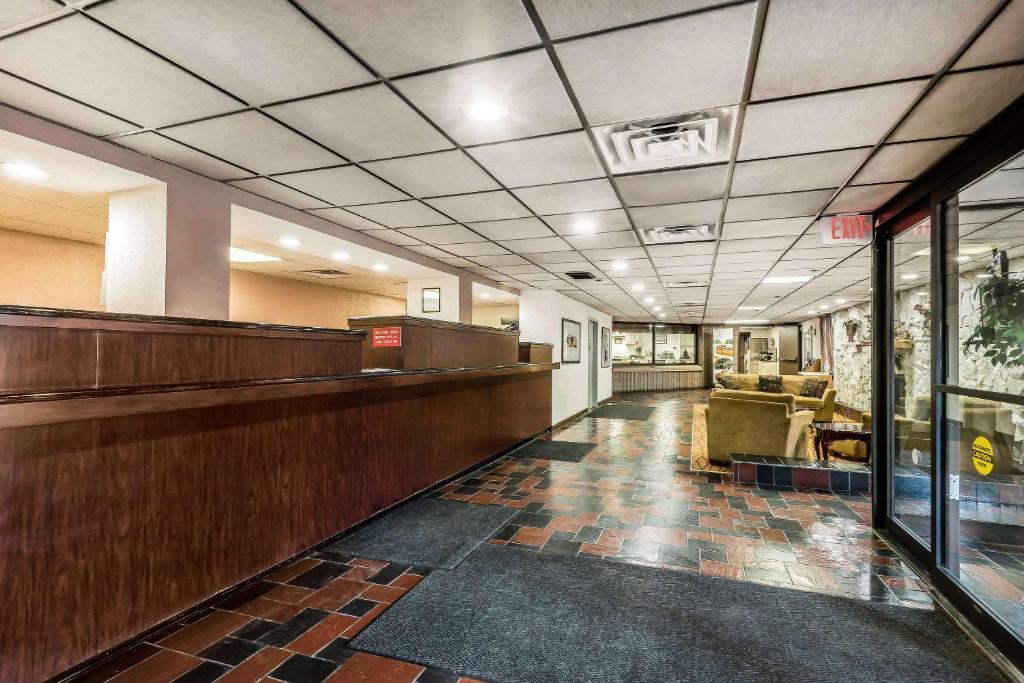 Microtel Inn & Suites by Wyndham Binghamton
The Microtel Inn & Suites is a beautiful hotel located near the Greater Binghamton Sports Complex and the Greater Binghamton Airport. The hotel has plenty to offer to its guests. Right from free breakfast, free Wi-Fi, free parking to a fairly large event room for meeting friends to the sundry shop for purchasing forgotten items. The guest rooms at the hotel are non-smoking. They are equipped with all the modern amenities one can think of, like a microwave, mini-refrigerator, coffee and tea maker, and a television screen. You can also pull away time to visit the esteemed sports complexes located nearby or delve into some retail therapy at the Oakdale Mall also in the vicinity. If flowers make you happy, do visit the Finch Hollow Nature Center for an unbelievable fragrant, floral experience.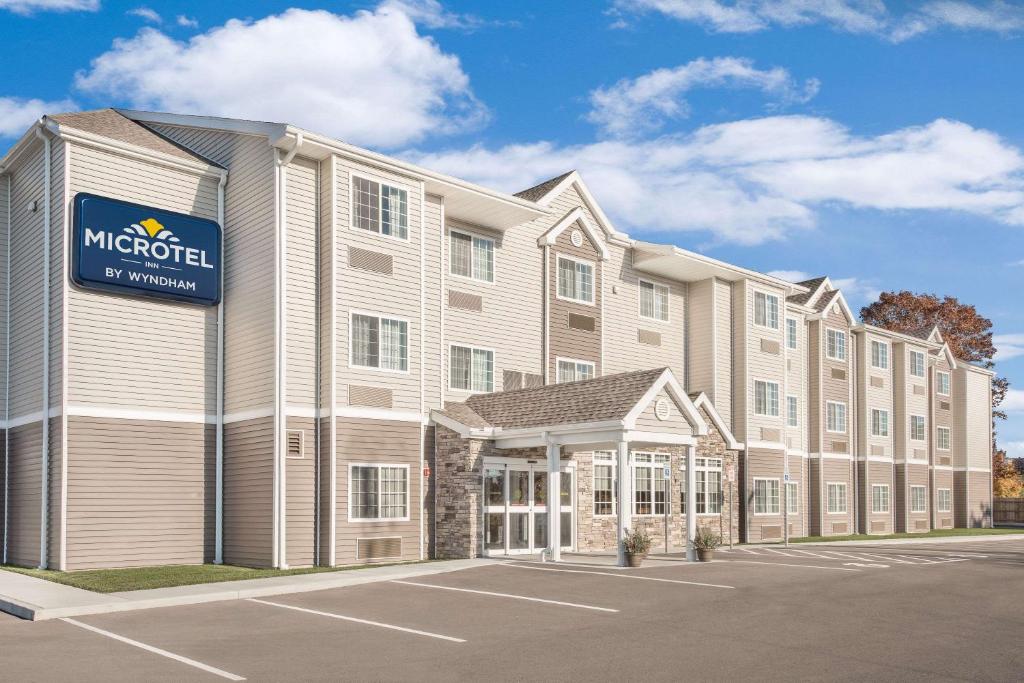 Comfort Inn Binghamton
Looking to make your stay in upstate New York worth remembering? Look no further. Check in at the Comfort Inn, one of the most indisputable choices. With some iconic places located so close to the hotel, there is no lack of meaningful recreation here. Whether you are a sports buff, or a nature lover, or somebody with a deep interest in science and history, there is something for everyone. You can also go hiking along the Chenango River. If you are a busy traveler, the Chenango Bridge Airport located six miles away will take care of that too. The rooms are furnished with a microwave, mini-fridge, etc.
Other facilities at the hotel consist of free Wi-Fi, free parking for cars, buses, trucks, complimentary newspaper, free breakfast, a 24-hour fitness center, a seasonal, heated outdoor pool, business center, meeting space, etc. The peaceful atmosphere at this hotel is something you can look forward to.
Courtyard by Marriott
The Courtyard by Marriott is one of the most prestigious hotels located on New York's Southern border. Recently renovated, this three-star swanky accommodation is an ideal choice for both business travelers and people on leisure trips. The thoroughly professional staff with their gentle behavior make the stay at this hotel even more pleasurable. The property has all the regular facilities along with some great dining options. They have a wide variety of cocktails too. Some specialties at the Bistro are beverages made with Starbucks Coffee. This facility has 78 guest rooms furnished with all modern-day equipment. Some nearby tourist spots include the likes of Bundy Museum of History and Art, Ross Park Carousel, Phelps Mansion, and Roberson Museum.
Hampton Inn and Suites Binghamton/Vestal
The Hampton Inn and Suites is one of the top accommodations in the Vestal area. While the Binghamton University is at a 14-minute walking distance from the hotel, the Binghamton Zoo Ross Park is a 5-mile drive from here. This property has beautiful, clean rooms accommodated with free Wi-Fi. In addition to full desks, the hotel also gives you lap desks. This is to make sure you can work from your plush bed without having to get down. The suites have some additional facilities like sofa beds, living areas, and a kitchen. The hotel also has a beautiful terrace from where you can view the scenic beauty of the Vestal area. They also offer a free shuttle service to the Greater Binghamton Airport and anywhere within a 3-mile radius.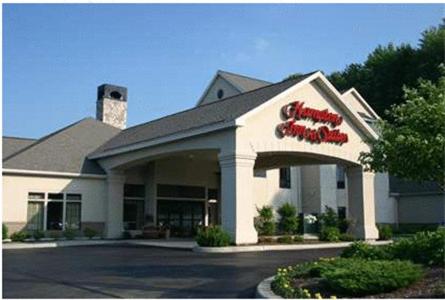 Homewood Suites by Hilton
The Homewood Suites is an extended stay facility in Binghamton. So, if you are planning to stay here for a while, this hotel could be a perfect choice for you. Located close to the Binghamton University, this accommodation has contemporary studios and one-bedroom suites. These are decorated with full kitchens, dining tables, televisions, and pull-out sofas. You can comfortably get on with work using their free Wi-Fi. They also serve hot breakfast and complimentary dinner from Monday to Thursday. Some other services consist of grocery, coin laundry, and a business center. If you want to break a sweat, you can either use their fitness center, or dive straight into the indoor pool, or hobnob with basketball at their professionally designed basketball court.
Tru by Hilton Binghamton Vestal
The Tru by Hilton Binghamton Vestal is a decent hotel with clean rooms, a lounge area, and friendly staff. Opened in 2019, this hotel is fairly new. But it is an affordable choice for people looking for budget accommodations in the Vestal area. The hotel offers free Wi-Fi, free parking, complimentary breakfast, free laundry service, and a 24-hour fitness center. Located a mile away from the Binghamton University, the hotel's convenient location makes it accessible to some of the most popular eateries and shopping stores in the area. You can also visit the Endless Mountains, the Apalachin Golf Course, and the Hickories Park conveniently from this location. The hotel has contemporary décor and consists of 87 rooms spread across three stories.
Candlewood Suites Vestal - Binghamton
Centrally placed, the Candlewood Suites along Highway 434 is a mile away from the Binghamton University. The other nearby attractions include the Cider Mill Playhouse and the Roberson Museum and Science Center. It is a lovely accommodation with studios and 1-room suites. The rooms have kitchens, sitting areas, a television, free Wi-Fi, and DVD players. The 1-room suites are furnished with separate living areas. Candlewood Suites abounds in other facilities like free parking and complimentary laundry service. Though subject to some conditions, you can still carry your pets along. This extended-stay hotel also has other amenities, for example, a 24-hour gym and a picnic area with provisions for barbecue. You can enjoy your getaway at this hotel with your family.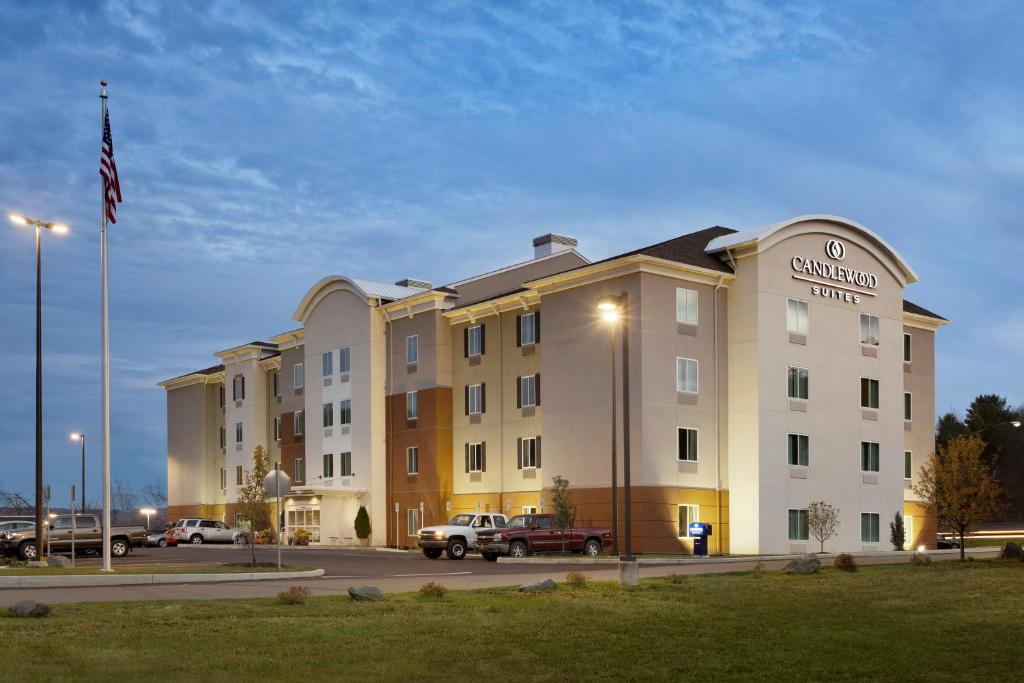 Residence Inn by Marriott
The Residence Inn by Marriott, located off I-81 and I-86, is one of the leading hotels in Binghamton. This premier property includes nine individual buildings. The high-end suites are equipped with kitchen facilities and workstations with access to free, around-the-clock, high-speed internet. The suites also come with a living area. Binghamton University Innovative Technologies campus is a stone's throw from this hotel. As an additional feature, the hotel has a walkway leading up to the campus. Apart from the museums and the art and cultural centers, this property is also very close to Lourdes Hospital and Wilson Hospital. The hotel is nice and clean with a relaxing ambiance and offers great hospitality. You would be happy to know this is a pet-friendly place.
Hampton Inn Binghamton/Johnson
This elegantly designed hotel is located in one of the premier locations. You can drive down to the Binghamton University campus or the iconic Cider Mill Playhouse. You can also tee it off in style at the En-Joie Golf Club. The historic C. Fred Johnson Park Carousel and the Binghamton Zoo at Ross Park are situated 6 miles (9.66 kilometers) and 11 miles (17.7 kilometers) away from the hotel, respectively. As part of a slew of amenities offered by the hotel, free Wi-Fi, daily, fresh, hot complimentary breakfast and breakfast bags on weekdays are only some. Their heated indoor pool is also a perfect place for relaxing. An exercise room for fitness enthusiasts and free parking are a few other perks you can use.
Traditions Hotel & Spa Ascend Hotel Collection
The Traditions Hotel & Spa Ascend Hotel Collection stands on an area of 650 acres of forest. This elegantly designed hotel was built from an old mansion. The Roberson Museum and Science Center and the Binghamton Zoo at Ross Park are located 6 miles (9.66 kilometers) and 9 miles (14.48 kilometers) from the hotel respectively. This upscale hotel is the epitome of luxury and comfortable living. The stylishly crafted rooms pamper you to the hilt with an eclectic mix of modern-day comforts. The plush 4-poster beds are the last word in luxurious living. You can drown yourself uninhibited in the lap of some rare opulence. Other attractions at the hotel include a free, continental breakfast buffet, an 18-hole golf course, a 24-hour fitness center, a ballroom, and a fashionable spa.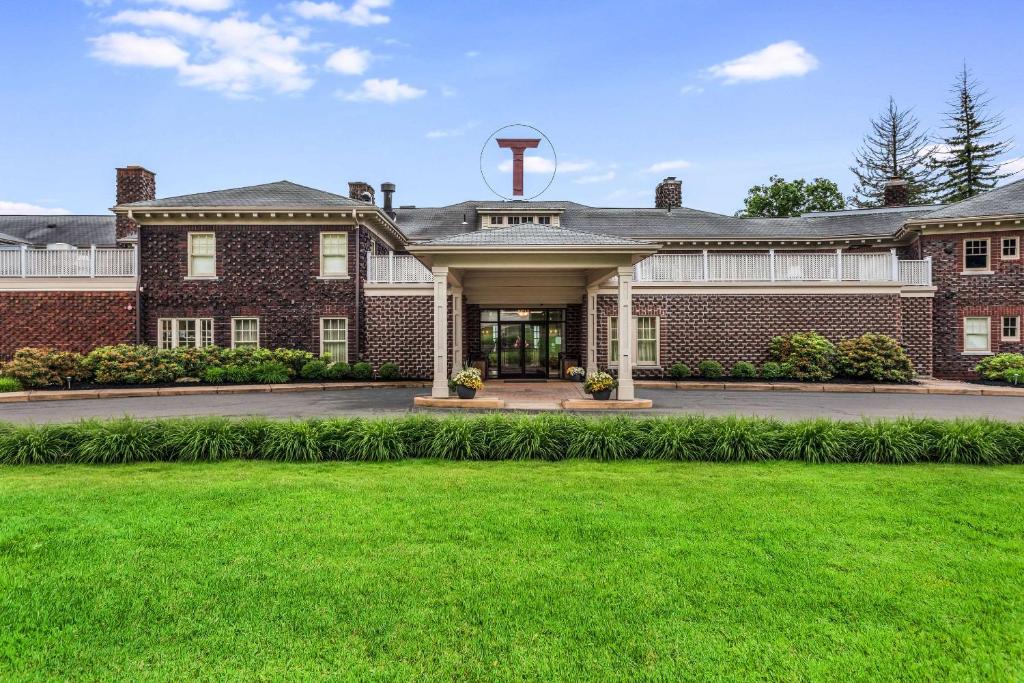 Red Roof Inn Binghamton - Johnson City, NY
Near to Susquehanna River and Oakdale Mall, this amazing hotel is generous with freebies - free WiFi, free parking, free long-distance and local calls, free toiletries. The staff is very polite and helpful. Take advantage of the 24-hour front desk service. The rooms are all fitted with flat-screen TVs, offering cable channels. In view of the current situation, enhanced cleaning and guest safety measures are in place.