15 Best Hotels in Baltimore
One of the beautiful states of the United States, Maryland, is best known for its blue crabs, and surprisingly, one of its wonderful cities, Baltimore. Baltimore, to put it in a nutshell, is the birthplace of the national anthem, baseball power and possesses a history of being a former major trading port. And with such a history, it has still managed to remain an ultra-modern hub of Maryland. A place like this needs an equally impressive list of hotels – and Baltimore doesn't disappoint!
Affiliate Disclosure: As a Booking.com affiliate, I earn a small commission when you book through links on this page.
The Ivy Hotel
You know a hotel's amazing when it doesn't focus on quantity but quality! Located on Biddle Street, the Ivy Hotel came into existence in 2015, not as a hotel but as a home for visitors. It features only 17 guestrooms, eight of which are spacious suites. Each of the rooms comes with a comfortable bed, a gas fireplace and a luxurious bathroom. Some of these accommodations come with a corner turret looking over Mount Vernon, while some provide a balcony overlooking a beautiful courtyard. As if these rooms aren't impressive enough, the amenities of the hotel cater to every little need of yours. Those include daily hot breakfast, fitness room, spa facilities puzzles and board games, pet amenities – and so much more!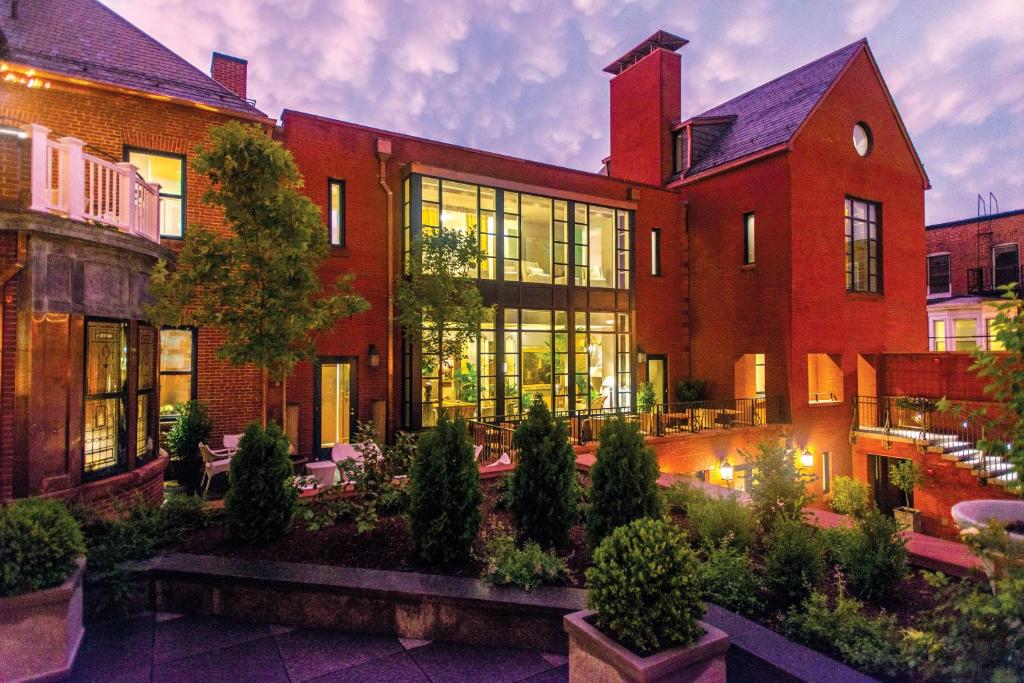 Kimpton Hotel Monaco Baltimore
Located in downtown Baltimore, Kimpton's Monaco Baltimore is a luxurious, boutique hotel, residing in the place of the former Baltimore & Ohio Railroad headquarters. This 1906 Beaux-Arts building sits happily near the tranquil Inner Harbor waterfront, colouring it with peaceful charm. All 202 guestrooms of the hotel possess an impressive high-ceiling, pillowtop bed, minibar and an LCD television. The amenities that the hotel provides are many, some of which include a fitness room, free PUBLIC bikes, spa services and in-room yoga mats, among others. The on-site restaurant, known as B&O American Brasserie, is a beloved addition to the hotel, which serves amazing food and drinks, including cocktails, wines and ales. Monaco Baltimore sure does live up to the legacy of Kimpton Hotels!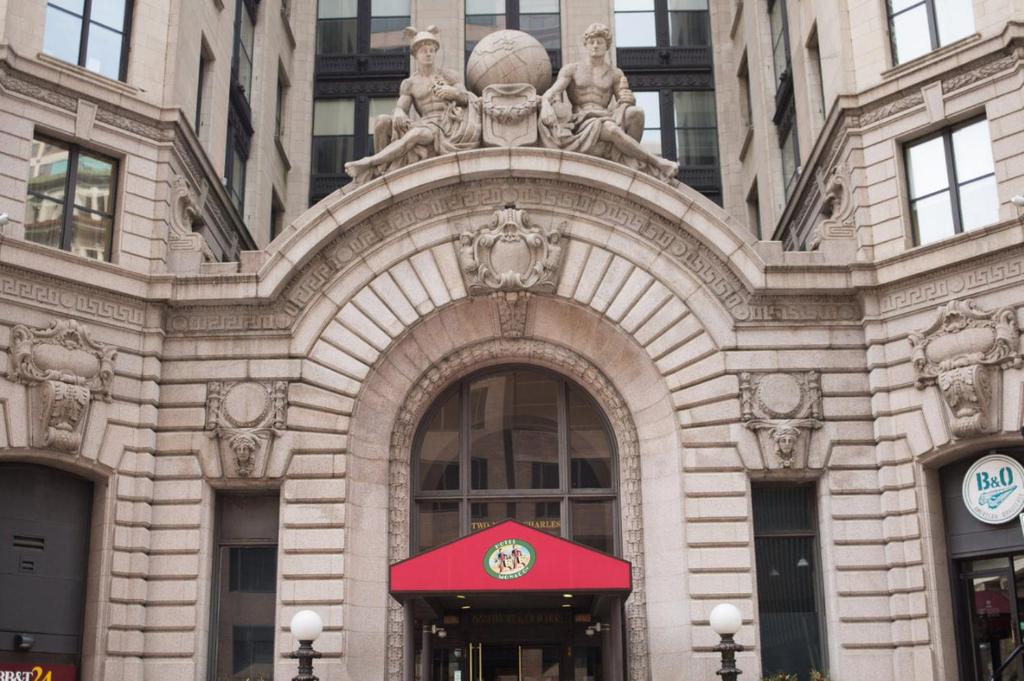 Pier 5 Hotel Baltimore
Make your way to the heart of Baltimore's Inner Harbor and experience this amazing hotel which proudly belongs to the Curio Collection by Hilton. Pier 5 Hotel Baltimore is a step away from some famous landmarks and comes with impressive rooms, several modern amenities and a handful of dining options. The guestrooms and suites are equipped with comfortable beds, ample lighting and, in case of some accommodations, a mesmerizing view of the harbor. Along with the usual amenities, the hotel also organizes crab-cooking workshops as well as chocolate tastings. The restaurants – namely McCormick & Schmick's Seafood Restaurant and Ruth's Chris Steak House – also celebrate the seafood theme of the hotel, serving fresh seafood and prime steaks respectively!
Hotel Brexton
Hotel Brexton, a proud fixture on Park Avenue, is a boutique façade, combining elegance and comfort with finesse. It was built in 1881 to serve as the childhood getaway for Wallis Simpson, the Duchess of Windsor. As a result, the hotel looks like a vintage castle from the outside; but the insides are coloured with modern elements on every step. The guestrooms and the suites are rather spacious and offer many facilities, including a flat TV, coffee maker, bath amenities as well as daily newspaper service, among others. The hotel's amazing café serves complimentary breakfast – and as for your lunch and dinner, there are many restaurants nearby. An impressive point about this hotel is that not only is it pet-friendly but also LGBTQ+ friendly!
Lord Baltimore Hotel
A splendid hotel located in the Downtown area, Lord Baltimore Hotel is named as the lord for a reason! The place is teeming with marvellous architectural elements, packing in it history of the times it was built, i.e. in 1928. It spans up to 22 stories and features more than 400 guestrooms and suites, filled with comforting ambience, vintage artwork and plush fabrics. Once you are settled, you satiate your hunger at any of the restaurants of the hotel – may it be LB Tavern, LB Bakery or LB Skybar. More importantly, the hotel is amazing in terms of the amenities it provides, which includes a fitness centre, concierge service, on-site ATM, more than 10 event rooms, shuttle service to and from hospitals and a pet-friendly policy.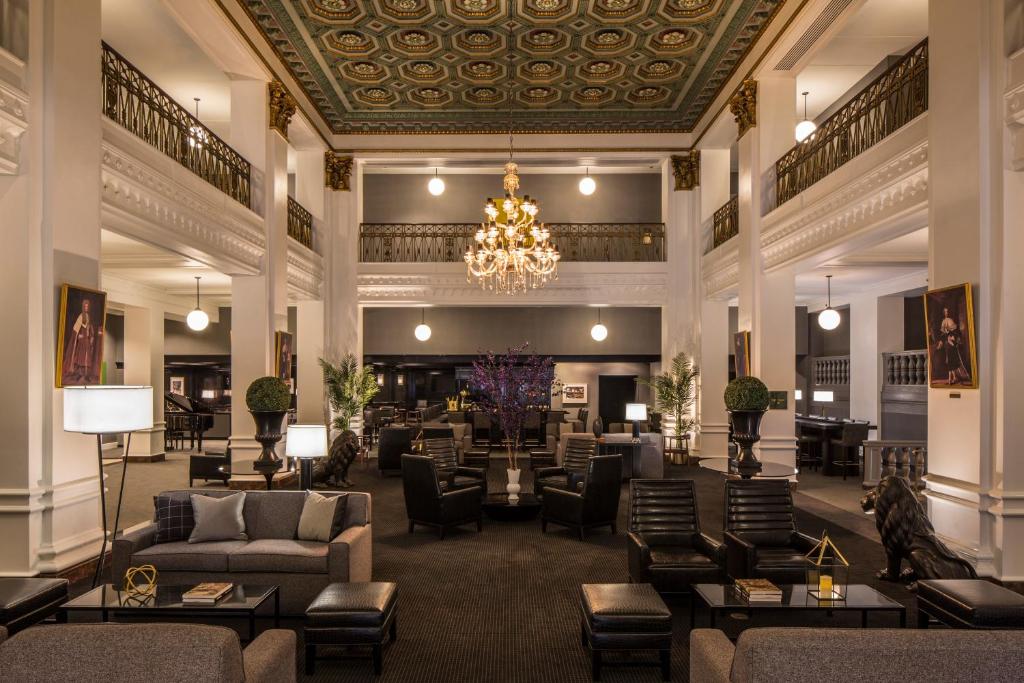 Admiral Fell Inn
If you're looking for a quick accommodation arrangement in Fell's Point, then Admiral Fell Inn is the perfect choice for you! This charming hotel boasts of an interesting history, which is captured in its vintage yet modern atmosphere. The 80 guestrooms and suites are rich with warm Persian rugs on hardwood floors, premium bedding, a comfortable bath and a cosy fireplace. The dining options are also ample, namely Duck Duck Goose, a French cuisine restaurant that also provides in-room catering and Tavern at the Admiral, a stunning cocktail mixology bar. This pet-friendly hotel features a lot of amenities to make your life easier – these include breakfast, shuttle service, concierge service, guest laundry, valet parking and so on.
Four Seasons Hotel Baltimore
Four Seasons has always been establishing quality hotels all across the world – and one of the best happens to be the branch of Baltimore. It is a luxurious hotel, featuring a host of facilities, guestrooms with picturesque views and a five-star spa! The rooms are lavishly furnished and open up to a balcony serving stunning scenes of either the sparkling harbour or the sprawling city. Not only does the hotel provides a 24-hour business centre and jogging maps but also an outdoor spa tub, helicopter tours, uncountable meeting rooms and pet as well as babysitting services. And serving delicious dishes like the cherry on top are the restaurants of the hotel, namely Maximón, The Bygone and Seasonal Splash Pool Bar & Grill.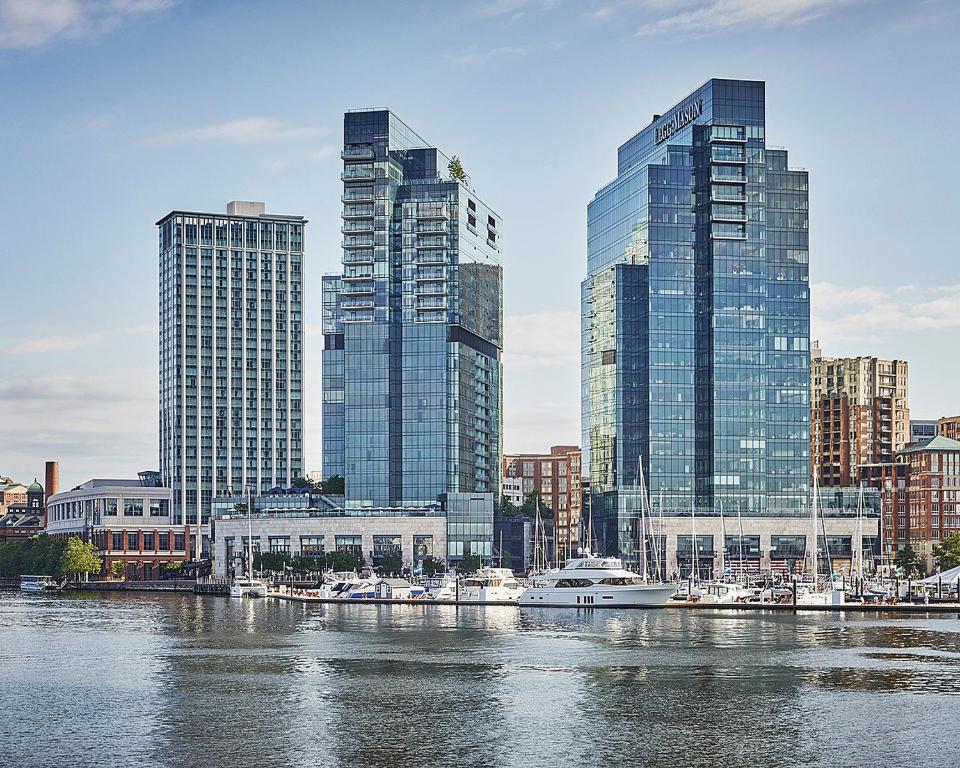 Sagamore Pendry Baltimore
Serving stunning views of the Patapsco River, the Sagamore Pendry Baltimore is a beautiful and modern hotel, surprisingly situated in a restored 1914 pier building. The guestrooms of the hotel are especially unique, blending modernity with historical elements; there are more than 120 of them, featuring wooden and brass accents, cosy bedding and floor-to-ceiling windows. The dining options are also plenty, including Rec Pier Chop House and The Cannon Room, as well as the private pool deck with a seasonal bar and grill. More importantly, however, is Sagamore Pendry's amenities in the fitness area – not only does it provides a 24-hour fitness centre but also easy access to The Healing Path Massages + Wellness, where you can enjoy the spa and other relaxing experiences.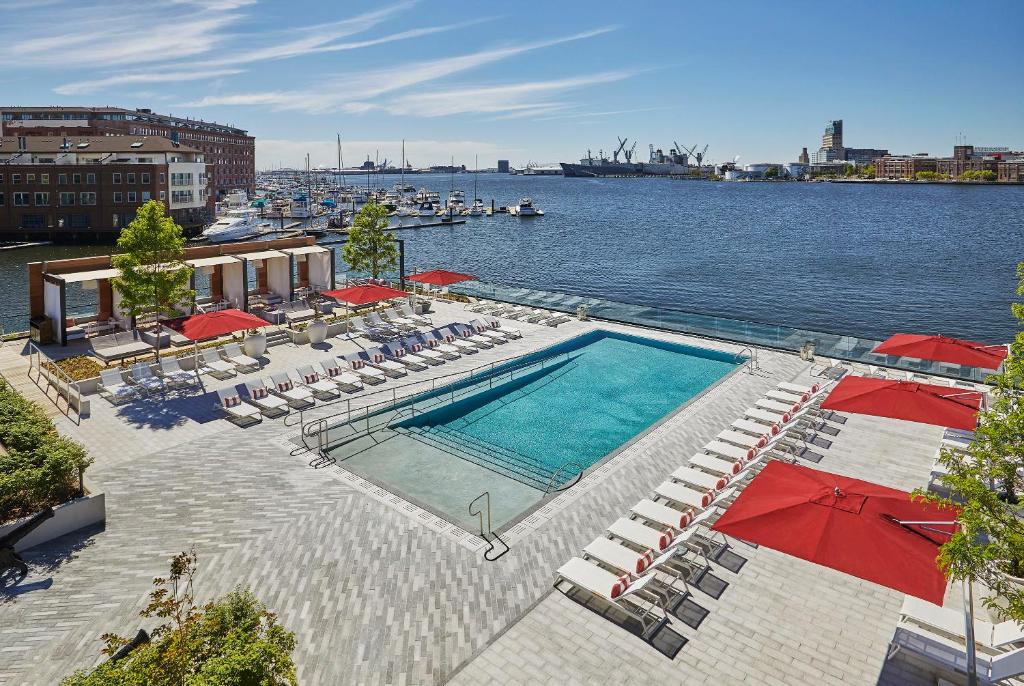 Hotel Revival, a Joie de Vivre Hotel
Dating back to the 1920s, Hotel Revival is an old-fashioned boutique hotel, and possibly the only boutique art hotel Baltimore has ever seen. Standing tall in the Mount Vernon neighbourhood, it comes with more than 100 rooms, spread all over the 14 stories, all of which are packed with antiques, canvases, ceramics and prints. These artworks – peppered everywhere around the hotel – are commissioned and curated by local artists and Paradigm Gallery + Studio respectively. The dining front of the hotel is equally impressive, which features Topside, a rooftop restaurant and garden bar, Dashery Café, a quaint café for your coffee needs and B-Side, a private microbar. The amenities of the hotel are plenty, including karaoke rooms, concierge services, fitness centre and event rooms, among others.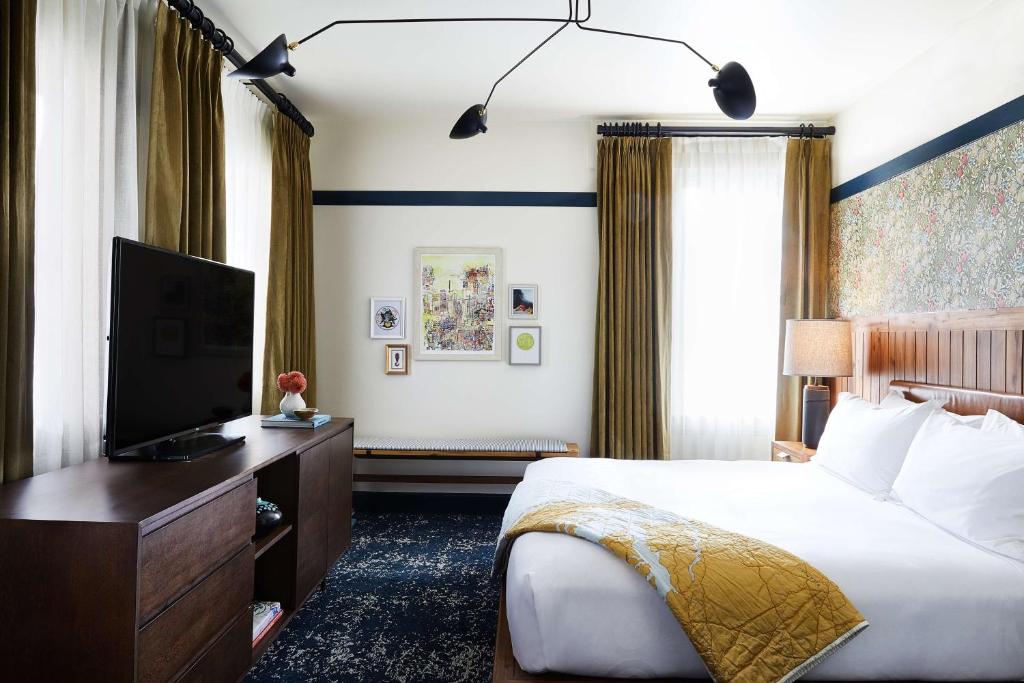 Hyatt Regency Baltimore Inner Harbor
Hyatt Regency is a legendary name; so, it's a given that any branch of it is going to be exceptionally amazing. Hyatt Regency Baltimore is an amazing stay near the Inner Harbor, where you get comfortable accommodations, splendid amenities and many tourist attractions ready to be explored. There are as many as 488 rooms and suites, equipped with beds, flat screens, minifridges and a view of the harbor or the skyline. The restaurant of the hotel, Bistro 300, is a charming place, serving regional food made with local produce. Along with that, it also offers Bistro 300 lounge, 'More Rooftop Pool Bar and Market. You also get access to free internet, pool, concierge services, fitness centre, laundry services as well as meeting facilities and wedding venues!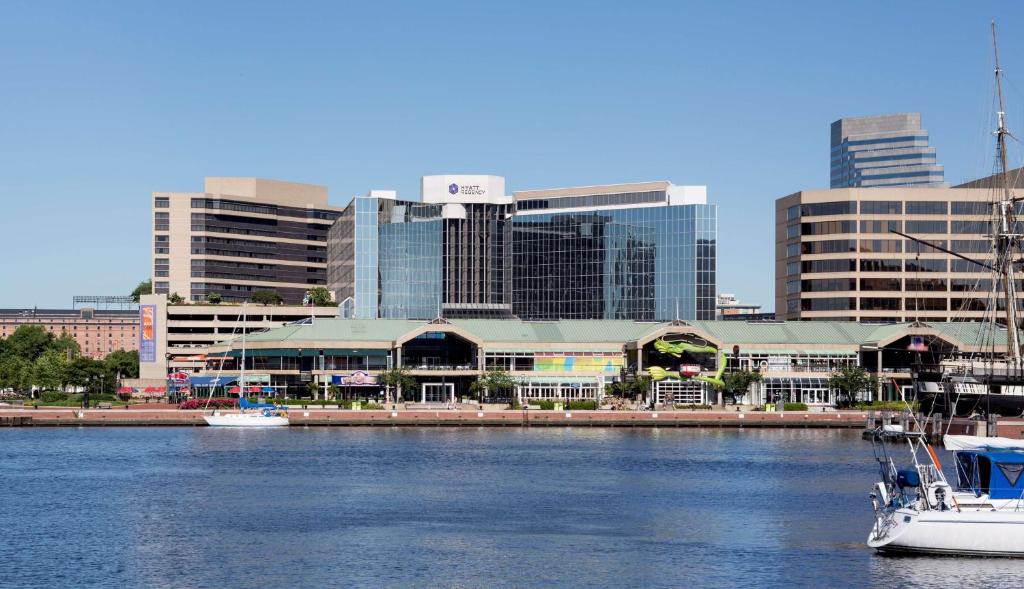 Renaissance Baltimore
Looking over the sparkling Inner Harbor is the newly reformed Renaissance Baltimore, a luxury hotel by Marriott International. It is a convenient walk to many Baltimore attractions, including National Aquarium, Oriole Park and M&T Bank Stadium, among others. The guestrooms come with luxurious bedding, thoughtful utilities and a beautiful view of the harbor. Once you settle in, you can make your way to the hotel's amazing Watertable Restaurant and Lounge, for fine American dining or to The Ground Floor Café & Bar, to grab a quick bite! The hotel's indoor pool is a treat to experience and so is the fitness centre, filled with all sorts of fitness equipment. As for the event rooms, they are beautiful, spacious and the best choice to celebrate your special moments.
Royal Sonesta Harbor Court Baltimore
If there is any hotel that is perfect for any kind of tourist, then it has to be Royal Sonesta Harbor Court Baltimore! Located on the popular Inner Harbor, overlooking the stunning waterfront. The guestrooms and suites of the hotel are spacious and luxurious and decorated with many utilities to make your stay comfortable. The hotel excels on the dining front as well, which includes Explorers! Which is an American Gastropub and Formula Espresso, a much-loved lobby coffee shop of the place. The hotel is also intent on providing the best experience when it comes to weddings or other events. That is why, along with the usual amenities, the hotel not only provides spacious meeting rooms but also amazing wedding venues, laced with elegance, beauty and serenity.
Hilton Baltimore
One of the most popular hotels of Baltimore, Hilton Baltimore is an absolute treat to stay at! It stands proudly adjacent to the Oriole Park at Camden Yards and is surrounded by a host of interesting things. The guestrooms and suites are especially beautiful, promising excitement and comfort of this new but homely city. The hotel provides a couple of dining options, including Diamond Tavern, which serves American cuisine; Lobby Bar, providing an amazing selection of spirits, martinis and cocktails; The Coffee Bean & Tea Leaf, the best place to get gourmet coffee – and of course, in-room dining. The hotel provides non-smoking rooms, a golf course, fitness centre, indoor pool, business centre, meeting rooms and a pet-friendly policy – need I say more?
Hotel Indigo Baltimore Downtown
Hotel Indigo might not appear as elegant as the other additions of this list, but it is one of the most beautiful and sophisticated hotels Baltimore has to offer. The neighbourhood is artistic and vibrant, all of which has been perfectly captured by this boutique hotel. The rooms are exceptionally made, filled with entertainment options, a workspace, a luxurious bathroom and a coffee maker, among others. Their restaurant, Poets Modern Cocktails and Eats is a creative place, serving regional cuisine and signature cocktails. There are also splendid event spaces – named after famous local people – as well as mesmerizing wedding venues. The hotel offers great discounts on extended stays and with its pleasant atmosphere and pet-friendly and LGBTQA-friendly policies, Hotel Indigo is simply the best!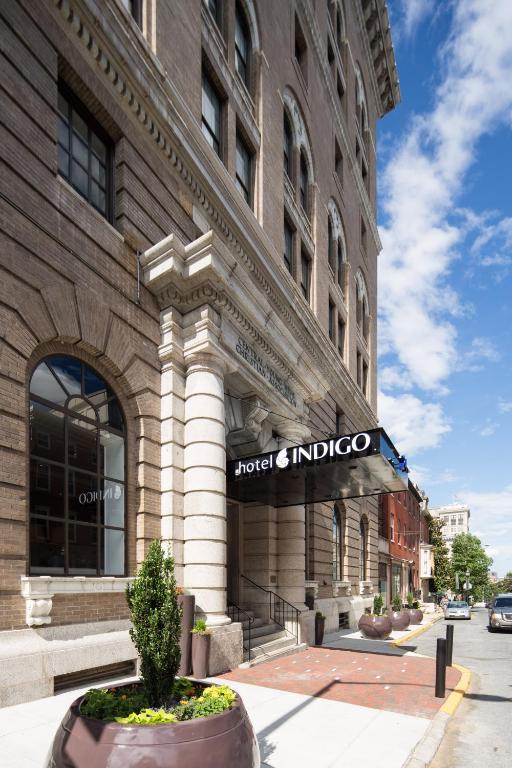 RL Baltimore Inner Harbor
Make your way to downtown to experience living in style – with the help of RL Baltimore Inner Harbor! It is situated in the historic Keyser Building and has been active in Baltimore's cultural scene since the start, running an art project that raises funds for healthcare for the homeless and providing a performance area to showcase local talent. The rooms are reasonably priced and still seem as luxurious as a royal place, featuring a seating area, flat-screen TVs and cosy vibes all around. The restaurant of the hotel simply unique, where you get to taste authentic local cuisine, a selection of healthy dishes and delicious meals. Even more amazing are the amenities of the hotel, which include free bike rentals, valet parking, game room, fitness centre, among others.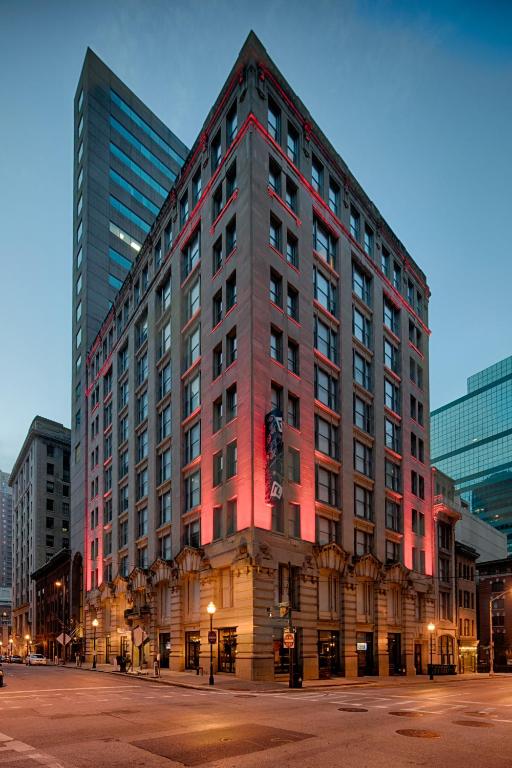 There is nothing that Baltimore doesn't offer – natural attractions, manmade landmarks but more importantly, an astounding selection of quality hotels. These hotels provide homely accommodations to the tourists, as well as scrumptious dining options and an array of things to keep yourself occupied after you are done exploring the Charm City itself!